There is no way on God's green earth that you will ever be able to convince me that climate change is being caused by humans, because it is NOT. Well, not "because of humans" anyway.
Humans are NOT that critical to the planet, and the planet will annihilate humans LONG before we'll ever be capable of mindlessly destroying the planet, I'm sure of it. The tectonic plates STILL rule the planets.
Why do I say this?
Well okay, if you are all that big on wanting to convince all of those around you that humans are causing climate change then WHY are we being forced to create MORE garbage then ever before in human history, and NO ONE has even brought this to the forefront?
Yes, we are now being FORCED to create more garbage.
Back in the 80s, when I purchased my little bungalow, I was encouraged to change the oil furnace to a gas furnace. That furnace cost me around $1,200 (if my memory serves me correctly).
And, that was an easy decision for me to make, simply because I was introduced to a propane gas furnace, kitchen stove and clothes dryer long before leaving home on my own, and I knew the advantages of saving money when using gas.
Well, that gas furnace lasted 20 years and I was forced to install another gas furnace in order to ensure I would not be left without a source of heat during our nasty Canadian winters. And THAT furnace cost me $1,800.
An approximate $600 increase in 20 years… okay. Everything had gone up by then, so I accepted this increase.
THIS year 2022, I was forced to replace THAT furnace that had lasted yet another 20 years, with a furnace that not only cost over DOUBLE, but also will only last HALF as long as the two previously installed gas furnaces.
The cost this year was $3,940!
As for obtaining a similar furnace to those I had previously, that option is no longer available. Apparently, those 20 year furnaces have been outlawed.
REALLY?
Huh…
Turns out that the story is that the "new" furnaces burn less gas thus wasting less gas.
Ahhh… So, now I pay MORE… a LOT more… for a furnace that wastes less gas.
Really?
Where is the common sense to that, I ask you?
My refrigerator that lasted just over 30 years, had to be replaced a few years ago.
And, no matter which brand of refrigerator I chose to replace it with, NONE were guaranteed beyond 5 years.
To top THAT off, I was promised that I would NEVER see another appliance EVER last as long as those I had purchased in the 80s.
Apparently, the wrecking yards are now FULL of unusable appliances, most of which were used for all of 5 years.
Then there's the plastic that we've supposedly been recycling for YEARS.
You know, those plastic containers that all turned up in massive dump sites in places like India!

That floored me to learn of, as I truly thought these plastics that I've carefully cleaned out and placed in blue bins for pickup on Wednesdays for YEARS now, were being recycled.
What was that all about.
Humans are NOT causing the climate to change and THAT is scientifically proven …and documented.
Don't believe me?
Good!
I wouldn't want you to blindly believe ANYONE anymore.
Here… check out the two seasons of 13 episodes EACH, explaining why our climate is changing. It has ALWAYS been changing, and it will ALWAYS be changing and NO human can STOP it.
Below is a sneak peak preview of ONE of the 26 episodes available to watch now, and are presently being aired on Public TV.
For the doubting Thomas' among those reading this, here's more evidence.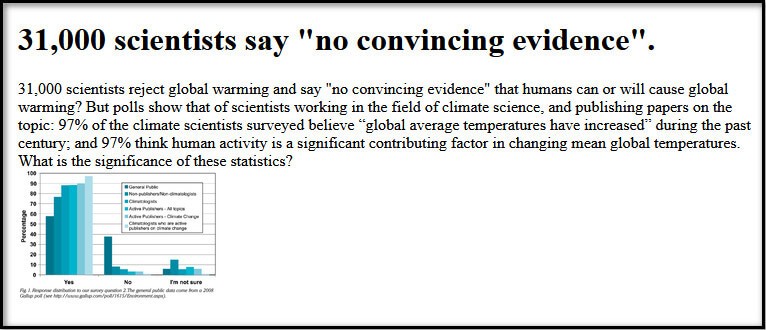 Read all about the above, here: https://web.archive.org/web/20230308010520/https://ossfoundation.us/projects/environment/global-warming/myths/31000-scientists-say-no-convincing-evidence
For me, the topic of climate change should NOT a political issue, it is an environmental issue. BUT politicians are the ones driving this "ship" while working diligently to stir the waters… a LOT, amongst us!
Divide and conquer is a saying that comes to mind.
If we humans were really serious about changing our behaviour, then instead of creating MORE disposable products, we'd get back to creating products that could be EASILY repaired… and less costly than purchasing new!
If we humans jump on the band wagon and agree to let go of our standard of living so that the rich can have it all, well then… please… COUNT ME OUT.
And… STOP THE WORLD NOW, I WANNA GET OFF!
People are willingly ready to live like I suffered for four long years of my early youth:
going to bed at night without eating and crying myself to sleep because my stomach hurt so bad.
sleeping on someone's cast off mattress and covering up with old winter coats, long tossed aside due to wear… only having my sisters to help keep me warm through cold, winter's nights.
living in a rental home where during winters we'd take turns shoveling the drift of snow out of the kitchen in the morning, so that mom could start breakfast after lighting the wood burning kitchen stove.
a house where during winters, you'd have to scratch and scratch and scratch at the window pane in order to be able to look outside.
wearing clothing that no one else wanted to buy, from the local Sally Ann (Salvation Army nickname in those days).
when we did have food (so to say) it was a bowl of dirty water (turns out was bone-broth) with one penny-piece of carrot floating on top.
Oh, wait a minute…
For those people who claim to be willing to make sacrifices to their present standard of living once oil and gas products have been successfully outlawed… you won't have HALF of what those 4 years of being without that I experienced as a little kid, back in the late 50s to early 60s.
Nope… most of that won't be available to you anymore.
You'll be lucky to be able to afford a home to live in, much less clothing and food, once oil and gas products have been successfully outlawed by our present, radical globalist leader.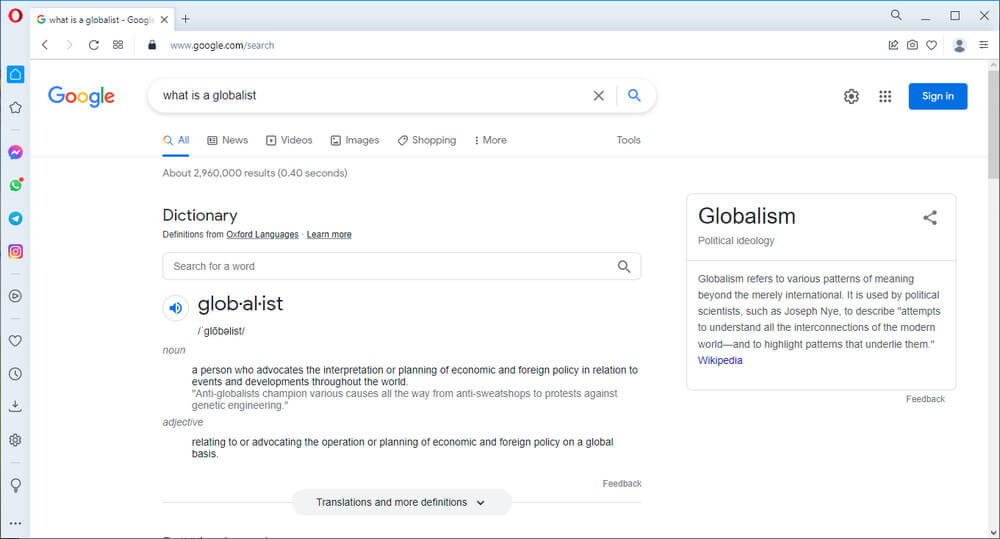 So, enjoy your lives without the comforts that you now enjoy because you've chosen to blindly follow that leader's requests. And all those leaders who are touting the falsehoods of climate change while enjoying the fruits of your willingness to no longer enjoy!
Many of you refused to listen to my warnings to you back in 2015, so I can only pray that enough of you WAKE UP soon enough to STOP the madness that has taken over the average person, lately.
And don't you EVERY say you weren't warned!
Niel Oliver from GB News UK explains the claims about climate change better than I can
Climate change is NOT caused by humans, no it is NOT!
Feel free to leave your thoughts on this topic in a comment below. I enjoy discussing hot topics once I can PROVE my thoughts on a matter, and will respond in a timely manner.
If you REALLY want something other than Climate Change to worry about, check out at least ONE of the following documentaries cover the PFAS Contamination going on RIGHT here in North America!
The following was shared on YouTube titled The Devil We Know, on the 28th of July 2019
The PFAS Problem Season 1 Episode 12 by PBS, released 31 March 2020
Other's Opinions and Issues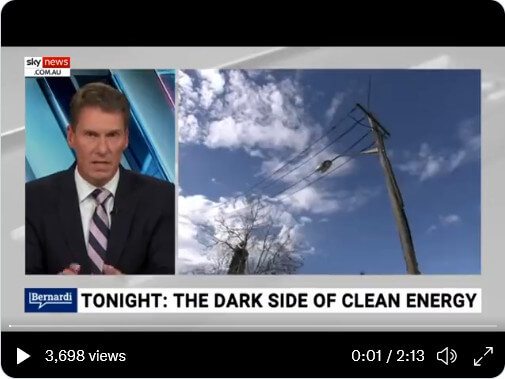 Climatologist Dr. Judith Curry testifying on climate change
Kuwait has accumulated the biggest tyre [tire] dump in the world (50 million tyres on various site). And, here's what happens when they catch fire!
https://twitter.com/JamesMelville/status/1558781967042240512
https://www.nbcnews.com/think/opinion/climate-changing-not-just-because-humans-here-s-why-matters-ncna824271
https://www.bbc.com/news/science-environment-58954530
https://www.riotimesonline.com/brazil-news/modern-day-censorship/three-new-studies-say-humans-are-not-the-cause-of-global-warming/
https://twitter.com/Kristopher_K/status/1558610770824396801
https://twitter.com/GBNEWS/status/1558732660062556160
https://twitter.com/ShellenbergerMD/status/1581730315852136448
Credit for Header: Photo 35901852 © Robstark | Dreamstime.com