It used to be quite feasible to rent a gas water heater but nowadays, not so much. In this post I will explain to you how renting a hot water heater is no longer viable for homeowners.
On April 15, 2006, Direct Energy replaced my hot water heater that was originally rented from Enbridge, which was previously rented from Consumers Gas.
Nowadays, not so much. In this post I will explain to you why renting a hot water heater is no longer viable for homeowners.
Let us first review the total rental costs of the hot water heater that was installed on April 15, 2006 and removed on 19 January 2020.
DETAILS
YEARY
RENTAL
FEES
April – Dec 2006 – $11.75 charged monthly
$105.75
Jan 2007 – $11.75 + Feb – Dec 2007 – $12.04 charged monthly
$144.19
Jan 2008 – $12.04 + Feb – Dec 2008 – $12.51 charge monthly
$149.65
Jan 2009 – $12.51 + Feb – Dec 2009 – $13.00 charge monthly
$155.51
Jan 2010 – $13.00 + Feb 2010 – $14.44 + Mar – Dec 2010 – $14.49 charged monthly
NOTE: Correction statement issued Nov 2010 – Direct Energy $115.92
$288.26
Jan 2011 – $14.49 + Feb 2011 – $14.97 + Mar – Dec 2011 – $14.99 charged monthly
$179.36
Jan 2012 – $14.99 + Feb 2012 – $15.46 + Mar – Dec 2012 – $15.49 charged monthly
$185.35
Jan 2013 – $15.49 + Feb 2013 – $15.94 + Mar – Dec 2013 – $15.99 charged monthly
$191.33
Jan 2014 – $15.99 + Feb 2014 – $16.57 + Mar – Dec 2014 – $16.59 charged monthly
$198.46
Jan 2015 – $18.75 + Feb 2015 – $19.73 + Mar – Dec 2015 – $19.76 charged monthly
NOTE: Feb – Aug billing, Direct Energy shown as no EnerCare – Sep onward now EnerCare
$236.08
Jan 2016 – $19.76 + Feb 2016 – $20.31 + Mar – Dec 2016 – $20.33 charged monthly
$243.37
Jan 2017 – $20.33 + Feb 2017 – $20.94 + Mar – Dec 2017 – $20.98 charged monthly
$251.07
Jan 2018 – $20.98 + Feb 2018 – $21.65 + Mar – Dec 2018 – $21.70 charged monthly
$259.63
Jan 2019 – $21.70 + Feb 2019 – $22.54 + Mar – Dec 2019 – $22.60 charged monthly
$270.24
Jan 2020 – $22.60 + Feb 2020 – $23.32
NOTE: 19 Jan 2020 called 1-866-281-7443 to have old tank picked up and was told that would cost me $75 for pickup and cancellation of further need of rental tank
$120.92

TOTAL PAID

OUT ON OLD HOT WATER HEATER
$2,979.17
In doing some researching on prices, I discovered that right today, Home Depot sells a 40 Gal, Rheem Power Vent Natural Gas Water Heater tanks with a 12-year warranty for $878. And, that just so happens to be the same name brand and size of the hot water heater that Direct Energy installed in my home back in April of 2006… you know, 14 years ago.
And, I'm sure this hot water tank would NOT have cost them $878, back in 2006.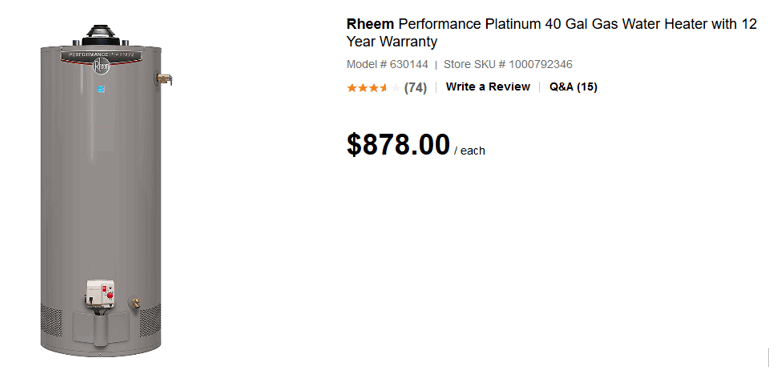 On the 19th of January 2020, (a Sunday morning, no less!) when I telephoned my fully licensed gas contractor for help replacing my leaking hot water tank. He purchased and installed my new hot water heater PLUS removed the old one to my driveway, for $1,650 (Lowes sells this tank for $716 which has a 9-year warranty).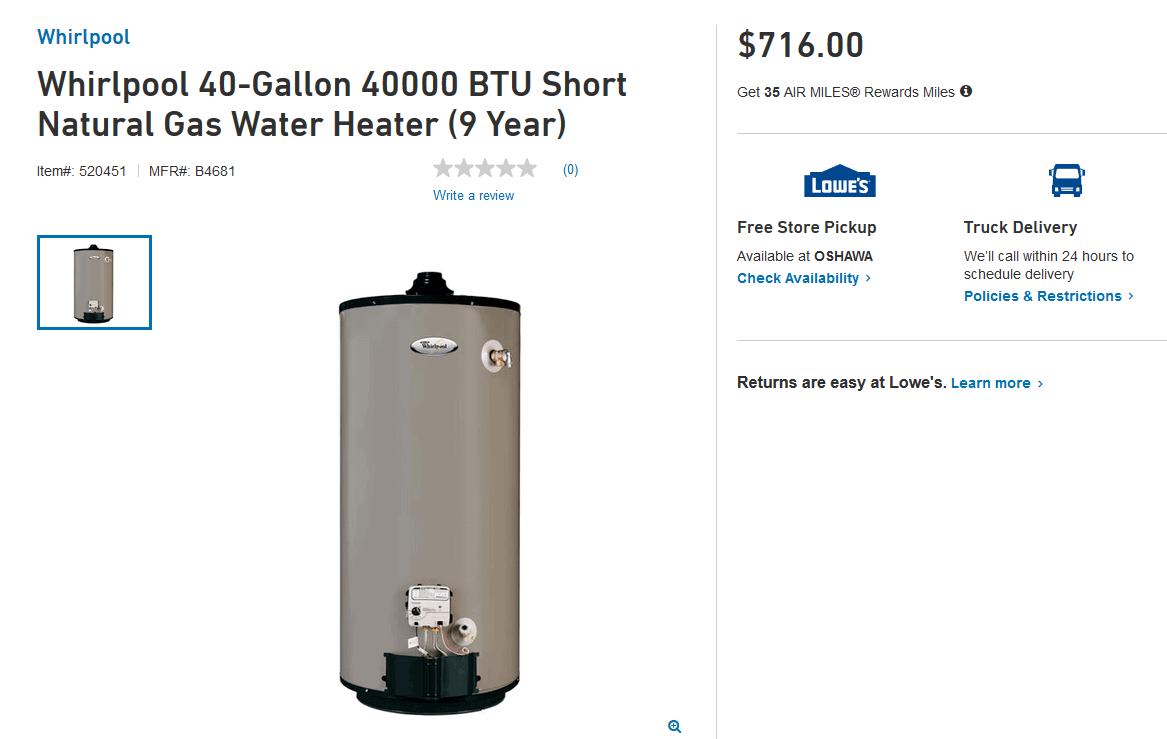 EnerCare customer service department scheduled a pickup of their old tank for the 27th January 2020, as claims were made that they were very busy until then, and the old Rheem hot water tank MUST be returned to them as proof that I no longer require it. It is my understanding that as scrap metal, they would only get about $15 for it. Yet, I'm being forced to pay them $75 for their coming to pick it up.
The customer service at EnerCare was not very friendly once they realized I would no longer need their services. Had EnerCare simply changed the Rheem hot water heater ONE year beyond the warranty:
They would still have me as a customer.
My basement would not have been flooded… again, as it was in 2006.
The change would have been able to have been scheduled during a weekday, and at a more opportune time.
However, that is NOT how they do business, and this is the 2nd hot water heater to flood my basement before it got changed.
On the other hand, my contractor will be back to replace this new Whirlpool hot water tank in 10 years' time, which will be ONE year beyond its warranty. This way, I am hopeful of no more flooded basement AND having the tank replaced at a more convenient time for both of us.
Should You Rent or Own?
So, if you are in an area of your province, region, county, etc., where your hot water heater seldom needs changing, why would you rent from anyone, especially a company who only seems to care about collecting rental fees and NOT about their customer's needs.
The cost of having my hot water heater replaced was as high as it was due to my contractor being available on a Sunday.
Had I called to have the tank replace by EnerCare, I'm sure they would not have been as quick to replace it, as proven with their being too busy to pick up the old tank that I no longer need.
Claims were made that EnerCare would have waved the $75 pickup fee if I had of called their repair person to my flooded basement first, to make sure that the tank actually needed replacing. And then of course, had them replace it with yet another rental heater, I'm sure.
However, that was not guarantee either, as that was stated in passing when speaking with the customer service rep at the other end of that 866-telephone number. It appears that EnerCare is using a call center in India.
Due to EnerCare's lack of customer service, I had the old tank kept inside until the weekend before having it removed from my furnace room, due the temperatures having dropped to minus 17 °C followed by another night of minus 16 °C; after which, our nights finally and slowly warmed up.
It was my hope that I would not be falsely accused of causing their hot water tank to leak by not caring for it properly until they picked it up. Waiting for warmer days meant that the small amount of water that remained in the tank would not freeze.
My rating of EnerCare's customer service is as follows: 1/5 Stars!
What I Discovered
In speaking with a friend after my explaining about the unfair treatment I experienced from EnerCare, he informed me that years ago now, Direct Energy had to rename their business due to so much bad publicity about their lack of customer service.
In searching the internet, I found claims that EnerCare bought out Direct Energy, yet the same staff from Direct Energy remained employed, according to my friend who enlightened me of this issue.
A neighbour of mine had his electric hot water tank replaced by a fully licensed plumber, back in 31st August 2016. The purchased and installed price came to a grand total of $1,130. That covered the cost of the old hot water tank being removed from the premise on the same day, though on a weekday, and during the summer.
Another neighbour had their electric hot water tank stop working and leaked all over their basement too, causing it to have to be replaced more recently… on the 18th of December 2019. They called a major franchised business because their plumber was too busy to come… and, they received 3 months free rental, followed by a charge of $16.62 monthly after that.
Oh, and they were not charged for the removal of the old hot water tank that they had previously purchased outright. Nor were they charge for installation of the new rental, electric hot water heater.
Though… this neighbour had to wait two days for that franchised business to attend to their leaky hot water heater.
Natural gas appliances have always been more expensive than electric appliances, I do understand that. However, whether to use an electricity or natural gas for your hot water needs really does come down to how demanding you will be for hot water.
The Advantages for Using Natural Gas
The recovery rate of using hot water is much less when using a gas hot water heater than an electric hot water heater. So, if you have more than one person in your household, who like to shower one after the other… or you like to do several loads of laundry on the same day, then the recovery to having REAL hot water to use WILL be important to you.
When the electricity goes out for hours, gas hot water heaters will still provide you with hot water and lots of it.
In Summary
Using a neighbour's hot water usage as a comparison to my hot water usage, I now suspect that his electric hot water heater is no more expensive to operate than my gas hot water heater.
In fact, my gas hot water heater really COULD be a LOT more expensive to operate, but it is hard to determine.
That neighbour who I used as my comparison, has a much lower overall monthly electric bill than I do. And he oil to heat with, where I use natural gas. When we compared our monthly electric bills, my costs far outweigh his costs.
Mind you, I use my electric household appliances (kitchen stove, dishwasher, washing machine and clothes dryer) on a regular basis where he does not use his… and, that would definitely have some bearing on the differences in billing.
But that might still leave his electric hot water heater costing a LOT LESS to operate than my natural gas hot water heater.
In fairness, I need to stress that my washing machine and dishwasher do both depend on HOT water… so my hot water heater MIGHT truly be cheaper to operate. I don't know for certain simply because the gas verses electric usage is not broken down like that.
Hopefully this information will help you decide whether to buy or rent your next hot water heater… or even whether to go natural gas or electric for hot water heating needs.
This post sure has opened my eyes as to the extreme rise in prices of natural gas as compared to when I had my furnace and hot water heater changed over from an oil furnace and electric hot water tank. That change happened within 6 months of my purchasing my house in 1982.
Feel free to share this post… in fact, I hope you will, so that others can see from my bad experience what NOT to do when it comes to replacing a hot water heater. Now we can all know why renting a hot water heater is no longer viable, when it comes to natural gas users anyway.