Glad you have decided to meet me. My name is Trish and I started my personal blog years ago, as a means of helping me keep track of my favourite recipes, inspirational stories and quotes, as well as software fixes that were hard to find.
What got me started online was a publishing business that initially produced; Canada's Family History News, which was featured in the 21 May 1997 edition of the Toronto Sun Newspaper (see image below).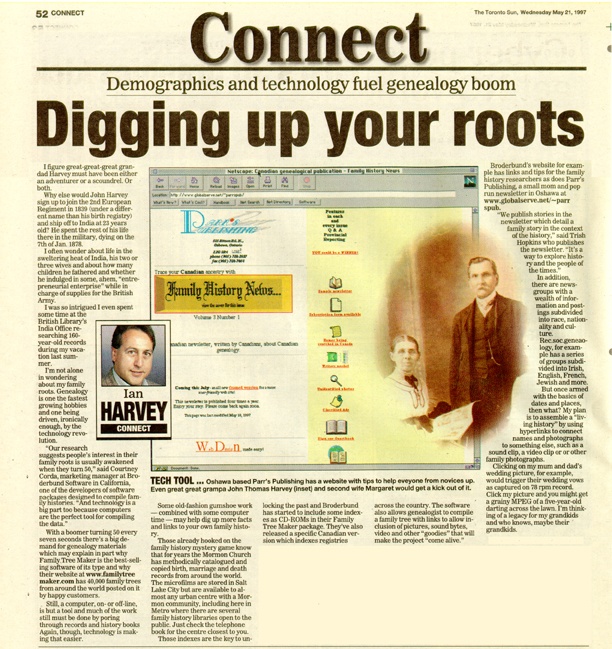 The website pictured back then was quite the achievement, given the introduction to HTML tables so that we could then provide columns on our websites. LOL! Today… that website looks pretty tacky indeed.
What encouraged and inspired me to learn Desktop Publishing is my passion for family research (genealogy), and my goal of publishing my findings. Thankfully, I accomplished my goal back in 2018.
Before Desktop Publishing was possible, the cost was so far out of reach for publishing my own book that when the catalog of available courses first arrived in my mailbox with this course being one of the 3 being offered by NRI at Washington in the District of Columbia, USA, I jumped at the opportunity and signed up immediately.
It was only after I graduated that I learned I was the first student to graduate with Desktop Publishing. And, I graduated with Highest Honors. Imagine, a Canadian student being the first to graduate from an American course… you can believe, I was very happy.
As time has passed, I no longer publish Canada's Family History News newsletter (not since 2000).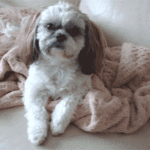 In more recent years, I've been sharing other issues here on my personal blog, like health issues that were suffered by my sweet Nugget, aw well as my own health issues.
All in hope of helping you avoid the bad stuff by your learning what works.
I do hope that you will feel free to comment about any of my posts shared here as I enjoy chatting about personal things that effect our every day lives.
If you ever need help regarding using well known computer software, issues with your pets, or your grandma's long lost recipe… all you need to do is leave me a comment on any one of my posts, and then make sure to come back here regularly because I will be continuing to add new personal, every day type issues, right here on my blog.
Need Help With Technical Website Issues
Feel free to drop by my website design blog (link offered below) for solutions to technical issues you may be having. I've been creating websites for local business owners since Canada's Family History News newsletter is no longer being published.
Here is a list of my skills:
One of my favourite sayings at Parr's Publishing is: "Helping you is my first priority because when you succeed, I succeed."