Never being one to stick with any one product on a regular basis, I truly thought that Ovaltine was here to stay. Little did I realize that the original company would ever sell their product, where the new owners would alter the recipe to the point of destroying a once great product.
Having renovated my kitchen in the fall of 2019, I came across an old container of Ovaltine and thought, hmmmm… might be nice to see if I can purchase this product again, because I LOVED their recipe for malted milkshakes (shared below).
My original container looks like the image below…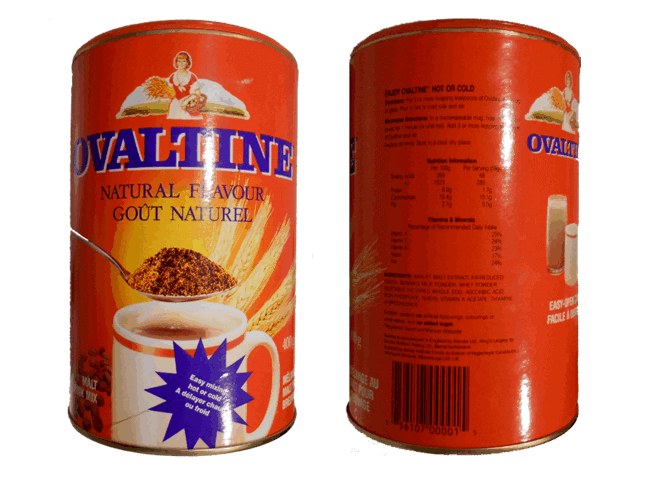 The following is what is printed in English, on my container.
Directions: Put 3 or more heaping teaspoons of Ovaltine in a mug or glass. Pour in hot or cold milk and stir.
Microwave Directions: In microwave mug, heat milk at high power for 1 minute (or until hot). Add 3 or more heaping teaspoons of Ovaltine and stir.
Replace lid firmly. Store in a cool, dark place.
Nutrition Information
Per 100g
Per Serving (19g)
Energy kcals
358
68
kJ
1523
289
Protein
8.9g
1.7g
Carbohydrate
79.4g
15.1g
Fat
2.7g
0.5g
Vitamins & Minerals
Percentage of Recommended Daily Intake
Vitamin A
25%
Vitamin C
24%
Bitamin B1
23%
Niacin
17%
Iron
24%
INGREDIENTS: BARLEY MALT EXTRACT, FATREDUCED COCOA, SKIMMED MILK POWDER, WHEY POWDER, VEGETABLE FAT, DRIED WHOLE EGG, ASCORBIC ACID, IRON, PHOSPHATE, NIACIN, VITAMIN A ACETATE, THIAMINE HYDROCHLORIDE
Ovaltine® contains no artificial flavourings, colourings or preservatives, and no added sugar.
Ovaltine is manufactured in England by Wander Ltd., King's Langley, for Sandoz Nutrition Trading Ltd., Berne, Switizerland.
Imported by Ashley-Koffman Foods (a division of Hagemeyer Canada Inc.) Vancouver, Montreal, Mississauga L5S 1J6.
RECIPE
Ovaltine Malted Milkshakes
Just add:
3 Tablespoons of Natural Flavour or Chocolate Ovaltine (Natural Flavour was my favourite!)
2 Cups of milk (16 FL. OZ.)
3 Scoops of vanilla ice cream (I used REAL vanilla ice cream)
Then blend in a blender.
Serve and enjoy!
Serves 2
Today's Ovaltine
The new Ovaltine label NO LONGER displays "NATURAL FLAVOUR", and NOTE the decreased nutritional value of this new Ovaltine shown in the screen print below.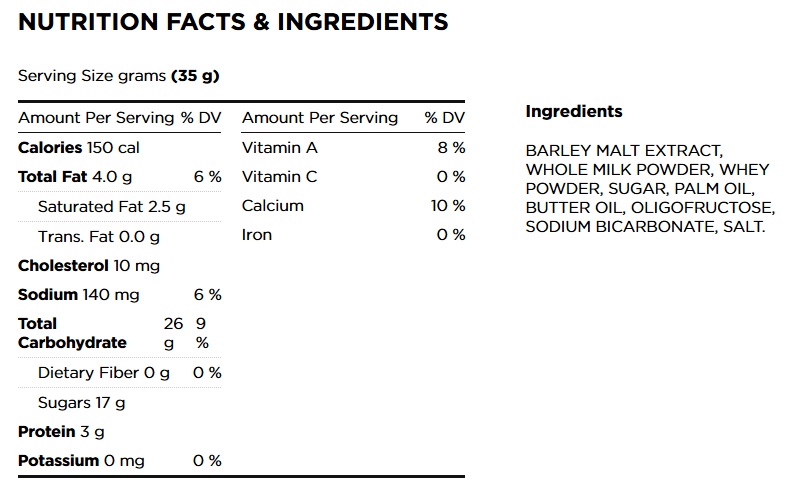 Palm Oil warning found on www.independent.co.uk
Palm oil has a high saturated fat content, which can be harmful to cardiovascular health. However, one study found that, when consumed as part of a balanced diet, "Palm oil does not have incremental risk for cardiovascular disease."
Oligofructose is said to be a subgroup of the fiber known as Inulin, and is also known as fructooligosaccharide. Oligofructose study results: https://www.ncbi.nlm.nih.gov/pubmed/12571376
Whoever owns Ovaltine now, I want the ORIGINAL Ovaltine back

please?
And please… don't tell me that the Ovaltine sold on amazon.ca that is claiming to be ORIGINAL is either. One honest amazon customer explained that the contents were NOT as they were on the ORIGINAL Ovaltine.
If you are missing your Ovaltine from the 70s and 80s, then PLEASE, join me in my rant by leaving your comment below. Then share this with your friends and family so that others may join in. Maybe then someone MIGHT listen and bring back the REAL Ovaltine.
New Ovaltine Rating is low due to the low quality of this product: