Having a small kitchen can perhaps limit your remodeling design ideas, so perhaps it is time to call in the "big guns". And, if you are anything like me, you are not fond of living in a house while it is being renovated.
However, with a limited budget that is not always an option that any one of us might have the pleasure of forgoing. So, living in renos is what I did for the next nearly three to four months… but, this was sooooo worth it!
Here is my story
On 3rd September 2019, my kitchen that I had renovated back in 1984 was started to be literally gutted. This time, the inner walls of the two outside walls were, removed in order to add much needed insulation.

These images make this old kitchen look not to bad, but believe me… it was in pretty rough condition. Note the heat vent on the floor in front of my dishwasher in the center image. More on that later.
My home was built in 1954, you know… back when houses were still being built soundly. The walls are constructed with about 4″ x 6″ prices of drywall that were installed horizontally and then covered with a ½" layer of plaster… sturdy walls to say the least.
Within about 6 months of my having completed the kitchen renovations back in 1984, the corner of my kitchen ceiling suffered major water damage that puddled water onto the counter top joint, causing it to warp.
Over time, and due to sloppy contractors, my roof leaked again, this time undetected for too long, causing even MORE damage to my kitchen. I called a contractor in for his opinion of the damages back in about 2012. That is why the corner bulkhead (in the 1st and 2nd photos above) has an access panel installed. You see, I cut into that bulkhead so that the contractor could see the damages.
He told me to leave it until I was ready to tear out the entire kitchen, due to the amount of damage he was sure that he was witnessing.
And, of course, my 1984 under-the-counter, Black & Decker dripolator coffee pot ended up damaging the upper cupboard door to the right of my stove, causing a permanent stain on the surface of the door front. Needless to say, that style of coffee pot is no longer available to purchase. Bets it was discontinued due to complaints from this happening.
When removing the cupboards, we discovered that the upper lazy-susan cupboard was so badly damaged from the previous issues with the roof leaking, as to cause it to not be reusable. Though, all of the other cupboards are now installed in the back building and being used for storage.
On 31st of August, my electrician Matt Goddard from Ripley Electric, came to my home and removed the original light fixture (shown in the image below), as well as the working area, the old pot-light over the sink, and the microwave oven shelf. This way, on the 3rd of September, tearing out of the kitchen could begin safely.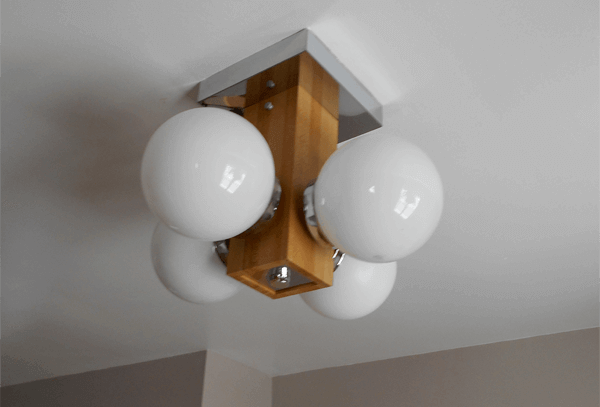 Matt insisted that he be contacted as soon as the outside walls and flooring were removed, as he noticed that some of the electrical HAD to be updated.
Having watched numerous home renovation TV series (I had even submitted my kitchen project to Holmes on Homes, and I DID hear back from their staff but my kitchen project was never selected) I was keen on making sure to add the plastic, zippered entrance ways. They worked out perfectly when using the plastic for vapour barrier and the Home Depot zippers, thanks to Alex's suggestion (from Brandom Kitchens and Bath).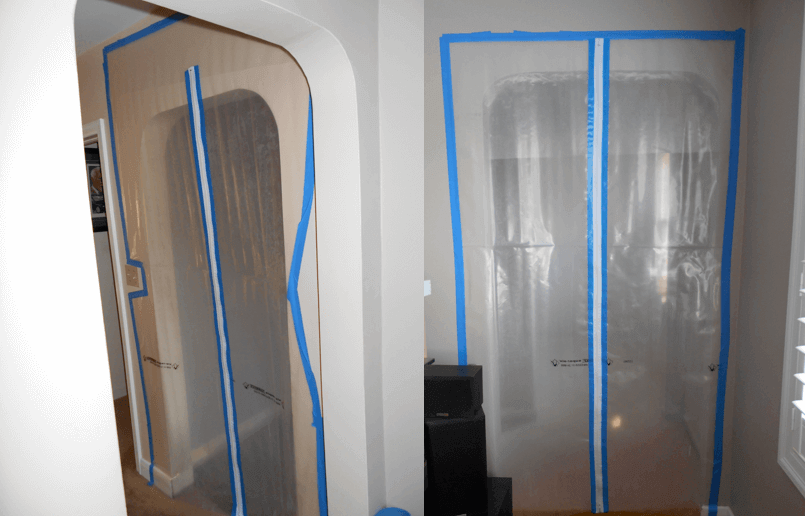 By September 5th, the following photograph shows how my renovations were coming along, thanks to Darryn Raey (a very trustworthy man of many talents!), and the handy Bin There Dump That dumpster that had been delivered to the front of my home on the 3rd of September.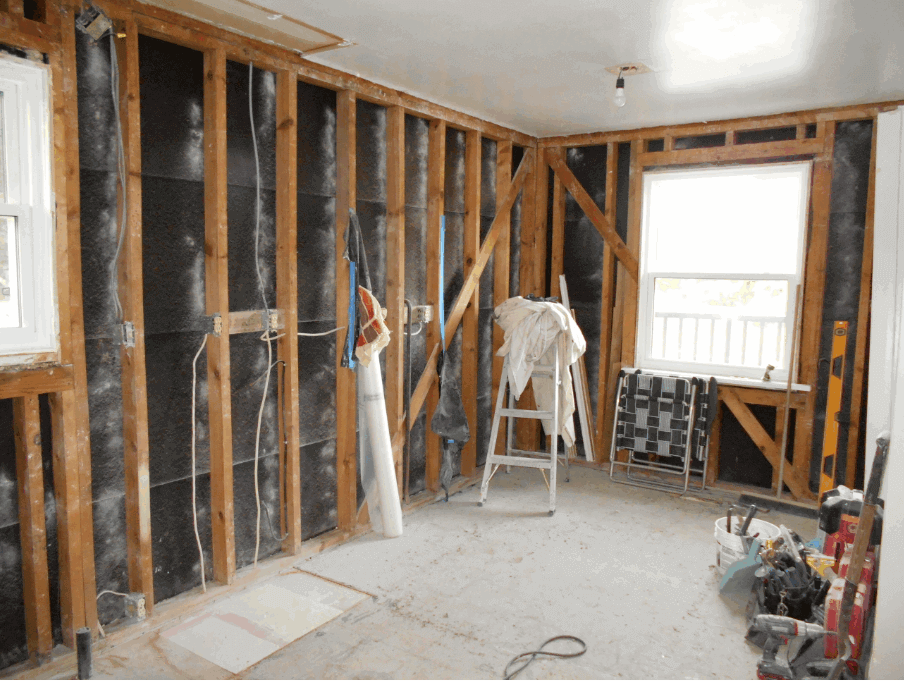 Thankfully, I was physically able to be Darryn's handygal in helping with gutting the kitchen. Much work was done by Darryn alone after that, as well as installing the new insulation and drywall.
My electrician Matt was called, as he had requested.
Matt returned in a timely manner, and completed the necessary electrical work required to bring my new kitchen up-to-date.
Then my plumber Kevin Reynolds from Reynolds Plumbing Plus, came in and updated the drain to work as it SHOULD have been setup to work properly, and he removed the unnecessary pipes that had been installed back when my kitchen was renovated in 1984. I did NOT use a professional plumber back then and BOY, was there work to be corrected!
Once the electrical inspector came by and inspected my electrician's work that had been completed, and the inspector gave us the "OK", Darryn got busy installing the drywall, and painting the entire room.
Darryn worked so diligently and had completed the job a bit sooner than he had originally anticipated, so I decided to contact my designer by choice, Shana Joshua from Brandom Kitchens and Bath Design Centre. I asked Shana if it might be possible to have the new floor installed (only because I had been told that the tiles had arrived during a previous conversation), though I knew that the cabinets were not due from Ottawa until early October.
On the 24th or the 25th of September, Alex MacLeod from Brandom Kitchens and Bath Design Centre arrived to inspect the subflooring, to make certain it would be ready for him to install my new UltraCeramic tiles.
Turned out that the subflooring had to be smoothed out, mostly at the seams. Next day after the fine layer of a type of cement was laid down and set, installation of the tiles began, followed by another day with the grouting being added.
Below is a picture of what the kitchen looked like with the new flooring installed!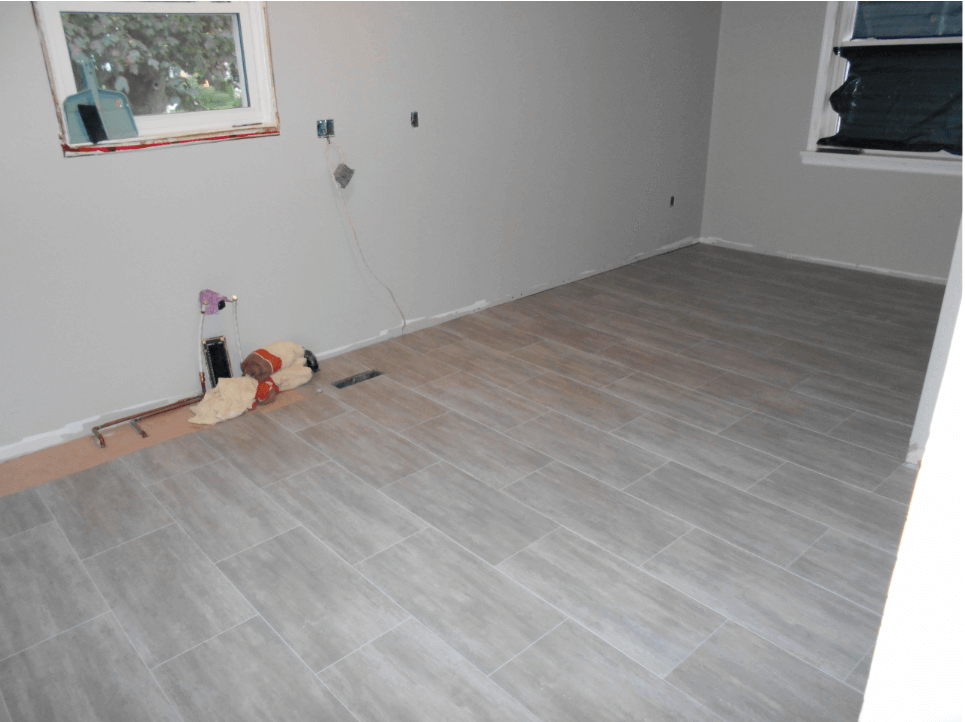 This flooring is soooo amazing that I had it installed in my front entranceway AND on my side-door landing too. WOW!… right?
Tears of joy welled up in my eyes just looking at this new floor.
The new cupboards arrive to my contractor's site in Courtice on the 11th of October, as the Ottawa contractor had promised, and thankfully, installation began at my home on the 15th of October, the day after Thanksgiving this year.
Alex also installed my kitchen cupboards and WOW, what an amazing job he did. I had wondered why he was taking so long to complete the installation… until I saw the finished picture!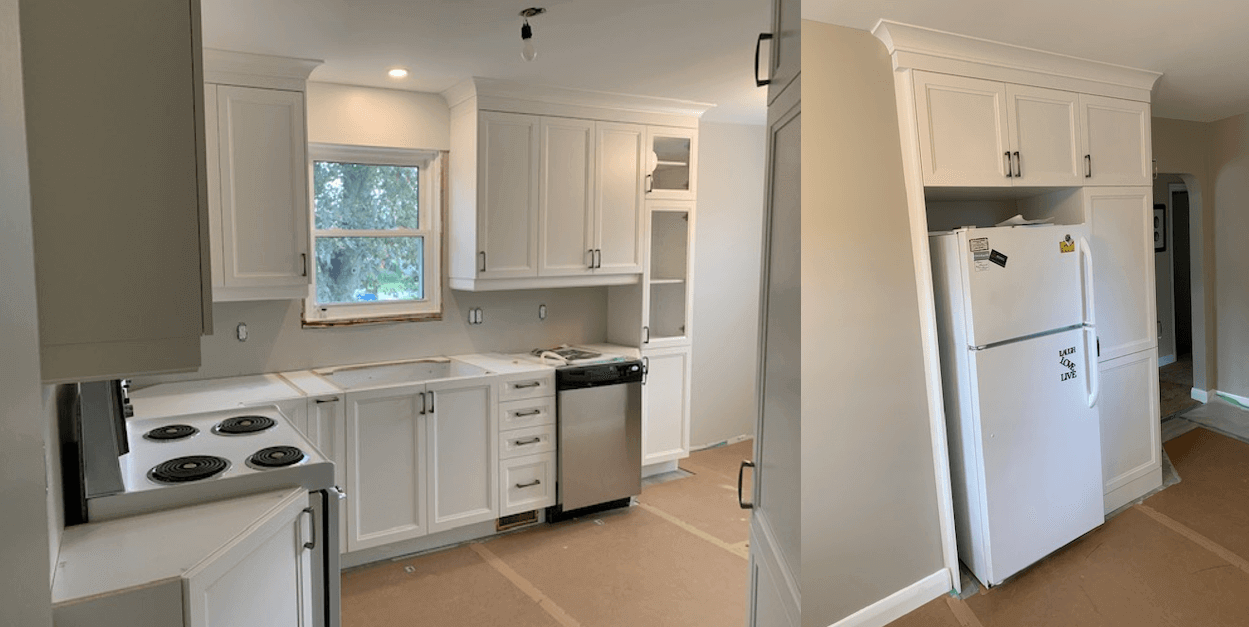 Keep in mind now, that light-brown flooring you are seeing in the images above is the floor protection that Alex installed overtop of my new UltraCeramic floor, in order to protect it from any potential damage while installing the cupboards, countertop and backsplash, as well as moving the appliances around the room.
Pretty amazing, wouldn't you agree?
That old fridge of mine (5 years old) will need replacing, huh?
LOL granted, it is so out of place in my new kitchen… but it works and when I'm on the tight budget that I am, it'll have to stay until it dies. Though Paddy's Market promised me it won't live as long a life as my previous Vikings (yup, from Eatons!) fridge lasted (which was 32 years!).
My electrician Matt Goddard from Ripley Electric, came in and installed that new pot light that you can see above the window, and reinstalled the light fixture over my kitchen table that Darryn had painted to match my new kitchen (image below), as well as all of the new electrical plugs and switches.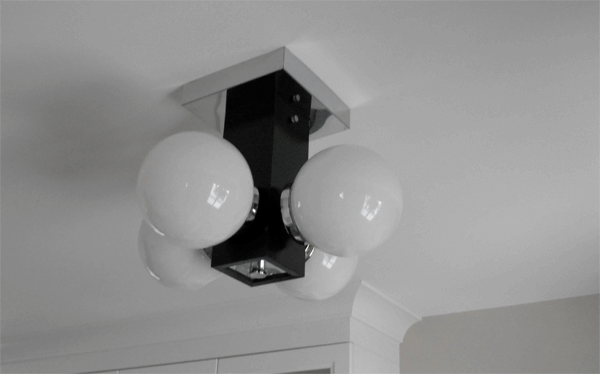 This light fixture now easily looks like a $600 light fixture, wouldn't you agree? Thank YOU Darryn!
And, if you are shocked by the price quoted here then perhaps you haven't seen today's prices on light fixtures. Plus… this style is still "in".
Now for my countertop, backsplash… and the completions to begin.
The countertop was originally scheduled to be delivered to my home on the 23rd of October.
However, good ole' Murphy's Law took over… the countertop people in Peterborough noticed a warp in the newly created countertop on the day they were to deliver it to my contractor's shop on the 22nd of October.
I was notified that this would cause a week's delay.

On the morning of the 30th of October, Jim from Brandom Kitchens and Bath Design Centre came to meet Alex at my home to deliver the newly created countertop and they installed it, leaving Alex to cut the sink hole and add the sink.
Having been disappointed by the countertop assembler once, I await until knowing for certain that the countertop had been received in prefect condition. Then I called my plumber Kevin Reynolds from Reynolds Plumbing Plus, to have the new sink and tap installed, as well as the original dishwasher re-installed.
Kevin not only did a "bang-up" job installing my new sink and reinstalling my dishwasher, but he had caught a major issue regarding the tap that I had purchase for my new kitchen. It was the wrong style of tap, and so Kevin went and ordered the proper tap, and proceeded to do the other plumbing items that I added to his list, for me.
On the morning of 31st of October, Arnold from Brandom Kitchens and Bath Design Centre came to start the installation of the backsplash. Shortly after lunch time, both plumber and backsplash installer had completed their jobs. Though grouting had to be added to the backsplash once the tiles had had time to dry.
Arnold got pulled off my job for the next few days. On November 4th, he returned and finished the grouting, and reinstalled light rails under the top cupboards which had been removed in order to add the backsplash tiles. The light rails had to be trimmed to fit once reinstalled.
Completion is getting clo-o-o-o-oser.
Matt, my electrician has now been telephoned so that we can schedule his finishing touches to my kitchen… you know, installing the over-the-stove, microwave oven and the remaining light fixture.
On Monday, November 11, my new Bosch microwave oven was delivered by Geomans Appliances.
The very next day (right after our first and nasty winter storm!), my electrician and his assistant came to my home to finish their part of my renovation.
Now for Darryn to return to install the missing pieces of baseboards and do his magical touch ups from minor boo-boos, and for Keith from Quality Window Coverings to come and reinstall my window shutters again, so they look professionally installed.
I did try my best to reinstall the shutters on the window that faces out to Ritson Road, so that I could at least have some modicum of privacy, but I failed to reinstall them flush, as they need to be.
Now it looks like I need to wait until after December 2, when Keith comes back from his vacation in Florida.
Lucky Keith, missing out on that nasty November wintery storms and having to shovel all of that snow. But… he and his wife arrived at the airport on the day of our 2nd nasty snow storm. Not nice driving at all!
The image below is what my 2019, newly renovated kitchen looks like.

Two more of the awesome options that only Shana suggested are as follows…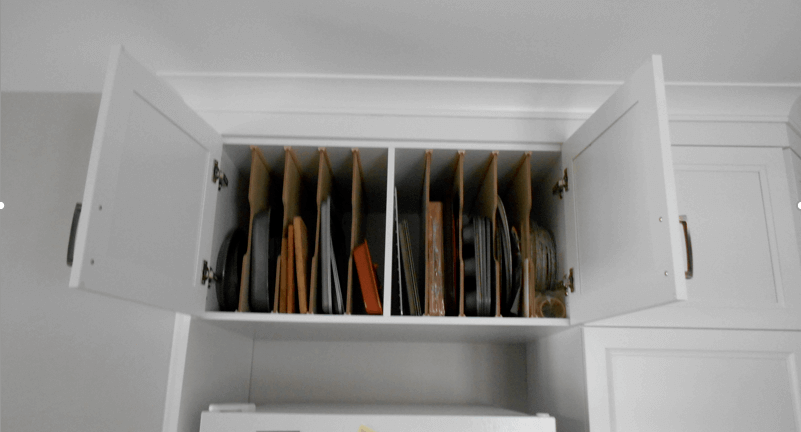 Over my fridge is a deep cupboard for all those large trays, cookie sheets and even my muffin tins, pizza pans, cutting boards, etc. WOW, right?
And now the following…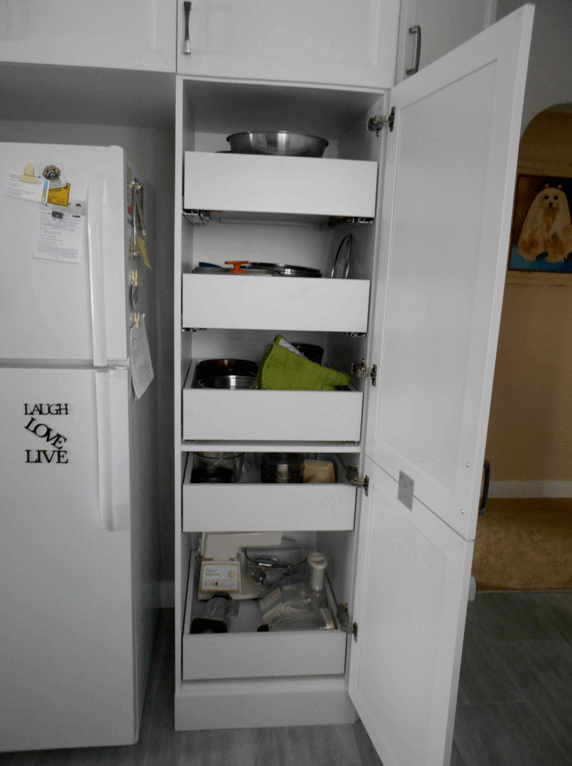 No more having to kneel on my floor to get out my pots and pans… PLUS, notice my mixer is now no longer above my fridge like it was in the kitchen from 1984. I truly am over the moon with my new kitchen!
Where to Start When Renovating a Kitchen
Small kitchen remodel design ideas are not that easy to come by as I'm sure you have either experienced yourself, or soon will be. This is why the planning stages really do need to be taken seriously.
Back in my planning stages, I was soooo hoping to hand off the entire job to Darryn. Shuckers, he wasn't up for that. Darryn insisted I had to be the one to decide on the cupboards and flooring. So, here's where I started.
Darryn pointed me to a fella from Scarborough that he had heard great things about. Kevin Chen was kind enough to come all the way into Oshawa to measure my kitchen, and he suggested moving my stove over in order to balance the kitchen properly. Good eye Kevin!
His drawing came in and they looked great… except he refused to listen to what I wanted regarding the cupboards beside the fridge. He only offered very deep shelving, which was not what I wanted. Even though I stated this several times, he flat out refused to acknowledge my request.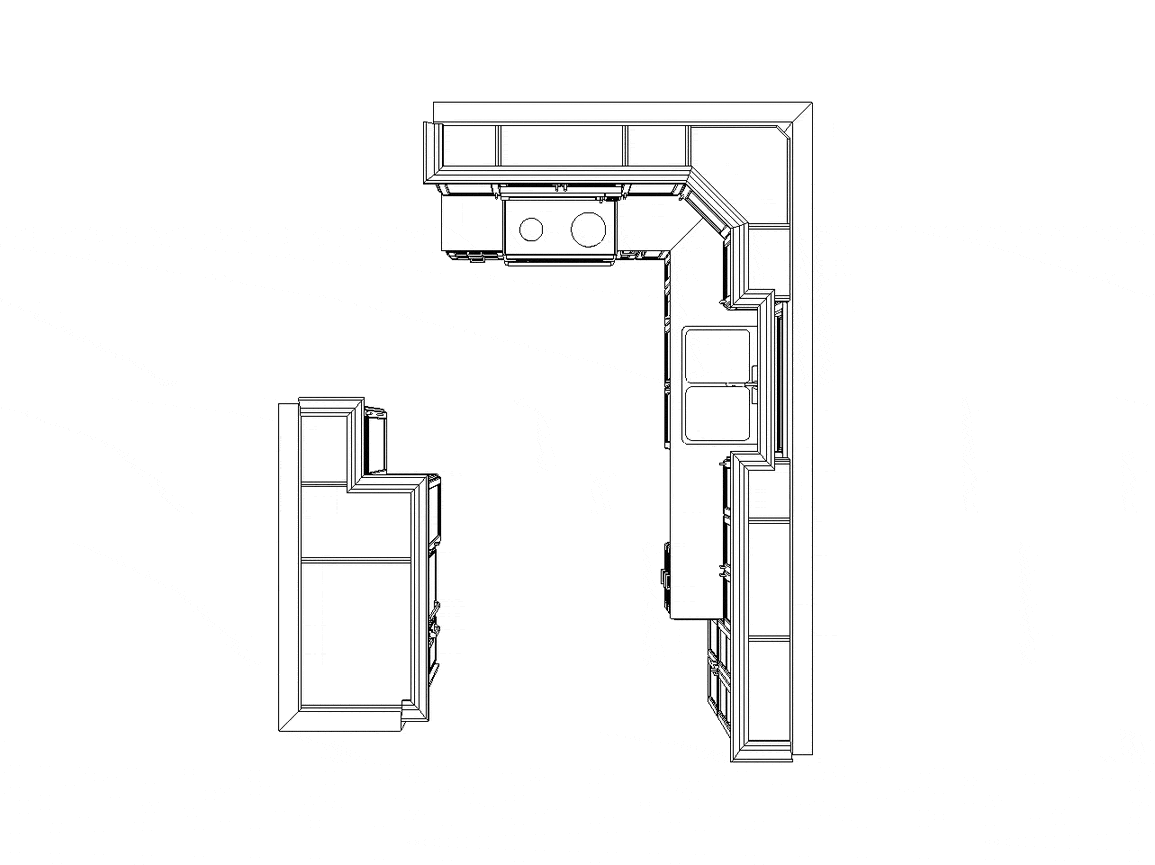 Kevin setup a date for me to appear in his showroom. However, he left his showroom for another customer 5 minutes before I arrived for my appointment with him. He had apparently told his assistant to look after me.
During a follow up email conversation, Kevin insisted I make yet another trip into his showroom. This is when I decided to do a Google search on his business. And BOY, am I glad I Google'd him!
When doing this type of search, I make a habit to read the lowest ratings of ANY reviews online, to see what complaints are lodged and how a business owner responds to those complaints.
Well, don't ya' know… Helen Jabotinsky gave Kevin's business a one-star rating, and the rudeness she suffered from him was very similar to how he had started treating me. Only difference was that Helen had given Kevin her money, and THEN he became rude. Thankfully, our business did not go that far before he started showing his "true colors".
Needless to say, I moved on without corresponding any further with this person.
That's when I went to HomeStars.com… and I found two local businesses with VERY high ratings; Brandom Kitchens and Bath Centre with an 86% rating (20 reviews) and MacLeans Custom Kitchens with 98% rating (86 reviews).
Personally, I had always believed that Brandom Kitchens and Bath were SUPER expensive, but I had to at least try by visiting their design centre and see what they had to say.
Having met Shana on my way up their front stairs at their design centre, in a very friendly manner, Shana started her interviewing me as to my needs. In short order she had a lot of what I was looking for in my new kitchen, AND I was able to provide her with copies of print outs that Kevin had sent me that I had covered with notes that I had made.
Having accepted these gracefully, Shana insisted on coming to my home to do the measurements for herself.
Then I went to Bowmanville and met with Barb at MacLeans Custom Kitchens.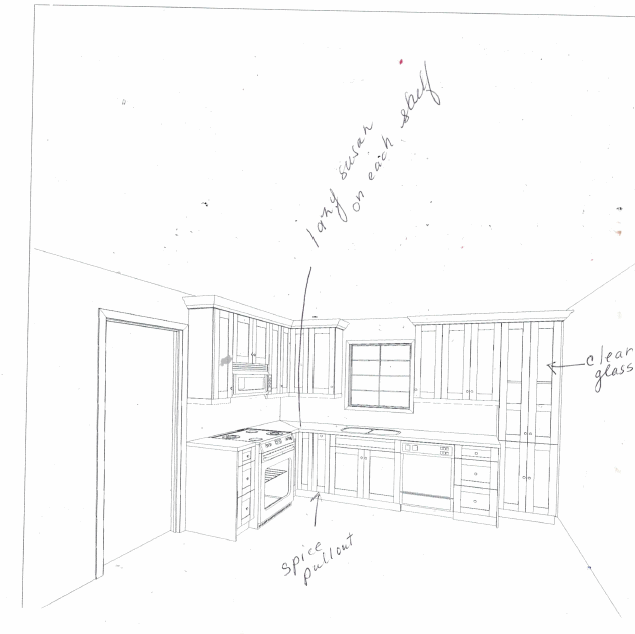 After chatting for a bit with Barb, she suggested that if I were to provide her with the measurements of my kitchen, she would gladly give me an estimate.
It was during her working on an estimate that Barb noticed that Kevin's drawings provided a pull-out spice rack to the right of my stove, when in fact there was absolutely no room for such a cupboard there. WOW, good catch Barb!
Barb's estimate came in with a qualifying statement of "prices based on customer supplied measurements", so if my measurements were off by even a ¼" then what, was my question.
Whereas, Shana had me come to her office once her initial drawings were completed.
It was during this first appointment that Shana and I realized the cabinet to the left of my stove had to be on an angle so not to hit your hip on it when exiting the kitchen to the hallway. This then forced the opposing cupboard (beside the fridge, but shared the same doorway) to also be on an angle in order to maintain a proper balance.
PLUS, Shana was the ONLY one to show me that the heat vent that was in front of my dishwasher since 1984, was not a good idea and that it should be in a cupboard kick instead. Naturally, I totally agreed with her, as I never liked that vent where it was when I renovated the kitchen in 1984, but did not know there was an alternative.
The dishwasher had to be moved further to the right of the sink, making room for the bank of draws, in which the heat vent could then be placed in the kick so that it would then be out of the way and safer should the dishwasher ever leak out onto the floor.
Now the dishwasher looked odd in Shana's drawings, because it became the end of bottom cupboards and countertop.
The single panel to the right of the dishwasher would definitely look odd and unprofessional. That's when Shana decided to put in yet another cupboard at the countertop level, and make IT on an angle too, creating yet a perfect balance for my new kitchen. This then forced the china unit originally planned in Kevin Chen's drawings to have to be reduced to ONE single china cupboard unit. Which was realistic thinking given that I do not have that much crystal anyway.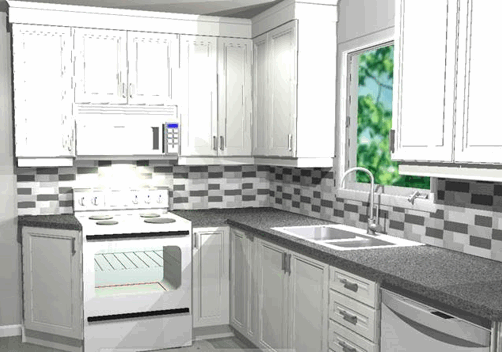 WOW… what a difference Shana made of my kitchen layout with those changes. They truly made all the difference in the world to my new kitchen.
On top of that, Shana's estimate came in close enough to Barb's to call them equal… and Shana provided me with much more customer service than ANY other who provided estimates, making my choice an EASY pick.
A dear friend of mine insisted that I select yet anther local estimate. So, off to Home Depot I went for yet another estimate, more to humour him than anything.
Home Depot too insisted on my providing them with the measurements… AND, their flooring department needed $100 up front in order to provide me with an estimate. Huh? But, never mind, as the estimate for their cupboards was so highly priced, I truly thought they were joking.
Below are two images that Home Depot submitted with their estimate.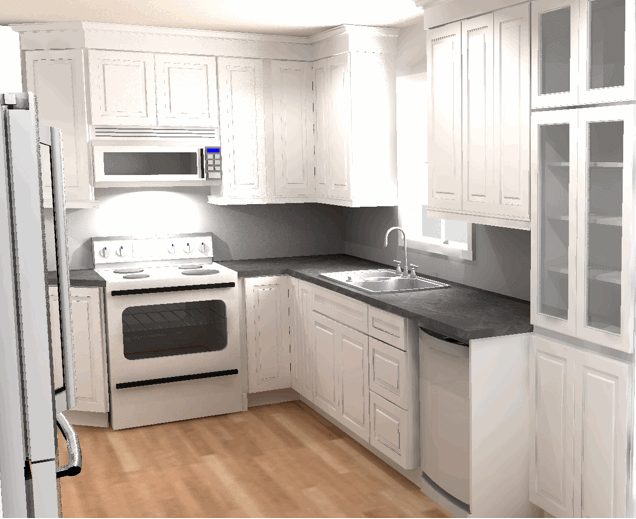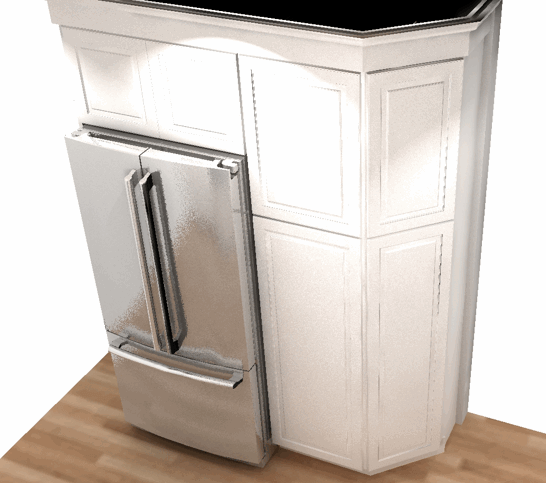 Needless to say, I have now learned first hand that Brandom Kitchens and Bath Design Centre were the LEAST expensive and gave me waaaaay more value for my money, as well as the being the BEST when it comes to customer care!
Lessons learned:
1.) Always get no less than 3 estimates for ANY job.
2.) Always start with HomeStars.com to find contractors near you.
3.) Always check for reviews, remembering that anyone can receive negative reviews. It is how they respond that makes a difference.
As a special thanks, I would like to give a BIG SHOUT OUT to DUCA Financial for being there for me again; this time, in helping me to make sure the cost of all of the renovation of my small kitchen was totally covered.
Hope you found my post helpful for when you start your new kitchen renovation. It is always wise to have small kitchen remodel design ideas so your decisions will be easier to make.
Feel free to share this with your friends, and if you have any questions regarding my small kitchen remodel design ideas, feel free to leave me a comment below and I will gladly respond to you in a timely manner.
UPDATED 31 December 2019 – Nearly everyone who has seen my new kitchen has commented about how much bigger my kitchen now appears to be, and they are right. Shana's smart idea of angling the 3 cupboards have helped us not knock our hips, the floor tiles Alex laid are laid in the direction to help with the illusion of a wider kitchen, as well as the colours chosen for this small kitchen (much smaller that most kitchens in newer homes today).