Sometime during the winter months in early 2018, Sobeys grocery store published a very helpful guide in their weekly sale flyer (that accompanied our local newspaper), on the different grades of maple syrup. Having no previous knowledge to rely on regarding the differences, I have to admit I was very thankful Sobeys decided to share their knowledge.
After reading the details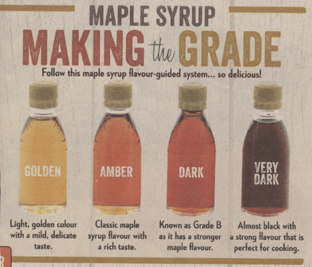 on the very dark maple syrup, I was intrigued, given my recent introduction to maple syrup cake. Wow, I thought, wouldn't THAT grade absolutely MAKE that recipe perfect or what?!
Silly me, I assumed (that alone isn't smart to begin with… you have heard what "assume" means, right? LOL) that Sobeys wouldn't likely be selling the very dark maple syrup due to a lack of demand, so off to my computer I went, in search of the internet to find a supplier of the very dark maple syrup.
Well, I found ONE Canadian supplier not far from where I live, who offered to ship their (what I remembered as) very dark maple syrup, but when I saw their price (nearly $30 for a tiny bottle, which included shipping charges) I nearly fainted… so I delayed my purchase until funds were more readily available.
On the 6th of June, 2018, my budget allowed me a minor extravagancy and I chose to purchase the very dark maple syrup for the vendor's website. This was a very busy time in my business, and given the weather was FINALLY proving to be more like summer… yard work (which I love doing!) was added to my daily responsibilities.
Excuses, perhaps but your knowing this too I'm sure you will better understand my state of thinking when placing a simple order.
When I went to the vendor's site… I entered the same way I did previously… I Google searched for something like "buy very dark maple syrup" (without the quotation marks, of course) and I landed right back at the site I originally was at months prior… so I ordered what I swear was very dark maple syrup.
Now, what I am about to share with you here is my own failing…
Upon receiving my emailed proof of purchase for the product I just paid for, I failed to double check the receipt to make SURE I paid for what I had ordered. Had I done that this story probably would never have been written?
On the 8th of June, I was a little late (by two evenings as well as late at night) going through my local newspaper and inserted weekly store flyers that had been delivered on the evening of the 6th. I noticed that the local Metro grocery store was having a sale on dark maple syrup and their price was (WOW!) a whole lot less… though not the very dark maple syrup I was wanting.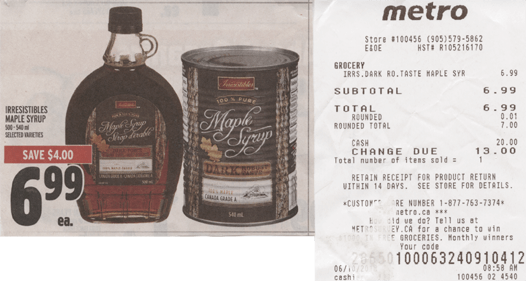 Mulling this over in my mind, I decided I might better cancel my order from the online vendor and purchase from my local Metro store instead. After all, maybe the differences in grade and pricing might not be that big a deal. But when I opened my emails delivered the next morning, it was too late for me to cancel my order as they had shipped it already. Darn… ooooh well, I thought… now I will be forced to try the very dark maple syrup for my recipe like I wanted to.
Come Sunday, the 10th of June, I decided to purchase a bottle of the dark maple syrup that Metro was offering for only $6.99, anyway.
On the 11th of June, a package containing my order of what I thought was very dark maple syrup arrived. When I opened it and noticed how light in colour the syrup was, I was shocked. Then I noticed that the invoice included clearly stated Dark Maple Syrup and not as very dark maple syrup.
Okay… so now, did I order the wrong choice? Did I click on the Dark Maple Syrupy instead of the Very Dark Maple Syrup?
At this point in time, I do not honestly know for a fact, so… I am purposely leaving off telling you WHO the vendor was in this story; simply because there is too big a likelihood that that screw up might simply be my own failing.
What THIS story is about to inform you of is WHY I feel that I got burned with my purchase. Here is why…
Their little bottle when placed next to the bottle purchased from my local Metro grocery store looks pretty light in colour, no matter what angle I looked at it.
Wouldn't you agree?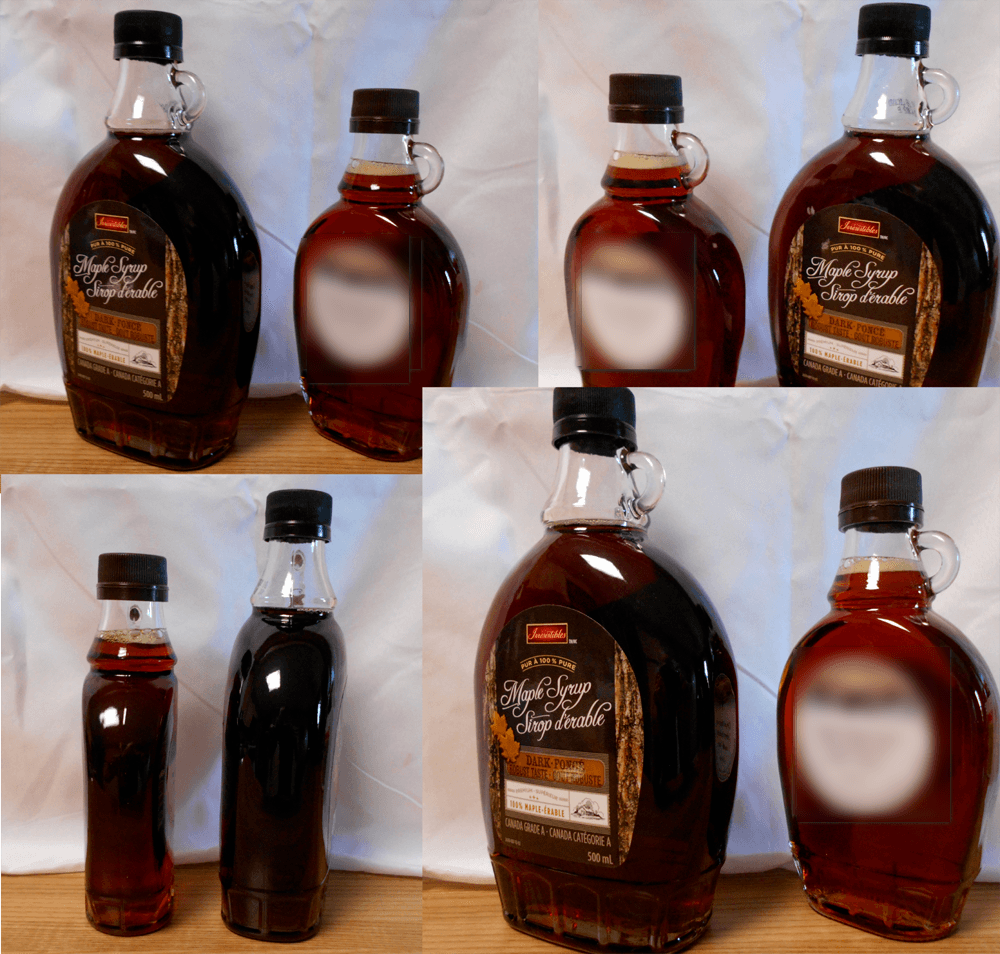 Not to worry, I told myself… and I contacted the vendor, providing the top, left image, explaining how disappointed I am in having paid so much for their syrup, believing that I had ordered and paid for very dark maple syrup to begin with, and then their dark maple syrup doesn't even come close to the grocery store's syrup for being dark.
This is what I was told in response to my emailed disappointment with their product:

I am purposely providing you with a screen print of the body of their email so that you can see for yourself… and this way I cannot be accused of twisting their words.
"The second jar is bigger and syrup always looks darker in a larger bottle as less light gets through."
Really?
When I explained that I had ordered Very Dark Maple Syrup… and went on to say that clear glass is clear glass, so you really do not offer a real answer regarding the difference in pricing. Here's what I received in response to that…

It became rather obvious that the vendor had no intention of "fixing" or even offering an alternative to try and fix this issue, so I left off further communications by simply not responding any further.
In checking into this vendor's claim of their maple syrup being organic… well, on their bottle's back label it is clearly marked by text, claiming to be "certified by Pro-Cert Organic Systems". When I Google searched THAT name, I discovered this to be a certification agency in Kawartha Lakes, Ontario.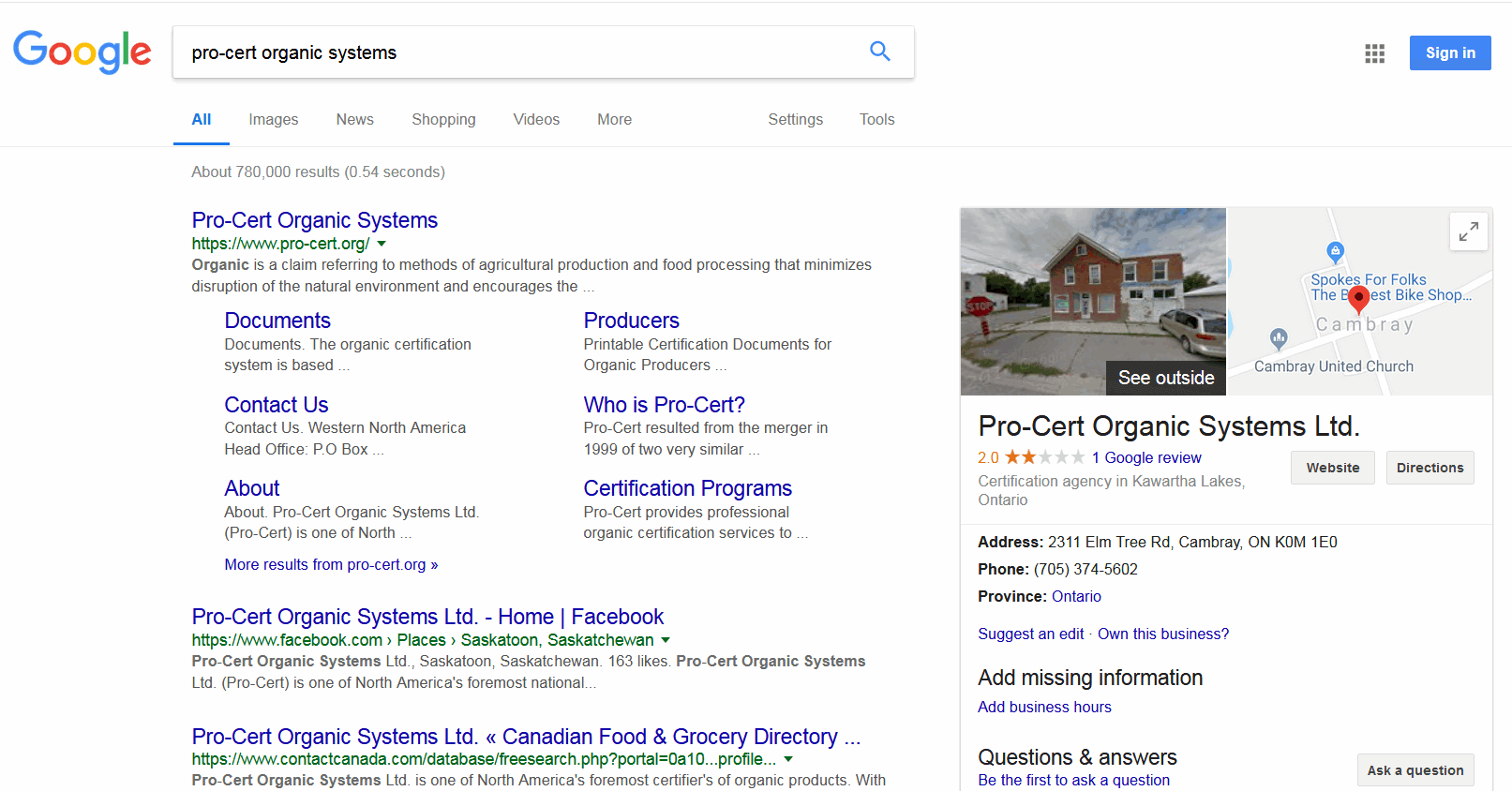 Nowhere on this vendor's bottle of maple syrup is there any sort of registration number or even a certified seal PROVING that this syrup is truly certified by this certification agency.
And, given the recent scam uncovered by Marketplace regarding our local Farmer's Markets vendors from across southern Ontario, I have to admit, I definitely feel that I got burned with this purchase.
In visiting the certification agency's website, they appear to be legit… but, how am I to know for certain. There is not governmental type seal offered at this certification agency's website either.
I'm still interested in purchasing very dark maple syrup as I truly believe that the taste of the Maple Syrup Cake that I have a recipe for would benefit immensely from using the very dark maple syrup, as opposed to the regular maple syrup.
Will I purchase maple syrup online from just any vendor ever again …Canadian or not?
NOPE!
Once burned… once shy.
Guess stuff like this is what is referred to as the "school of hard knocks". Well, I've been "knocked" hard enough that I can consider myself as now being graduated.
Grocery stores are regulated a lot more closely than our independent vendors are… so I have now been made aware (Thank YOU Maketplace!).
Next time I'm ready to purchase very dark maple syrup, I will go to the store who educated me on maple syrup "making the grade" in the first place… Sobeys! If they prove out to not sell it, maybe the Metro will.
[yasr_overall_rating]