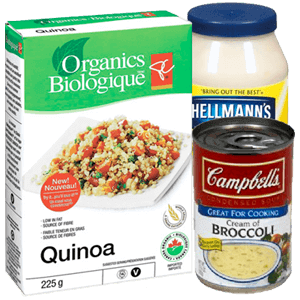 Have you noticed? Everyone is talking about Quinoa now, so I got curious and decided to try it. Though claims have been made that Quinoa is a great replacement for rice, I wasn't prepared to substitute it straight out for rice when making my favourite rice pudding. You see, I'm not a fan or tapioca pudding and Quinoa looks for-all-the-world like tapioca to me. Hence I searched for a brand new recipe; one I'd be more apt to love… of which here is my variation of Broccoli Cheese Casserole.
Bon appétit!
Ingredients
1 – 225g package of PC Organics Quinoa prepared as per directions on the package
2 cups shredded aged (5 years) cheddar cheese
3-4 cups of cooked broccoli (one large head of broccoli)
2 rather heaping tablespoons of Hellmann's mayo
1 – 10 ounce can of Campbell's Cream of Broccoli soup
2 tablespoons of milk
1 teaspoon of each salt and pepper
Directions
1. Combine all of the ingredients in a large bowl and mix well.
2. Coat a casserole dish with vegetable oil.
3. Scoop mixture into casserole dish and cover with lid.
4. Place in oven at 350° F.
5. Bake for 35-40 minutes or until edges start to turn a golden colour.
Serve hot as a side dish with fish or chicken.
WARNING (humorous of course!): You might find this side dish to be addictive!
TIP
I refrigerated my leftover broccoli cheese casserole and the next morning, I sliced it into serving slabs, and placed each slab into a ziplock sandwich bag. Then each one of the filled sandwich bags into a bigger ziplock bag, clearly marked with contents and date… and placed my leftovers in the freezer for use at a later date.
This was the only way I would not pig out on this casserole, it was just that good!
Please, if you enjoy this recipe as much as I do, comment below… and, be sure you share this with your friends.
[yasr_overall_rating]