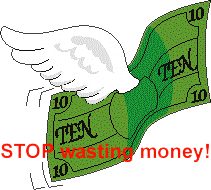 If you're tired of feeling ripped off by Ma' Bell's monthly rates, and their new slower high-speed, limited internet access, YOU now have a GREAT option to save you loads of money. Read on…
I discovered the hard way that my unlimited internet access has been changed to a 5GB monthly limited download, while my supposedly, high-speed internet access was slowed to a crawl of "up to 5KBPS".
This now makes it VERY expensive to download files like CAD and TIFs… or to even view very many YouTube videos, in any given month.
Remember, your computer downloads web pages, videos, etc., as you surf the internet. Yes, it's kept in a temp folder… but this is STILL considered downloading.
So, if you're like me, and trying to discover ways to cut your monthly costs… I'm posting this in hope of saving you lost $$$$$$$$$$$!
First, let me give you some history…
In 2007, Ma' Bell informed me they could no longer offer me their unlimited, long distance package for the monthly rate of $25. I refused their recommended "replacement" plan, as it was to cost me well over my former monthly rate, and cover nowhere near the same geographical area.
In speaking with friends to see what they were doing to save money on long distance, I discovered Distributel.
For the mere charge of $20.29 monthly, Distributel gave me the EXACT same plan Ma' Bell had given me in the two previous years for $25 monthly!
I've been with Distributel for long distance since 2007… and, better yet… Distributel has NEVER increase my monthly long distance rate (since 2007)!
On several occasions now, I have stressed to Bell's Service Reps that I remain loyal to companies who are honest and loyal to me. Thus I have constantly refused to return to Bell for long distance coverage of any sort.
More recently, I warned Bell's Service Reps that if my landline and internet access were to ever go beyond the monthly rate of $65 (that I was paying in early 2009) that I would be shopping around for replacements, for these services too.
My May, June, and July 2010, Bell phone bills have been ever increasing in monthly rates. They have become what I deemed to be ridiculous and unjustified in the rates charged.
Granted, once I complained, Bell lowered my May and June telephone bills…BUT, I was then forced to pay $5 EXTRA for insurance… for IF I go over the monthly 5GB download allowance… which I did.
For July 2010, I've been forced to pay an extra $10 insurance from Bell, in order to be saved extra monthly charges. This means my Bell phone bill will now over $100 for a simple landline telephone, plus much slower, high-speed internet access!
In November 2010, I left Bell and went to Distributel… which I'd like to say, has THE best support staff EVER… but… Distributel's system is far too unreliable to depend on as a primary means of communication.
As of April 11, 2011, after suffering with no means of communicating with the outside world (no telephone!) for over 48 hours… I signed over my communications services to a smaller, local company I had learned of only recently. Pray for me that all works out? I would HATE to have to go back to Bell Telephone …EVER.
Wow! And to think that I went to college in the 70's in hopes of becoming a Service Rep for Bell Telephone. What WAS I thinking!
In case you're wondering… no, I NEVER did end up working for Bell Telephone. God was good to me!
Related articles: Wind Mobile backer regrets Canadian launch – Canada is compared to CHINA?!!!
Credit for Header: image by PublicDomainPictures money case finance market on Pixabay
[yasr_overall_rating]