On July 27, 2010 I cancelled the added insurance that Bell Internet Service put on my account for me back in June and July.
That same year, on August 1, I telephoned 310-7873, and was assured that I have 78.06 GB of download allowance, which is clearly shown at Bell's internet tracking website. [Click on the image below to see a clear view of my internet usage tracking. Screen print taken 2 August]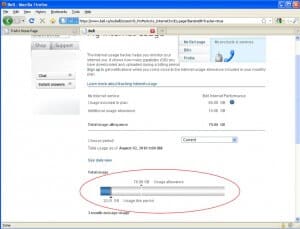 When I informed the lady that this looked like what I would have had WITH the insurance, and asked her if she was SURE. She assured me that this website is up to date. When I told her I did not trust her word due to too many previous reps mistakes, and asked her if she could send me an email guaranteeing me that is my monthly download allowance. She told me she could not that I would need to get that from customer service.
Over the past few years now, I have been told many "stories" from Bell reps, and then when I telephone to complain about the misinformation (I have even asked them to listen to THEIR recorded call), all I've ever received from Bell's complaint department was something along the lines of "well, that rep shouldn't have told you that because…" …and I've been forced to pay for THEIR mistake anyway.
Customer service wasn't open that day, so on August 2, I telephoned 310-7873… selected 1, entered my 10 digit phone number as I was prompted, then I selected 3, and then 2… and got to Bell's internet customer service department.
The customer service lady then assured me I have a 78.06 GB monthly download allowance. I asked her, "Are you sure? I had the insurance removed awhile ago now, and at THAT time, the gentleman told me I have a 25 GB monthly allowance without the insurance."
After much prompting, the lady left me on hold and went off to check other records. She discovered that yes, in fact I had called on the 27 of July, and requested the added insurance be removed. My new monthly download allowance is only 25 GB.
So then my question to her was, "why has the online tracking record not been updated? It's not like I cancelled the insurance yesterday. This IS an electronic record…"
I then requested that this fact be logged as my complaint to Bell…
You betcha' I feel Bell's internet tracking usage misleading at best! Can you imagine the cost of my August bill if I HAD of used the 78.06 GB that TWO reps guaranteed me I had? [Click on the image below to see a clear view of my internet usage tracking. Screen print taken 2 August]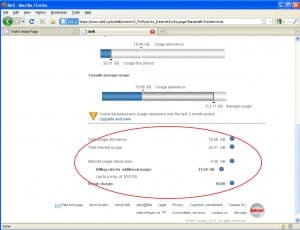 PS: It's been several hours since my call with customer service and I have NOT received a confirmation email as the lady had promised I would receive. I even made sure to verify she had my correct email address… which she did. Customer service at it's best, huh?!
UPDATE: Here it is… a new billing month. You know, the month where the last customer service rep of Bell's assured me that my internet tracking usage would be corrected to read 25GB by the 11th of the month…
Well, look what greeted me once I had signed into Bell's internet tracking usage this morning… the 12th of the month: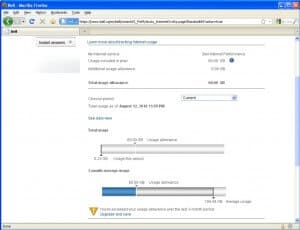 …you can click on the image above to see it up close. Go ahead… and really pay attention the blued area on the usage allowance bar.
After calling for clarification again, I was informed that this kind of mistake happens rarely.
Yeah, SU-U-URE it does.
And that within 5-7 working days, this WILL be corrected.
SU-U-URE it will… just like the last rep assured me.
Oh, but this time it will be because this rep is upgrading the last rep's ticket to have this corrected.
Wow, isn't it great living in an age that takes nearly a month now to make a simple correction to an electronic document. Don't ya' just love technology?
Ooooh, hurry up November 1!
[yasr_overall_rating]