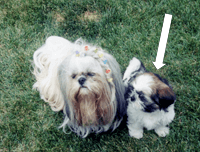 On June 13, 2002, the most beautiful puppy in the world was born. Claims were made that this little fella was a Shih Tzu and for my purposes throughout his life, I recognized him as a Shih Tzu, though no registration papers were ever supplied.
Now I know there has been no such ruling for the death penalty for convicted puppy mill operators, but I sure wish there was! I have wanted to share Nugget's story with everyone for ages, so now I am taking the time to do so.
Here is how I come to learn of this little puppy's need of a new home…
In late August 2002, I purchased some sheer panels for my side entrance door from Sears' catalogue. These panels needed a rod pocket created along the bottoms, so, Sears offered me the name and telephone number of the local seamstress who did all their alterations for their Oshawa customers.
When dropping off my panels at the seamstress' home, I heard the whining of a puppy who sounded a lot like a Maltese puppy. I used to have two Maltese dogs; Princess and her daughter Tiffany.
The seamstress' son was the one who answered the door as lady was not at home at this time. When I asked him if I could see the puppy, he was kind enough to let me into their home.
I feel in love with the frisky little puppy who was all of 10 weeks old at the time. The son explained that his mom is looking for a new home for him, as she recently rescued the pup from a Kingston family.
Needless to say, I quickly asked if I might be seriously considered for adopting this cutie-pie. A few days later, Nugget was delivered …along with my new sheer panels with their rod pockets having been created. WOW! What a bundle of energy this new puppy was 🙂
Princess died in 1993, and two years after that her daughter Tiffany was murdered. I did not realise until I saw this little puppy, just how much I missed having a four-legged "baby" to snuggle up with… so you can imagine my joy at having this beautiful little "boy" come live with me!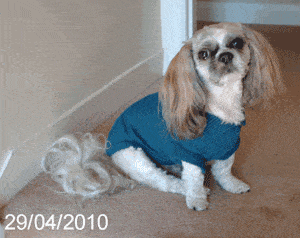 The name Nugget was selected for him as he was too tiny to be a Rocky… and I always said, "he's my Nugget of gold!"
Early in 2003, Nugget had his first surgery… to fix a hernia that had formed at his belly button (Umbilical Hernia). Poor little guy. I wished I could do it for him, he was sooooo afraid.
Ask Meta Filter stated the following:
"Umbilical hernias are hereditary approximately 90% of the time, and are only rarely caused by trauma (the breeder has likely misled you about this) so dogs with them should not be bred."
It wasn't long after that… that I had Nugget checked out for kidney issues as he was drinking far too much water for a year old puppy. Initial tests proved me wrong but later proved my diagnosis as correct. Nugget eventually died (May 20, 4014) due to kidney disease.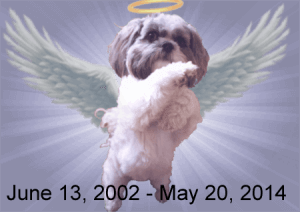 Two Veterinarian doctors (Catherine A. Picut, VMD Diplomate, ACVP Senior Pathologist
Veritas Laboratories, Inc. Burlington, North Carolina, and Robert M. Lewis, DVM Professor of Pathology New York State College of Veterinary Medicine Cornell University lthaca, New York) stated the following:
"These disease are considered to be genetically based because of the familial occurrence in certain breeds, the development of disease early in life, and the consistency of lesions in patient populations. Although some are not observed clinically, most cause clinical signs that progress during juvenile and adolescent years. In most instances, the disease is present at birth (i.e. congenital) even though clinical renal failure is not apparent until the animal is several months old."
Shih Tzu is NOT a breed known for kidney issues like those suffered by Nugget.
By October 2004, Nugget's Vet noticed his lower eyelids were turning inwards (Entropion), causing his facial hair to rub on his eyeballs. So, now it was off to Aurora to have Nugget's eyelids reconstructed in order to prevent blindness as well as the obvious, irritation to his eyes.
Paw Mane Fin stated the following:
"Entropion in many dogs is a genetic defect. If getting a puppy from a breed that is prone to the defect, owners should inquire if either parent has had the defect and gotten it fixed or not."
The point I'm trying to make here is that, to me, it is REAL obvious that Nugget HAD to have come from a puppy mill who supplied the pet store in Kingston with puppies. I mean, what breeder would deposit their pure-bred puppies off at a local pet store that would sell them for under the going price for the breed… though, yes, the pet store did NOT supply registration papers.
Some breeders sell their puppies without papers, I will give you that… but, they don't drop those puppies off to be sold at their local pet store either.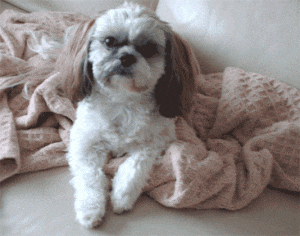 From November 2003 until mid-2006, I lived through a nightmare… one that only my little Nugget could get me through, and so I credit Nugget for having saved my life, which is true!
Nugget matured so quickly during the last few months of 2003, to become THE best puppy I have EVER been blessed to raise.
Nugget went from acting like a little "baby" at the door (back when four adults lived here!) each day as I was going off to work, whining and crying that he didn't want his "mommy to go bye-bye"… to being this all grown up "little man", telling mommy to go off to work… that he'd be just fine. Understand, by this time Nugget was truly all alone with NO one home during the day.
So, YES, you bet your sweet bippy… I really DO wish for the death penalty for all convicted puppy mill operators. I hold them guilty for my little Nugget having to suffer sooooo much throughout his life.
You can label me a mean person if you so wish, but if YOU were the pet owner of this awesome little man, and had watch him struggling to cling to life as he did in his last few months… you would have to be lacking emotions NOT to feel any pain in losing such a priceless companion as Nugget was for me.
The city of Oshawa has announced that they are considering a ban on the sale of puppies and kittens in pet stores.
My wish: have all of Canada ban the sale of puppies and kittens in pet stores, PERIOD! Doing this should reduce the puppy mill operator's main source of puppy sales.
Do you agree? Either way, please leave your comment below.
Other's Related Posts
What Is a Puppy Mill?
No Puppy Mills Canada
People Against Puppy Mills of Ontario
Shut down puppy mills across Canada
Op-ed: SB 445 — a step toward stopping the puppy mill train to CT
[yasr_overall_rating]