As the old saying goes, "never rains but it pours"… I had my garage door opener 'die' a couple of days ago. Off to Lowe's I went, after discovering during a telephone conversation with a service rep, that batteries for garage door openers were available.
Huh, once I returned home and tried the opener with the new battery installed, I discovered it STILL didn't work. So, once I had more time, I did a search engine check on my Sears garage door openers… and guess what I found out? You go it! This particular model is known for the board inside the remotes to just stop working. No one knows why.
Andrew from Lowe's telephoned me (about another matter) right at the moment I discovered this nasty defect in Sears' garage door openers… and he mentioned that inexpensive replacements were available. You guessed again… off I went to Lowe's once again. This time for a garage door replacement…
For only $28.98 (plus $3.77 taxes), I had my replacement in hand… and, once back home and about two days of going over the instructions, I called the company who installed my garage door and the gentleman there figured out where I was going wrong in the settings. You see, the replacement garage door remote control is "universal"… in that it replaces several different models. Huh, you just have to know the settings in order to set it up properly. Thanks to Tom at Superior Garage Doors in Whitby, my remote opens and closes my garage door efficiently!
The reason I'm posting this is to inform others who may have paid extremely high prices for a replacement. Inside the package of my newly purchased remote is the following note that may help many of you: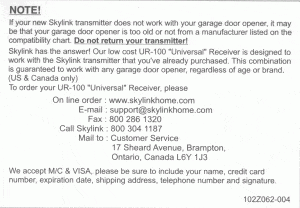 [yasr_overall_rating]