My first time seeing this prompt when using Pinterest, "Sorry! Something went wrong on our end. Please try again" I DID try again… and again… and again, with no change.
In this post, I will share with you the experience I went through and HOW I figured out a work around for when this happened again… and it DID!
Using the Pinterest prompt as my search phrase, and I added "Pinterest" (without the quotation marks, of course) to my query, searched using Google, hoping that Google would provide Pinterest resolves.
In repeating my original search phrase in hope of showing you here EXACTLY what I did, this time Google provided EVERYTHING but what they gave me when first hunting for a fix to this issue.
Anyway… originally, I did have to scroll down Google's page one to find a Pinterest guide, and under Pinterest's subtitle of: "Common issues and Frequently Asked Questions", I found the following tip:

However, this time when trying to repeat my original query in Google, and failing to get the same results, I did discover that Pinterest's help center will allow you to search for help, should you need to do so. Yet, I did use their prompt in a query on their help center… which provided NO direct link to what Google led me to in my original search.
Having said all that… let me get back to why I am sharing this here with you.
Using a screen print of my original findings on Pinterest, I reached out to the IT team who look after this website's technical issues. Apparently, they tried to recreate what I got and they claimed they could not find any issues with the website hosting server that might be causing this issue.
I began thinking it might be that this post had over 3,000 words because it is a guide.
But then eleven days later, when trying to pin an image from the SAME post, I FINALLY was able to share my pin the "normal" way on Pinterest.
When I sent the image below to the IT team, they informed me that they had made NO change to the server.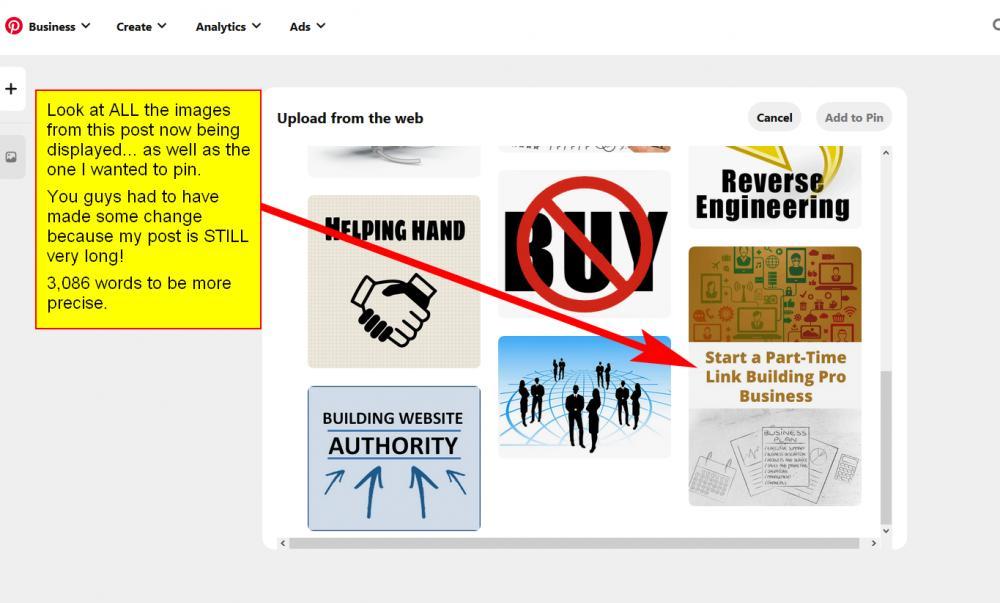 So… why did this happen? No one knows for certain.
BUT… what I have now learned is that Pinterest is very fickle. One post from this same blog, their script will REFUSE to display the images, but a different post from the SAME blog there will be NO problem displaying the images. Go figure… right?
My Pin Solution
Well, here's what I learned that I could do to get around this nagging issue.
NOTE: Always keep your posts, along with images used ON that post (and any working information used) in a separate folder on your computer, using the exact same title for the folder as you used on your post. You will be glad you did!
Finding the folder on my computer that contains all of my information for the post that Pinterest refuses to display my images when using the post URL, I open that folder and am ready with the image I want to pin.
I then go back to my Pinterest hub and click their Create button to the click on Create Pin, as shown in the image below.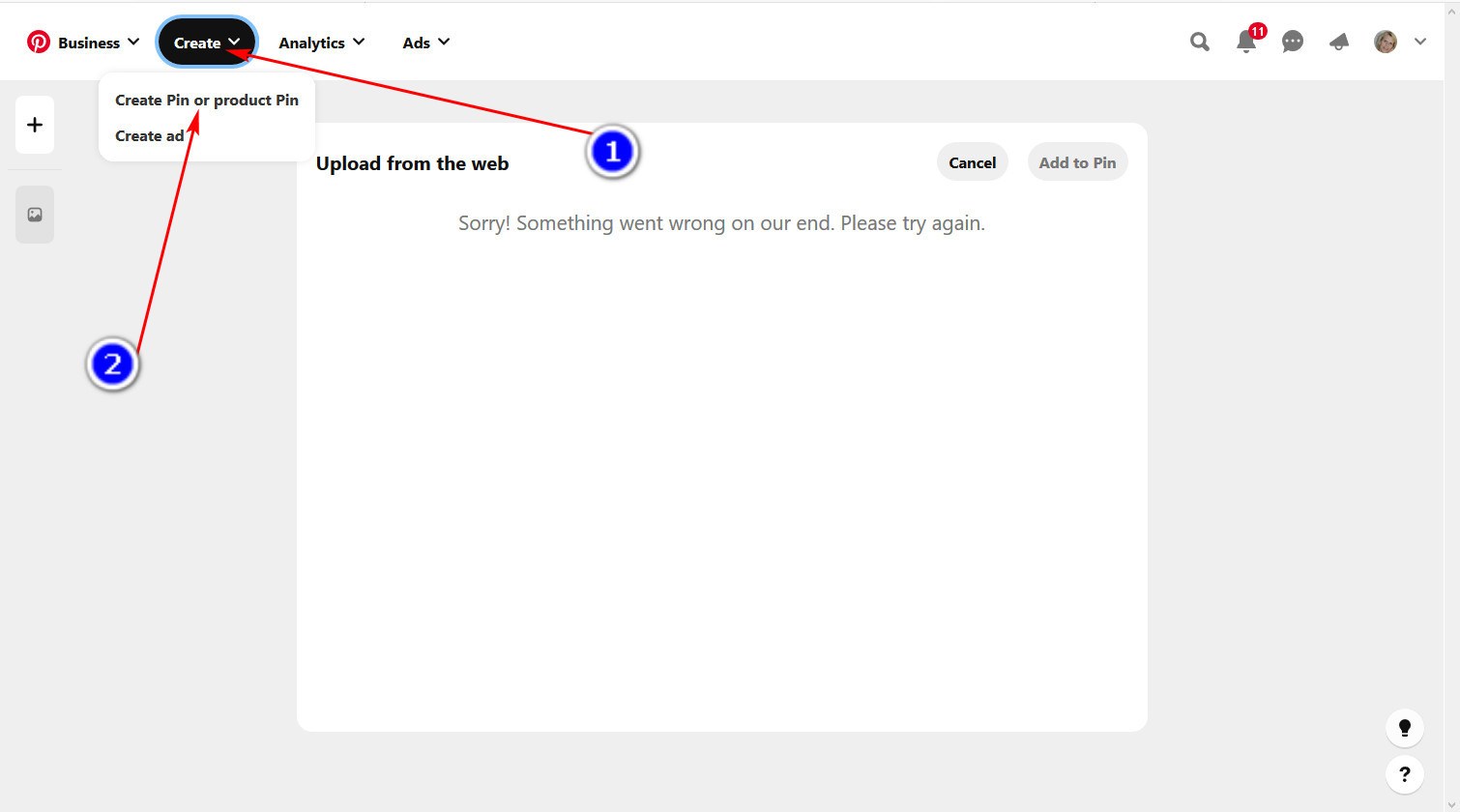 Making sure I use an image that is sitting on my computer… NOT the version of that image that is online… and I drag and drop it as shown in the screen print below.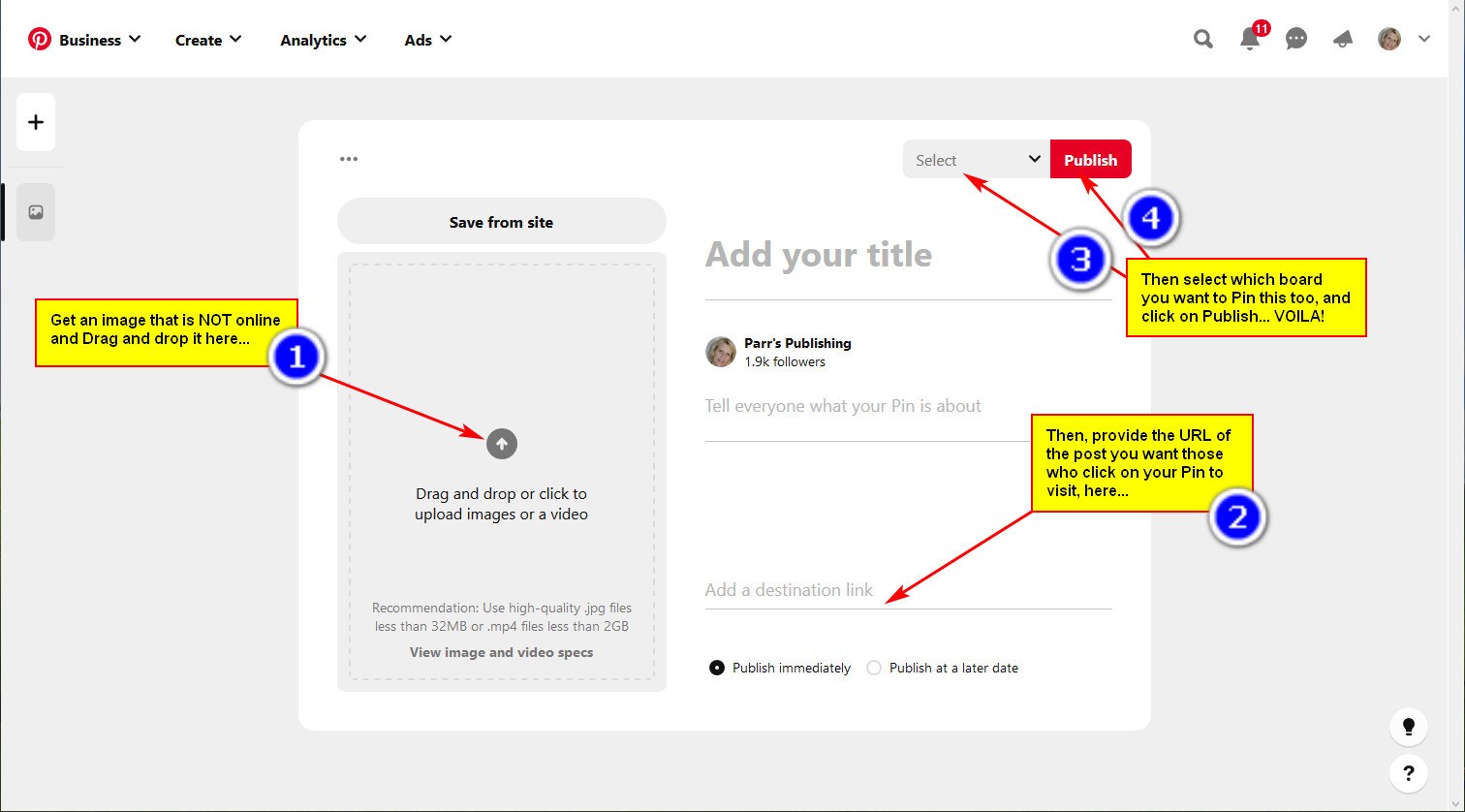 …then I copy and paste the URL of the post that I want those who click my pinned image to visit. Then I select the board I want my image to be saved to, and then I click the Publish button… and VOILA! Done.
It seems that nearly EVERY day now, when pinning 3 different post's images daily, Pinterest will give this same prompt to me for at least ONE of those posts.
And… just so you know, I did try pinning the URL of the image I wanted pinned on Pinterest… BUT… that does NOT work to only deliver those who click on the image to see ONLY that image online and NOT the entire post.
I do hope this post has saved you from the frustration I was faced with, and that it gets you back to pinning your favourite pins in your Pinterest account. Pinning my favourite foods makes me soooo hungry.
If you have any questions regarding Pinterest's prompt "sorry, something went wrong on our end…" or would simply like to add to the conversation, I do hope you will leave a comment below. You will receive a prompt reply and an emailed notice once I have replied.
Helping others truly is my passion in life.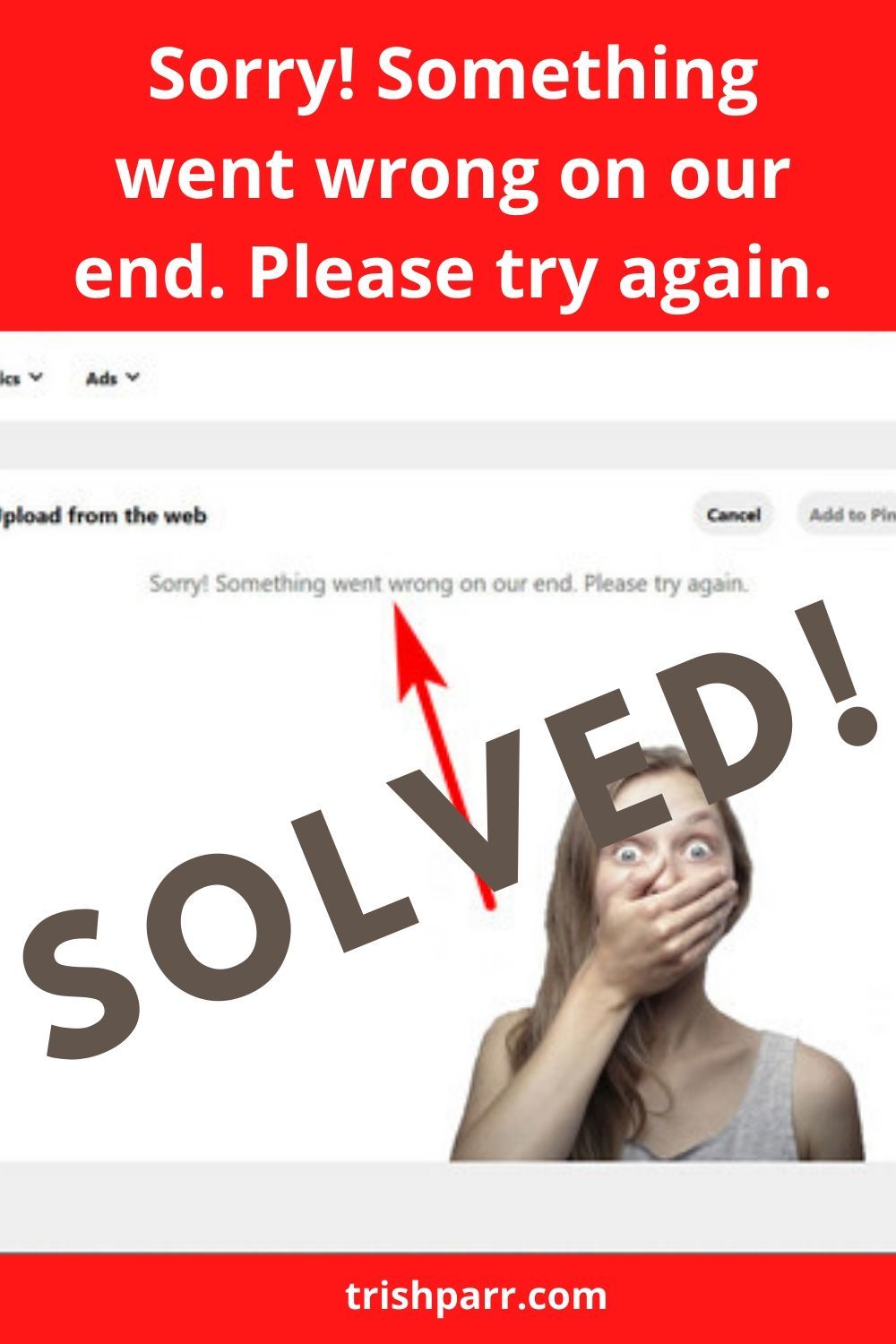 Credit for Header: image of shocked female image woman-in-gray-tank-top-3812731.jpg by Andrea Piacquadio from Pexels