Having continually suffered with severe lower back pain, I am constantly seeking better remedies whenever I learn of other's experiences.
Several years ago, now, a fella I used to call Poppa' Roy (yup, he was like a father to me) gave me his extra container of Unker's Deep Penetrating Pain Relief to use in treating my lower back pain. I've kept that stuff as I use it rarely. Explanation as to why, later on.
Well, over the years, I feel though I have tried nearly EVERYTHING in search for the best lower back pain relief, and so far I keep coming back to the highly advertised one, as it does exactly what is promised.
Though, I do need to admit that it is my hope that the PRP injection treatments that I am SUPPOSED to be starting next month, will really pan out and do their job so that I won't need to depend on this stuff anymore at all.
Heck, even if those injections were to only substantial reduce my need for lower back pain relief I'd be pleased.
Anyway, I'm getting ahead of myself here. Back to my review.
As anyone who is following my posted experiences that I make a habit to share here on my personal blog may already be aware of is that I have been using Voltaren Extra Strength gel. And, I have to admit, it works like magic at reducing joint pain.

But… it has its limitations.
Recently, when suffering from a sore shoulder pain that launched aches straight up into the back-left side of my neck muscle, I notice that the Voltaren did NOT do its magic after I applied it. Then I realized that it is professed to be for "joint pain relief" and NOT muscle pain relief.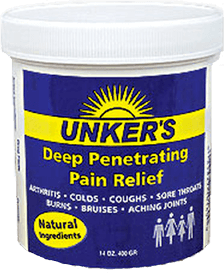 Well… that's when I decided to reach for the Unker's Deep Penetrating Pain Relief, as it claims to work on all sorts of aches and pains… and even joint pain.
But this ointment too has its limitations as it is petroleum based (in other words, like Vaseline) and as such made an awful mess of my clothing, while it left my hair on that side of my neck, drenched in that oily-gook.
Not a nice look when I want to go out for the day.
So… using Unker's liniment had to be limited to evening use only, so that come morning, my shower would remove any residual left from the petroleum base that would be in my hair. And, I would use a towel to sleep on so that my pillow case and sheets did not suffer from being 'gooked' up either.
Have you EVER tried to wash Vaseline out of any material?
I have, and it is nigh-on-impossible to remove from fabrics.
Then, one day while chatting by phone with my neighbour, she suggested that I might give serious thought to using the same stuff she has found to be safe to use and really helpful at removing her aches and pains.
My neighbour suffers the same sort of back pain that I do and she has lived with that pain for 10 years longer than I have, so I LISTENED. The stuff she uses is call delush, The Magic Stick Liger Balm.

Being as I was in front of my computer during our conversation, I was able to Google search for the product and later on that day (22 May 2020), I ordered one.
On 11 June 2020, my Magic Stick arrived by regular mail.
After opening the package and reading what is stated on their label, I learned that I was to apply this stuff liberally to the area of pain. I had just had a shower not 2 hours prior to receiving the package and I had not put on any pain killer (I was using Voltaren Extra Strength more regularly by then) as yet.
So, I decided to try this Magic Stick balm by delush by applying it liberally, as is stated in their directions, to the back-left side of my neck muscles, from my left shoulder all the way up to my hair line, as those muscles were aching again that day.
It wasn't long before I started feeling a bit of relief… though I think Unker's did better for those muscles… BUT… and here's my disappointment, I quickly learned that delush's Magic Stick is ALSO petroleum base. So much for my clean hair that day!
Needless to say, I was off to Shoppers Drug Mart for 2 new packages of Voltaren Extra Strength, "gooked" up hair and all.
I had been purchasing Voltaren Extra Strength from Costco, but due to the amount of thefts of this product that Costco was experiencing, Costco was forced to have all customers report to the prescription counter and pay for whatever amount Voltaren Extra Strength that we want.
That was never a 'biggy' for me… until COVID-19, when the lineups were so brutal to stand in that I had to forgo my purchasing Voltaren from Costco. Not sure why they wouldn't supply a cardboard sheet like they do with their electronics, but that is their business.
The lineups at Costco I can do NO more due to the extreme pain I am now in due to standing in their line up for over an hour the second time when promised that seniors hours were better, and then over 30 minutes the 3rd time. Yes, I did have to line up the first time, but do not remember it being much over 20 minutes that day.
However, my inner-upper leg muscles are now acting up, adding even MORE complications for my lower back pain. Sheesh, aging sucks!
So, here's my ratings on these 3 severe lower back pain remedies.
Product
Ingredients
Size
Usability
Price – CAD
Availability
Voltaren Extra Strength
Diclofenac diethylamine gel 2.32%
Non-medicinal Ingredients: Butylhydroxytoluene, carbomers, cocoyl caprylocaprate, diethylamine, isopropyl alcohol, liquid paraffin, macrogol cetostearyl ether, oleyl alcohol, perfume, propylene glycol, purified water.
100 mg
Soaks into your skin shortly after applying to joint. No damage to clothing.
18.49 + taxes NO shipping charges if buying locally
in local drug stores, plus others + online
Unker's Deep Penetrating Pain Relief (also known as Amish Origins Deep Penetrating Pain Relief Ointment)
Menthol crystals (7.54%) and oil of camphor (.44%). Other: Eucalyptol oil (.77%), oil of pine needles (.67%), in a petrolatum base.
3.5 oz
Petroleum based, so smears on clothing and if used near hair, makes hair oily looking.
$17.16 + taxes + shipping if order under
online Amazon + WalMart.com

(couldn't find it sold locally)

delush The Magic Stick Liger Balm
Butyrospermum Parkii Fruit, Cera Alba, Theobroma Cacao Mangifera indica Seed Butter, Cannabis Sativa Seed Oil, Arnica Montana, Menthol, Essential Oil Blend, Tocopherol, CBD Isolate.
300 mg
Petroleum based, so smears on clothing and if used near hair, makes hair oily looking.
$36.00 + taxes & $16.00 Shipping
only online from delush.ca
Though Voltaren Extra Strength comes with a warning to NOT use over 4 g per day, I've found that I only need to apply this Voltaren only once a day… so far.

For obvious reasons, Voltaren Extra Strength remains my preferred, most recommended severe lower back pain remedy.
Voltaren Extra Strength has my vote – 5/5 Stars!
Heck, I've even recommended it to another neighbour of mine who loves to do a LOT of gardening daily, and has issues with his knee joints. He is loving this Voltaren too.
Unker's Deep Penetrating Pain Relief, I will continue to use for my sore neck muscles but ONLY because the Voltaren does not want to work on muscle pain. BUT… this will only be used before bed time so that I can shower it off in the morning.
The Magic Stick by delush, I will give to the neighbour who swears by this product (once I have used a piece of clean paper towel to remove the area that touched me, for her safety, of course).
Personally, I found that Unker's worked better on my sore neck muscles than The Magic Stick did, thus my decision.
It is my hope that by sharing this information with you here it will make your choosing a severe lower back pain remedy easier to make.
Should you have ANY questions on this topic… or you simply want to share your experience with your chosen lower back pain remedy, I do hope that you will leave a comment below. You will receive a response from me… promise!