In your last visit to your dealership for service, what did they do to say "Thank you"?
Most readers of this post will say that their dealership did absolutely nothing!
And, in some cases, absolutely nothing really means nothing!
Many vehicle owners have chalk-marked their vehicle's tires just to see if their dealership even moved the vehicle after they claim they've serviced it. Over the past few years and in far too many cases here in Oshawa, Ontario, the vehicles were never moved, yet services were charged!
Those dealerships still exist today… go figure.
Today my car needed the timing belt changed for safety reasons. It is clearly stated that for safety reasons the timing belt must be changed every 4 years …or just over 90,000 kilometers (forgive me. I forgot to make exact note of the kilometers that Ontario Hyundai has clearly posted in the service bay area).
When I got in my car to bring it home, I was surprised by a "Thank You" gift left by Karen Shepherd at Ontario Hyundai in Whitby. What a nice touch…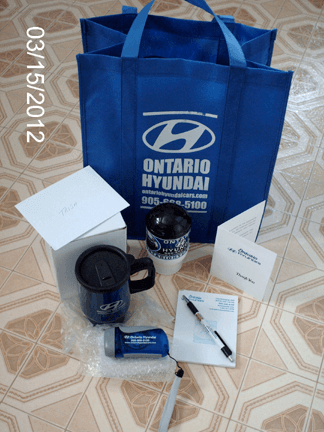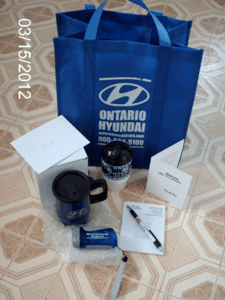 The thank you gift consisted of; a reusable fabric shopping bag which contained the following items: a coffee mug, disposable sanitary wipes, a Squeeze and Go flashlight, a retractable ballpoint pen, a writing pad AND a nicely worded thank you card, which has Karen's business card (for ease of contacting her in the future) inside. Pretty awesome, I think!
Oh yeah, in case you're wondering at the cost of my "damages" (as my father used to like saying), my bill came to only $525.37, as one tensioner was also replaced. Pheeeew… was I relieved, because I was forewarned that the repairs could cost anywhere from between $500-700, depending on what all needed replacing.
So, what did YOUR dealership do to "Thank You" today?
Please comment below.
UPDATE: This dealership was sold previous to 2020 COVID-19 lockdown, and customers were not able to be tended to as we were previously. Have found a local mechanic who is every bit as great at keeping my Elantra tuned up and in good repair. Hopefully, the crisis we have found ourselves living in will be resolve by 2021.
[yasr_overall_rating]