Back in February 2011,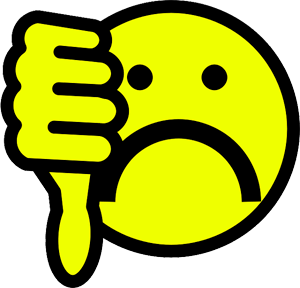 I made the mistake of trusting an Oshawa GM dealership, after a friend assured me that times had changed, explaining that he had received good customer service from this once well-known to be dishonest dealer. This former co-worker and friend introduced me to his salesman, and I let him talk me into using the new vehicle voucher that was given as part of the package deal I had received for having been forced out of work back in 2009.
This salesman convinced me that he would give me $21,000 cash for this work truck in six months time; this was the time frame stipulated for ownership when cashing in the new vehicle voucher. By this time, the salesman was well aware that I was keen on the idea that with this money I would be able to pay down my mortgage. He even went so far as to contact me when I hesitated for a couple of days because I still wasn't quite ready to trust this dealership. The salesman insisted that if I didn't use my voucher, I'd be leaving money on the table.
After discussing this with friends, we all felt I had nothing to lose as the salesman stood to gain yet another commission for the vehicle once it was resold. Of course he would have my best interest in mind, and so I went for it.
When the six months were

up in mid-August 2011, I had to track this salesman down, asking him when I would be receiving my money from the sale of the truck. I explained that the sooner the truck was sold the sooner I could pay down my mortgage.
Finally, on the 30th of August, he informed me by email that he had $16,000 cash ready to give me, telling me I paid $21,600 for the truck.
What?
I have the bill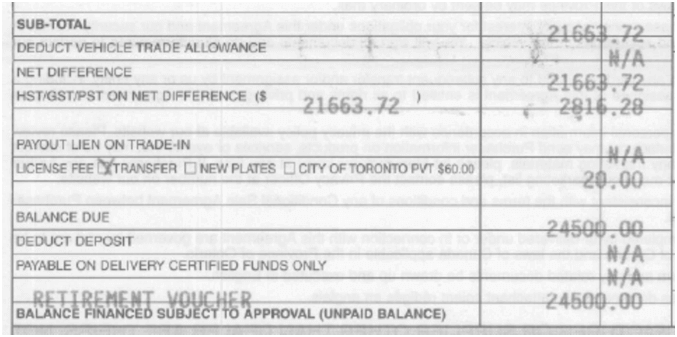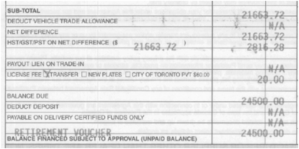 of sale that clearly shows after all discounts, I paid $24,500 for this truck. Needless to say, I felt cheated but decided it best to remain calm.
After many discussions with different friends about my situation, they all suggested I try selling this truck myself, which I did.
Many tire-kickers and only one serious buyer later, I soon discovered that I was at a big disadvantage of not being able to offer financing for this truck.
During all this kerfuffle,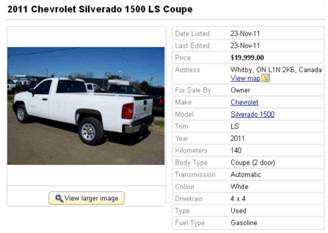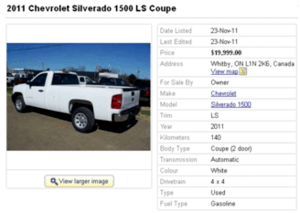 a dear friend of mine Dan, a vehicle salesman for another manufacturer, heard about my dilemma and freely offered to assist me in finding a buyer for this truck by providing a means of offering potential buyers financing. Needless to say, I gladly handed over the responsibility to him.
Having offered this truck for sale for just over two months, Dan learned from those looking for a work truck that no one wanted a 6-cylinder model. They simply walked away from the truck, claiming they planned to use the truck to haul stuff or push snow.
Now I'm thoroughly convinced that the Oshawa GM dealership was unable to sell this truck for the same reason, and so stuck me with it knowing full well that I would have to reduce my selling price in order to get rid of this vehicle. This is exactly the reason why I had no intention of EVER cashing in on the new vehicle voucher! I truly believed (and STILL do!) that it was the biggest joke of an "extra" I had ever heard of… and besides I didn't need a new personal vehicle.
Why do I feel it's the biggest joke of an extra, you ask?
Because the government got $10,500 straight off the top of the $35,000 voucher, at the time of purchase, and then tacked the $35,000 voucher onto my year's income and taxed me even more, when in fact the vehicle's value was NEVER anywhere near $35,000 in the first place.
But wait…. I realized I had one more option to explore.
"Why not donate the truck?," I thought. Therefore I called my accountant explaining my predicament, and my accountant came back with numbers too impressive for me not to act on. Thus, I decided to donate this 6-cylinder work truck to The Salvation Army.
By donating this truck, I feel that more people will be able to benefit from my bad purchase decision. In this way, my "lemonade out of a lemon" issue will see my tax implications lowered for having used the new vehicle voucher.
As for my paying down my mortgage, though it will not be paid off nearly as quickly as I had hoped, I am positive that in the long run, I will be better off for having taken care of this matter in this way. My prayers are that this truck will be of great service to the Army for a very long time, as I am confident that it will be well maintained by them.
Too bad the Oshawa GM dealership didn't think to donate this vehicle. Imagine all of the FREE publicity THEY could have received instead of burning yet ANOTHER customer all for the sake of a few thousand dollars in commissions.
Now, instead of great press and FREE publicity during these hard economic times, several people living in Oshawa, Whitby, and Toronto know what this dealership did… and now, so will you.
[yasr_overall_rating]