The OmegaXL website claims that this supplement has shown in clinical research to support joint health, mobility, and muscle recover… and, they claim you can get your money back with their 60-day money back guarantee.
They also claim that OmegaXL is more than a fish oil, and that it is twenty times more potent than standard fish oil, meaning a fish oil containing a standard EPA (18%) and DHA (12%) omega-3 fatty acid blend in ethyl ester form.
It is stated that there are over thirty healthy fatty acids including omega-3's, EPA and DHA in one of their small, soft-gel caps. And, that this supplement is said to be made from green lipped mussels that apparently are sustainably farmed in the waters of New Zealand.
All this is said to be backed by thirty years of clinical research by the Great HealthWorks, in order to help you live with less discomfort, which they claim begins with an extra-large amount of omega fatty acid.
Apparently, it is well known that omega-3 fatty acids support respiratory, heart, joint and immune health. And, Great HealthWorks claims that their OmegaXL contains these important omega-3s too, along with additional fatty acids that are said to promote joint health and improve function.
They claim that there is 35 years of research to support that their OmegaXL can help relieve joint and muscle paint that is associated with aging and exercising.
On their website, they even go so far as to state that one study including 43 participants showed improvement in joint comfort and function after 8 weeks of daily use, and that improvements were also noted in strength and mobility.
It is said that OmegaXL provides you with a convenient source of omega-3, inside a tiny, easy to swallow gel-cap with no fishy aftertaste.
On the 27 of March 2021, I placed an order, and surprisingly enough, on April 1, 2021, I received their package with two tiny bottles of 60 soft-gel capsules of OmegaXL.
Reading the labels on their bottles, I noted that the Recommended Dose was clearly stated as: "Adults: Take 2 softgel capsules 3 times a day with food/meal."
You can clearly see these instructions in the image below, as I was able to carefully peel off the labels of one of the bottles and scan them.

The label below show what is written when you Peel Back Here, as shown in the top right corner of the image above.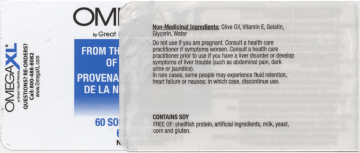 Next is an image of the label found below the top label, which is exposed once you peel the top label back.

On April 3, 2021, I received an email from OmegaXL. The image below is a screen print of that email.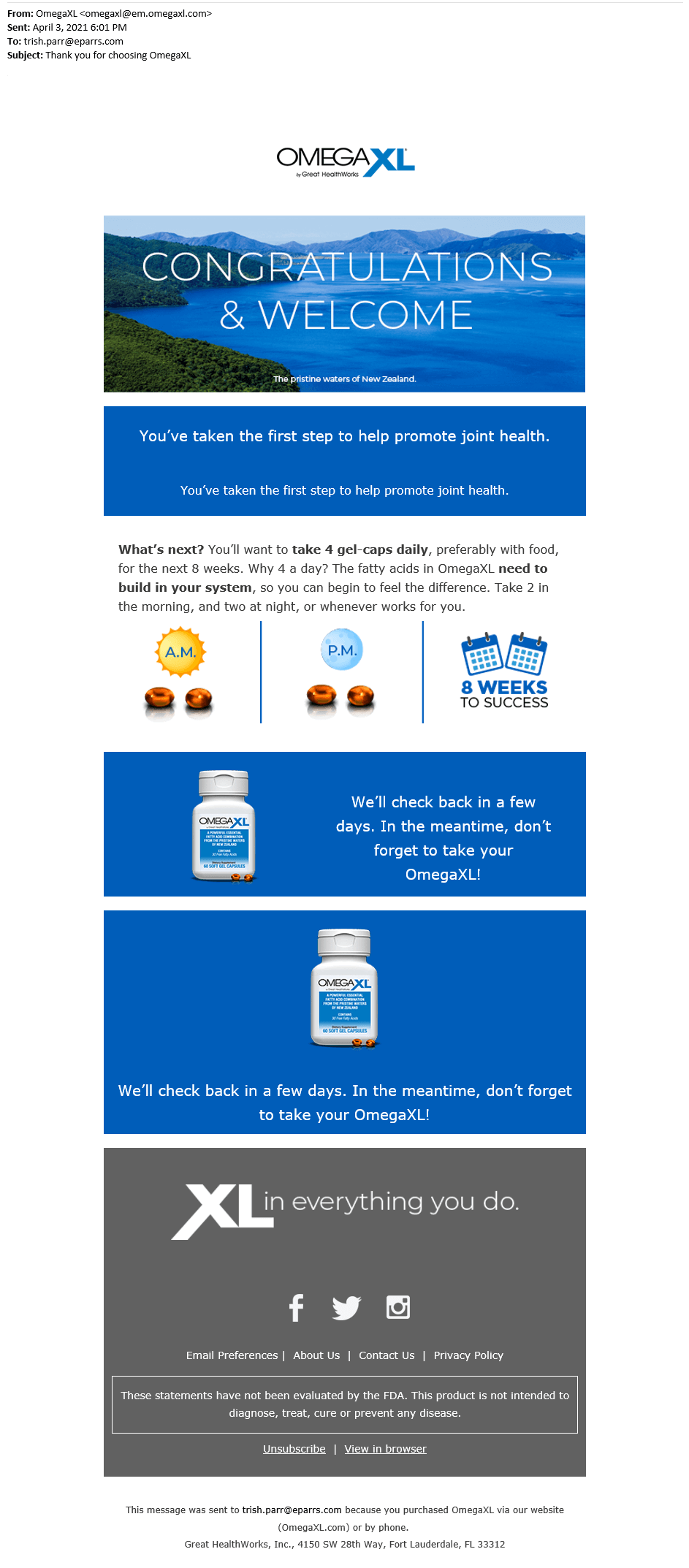 In their emailed instructions (shown in the image above) it clearly state: "You'll want to take 4 gel-caps daily, preferably with food, for the next 8 weeks."
So, I responded to their email asking for clarification, as seen in the screen print below.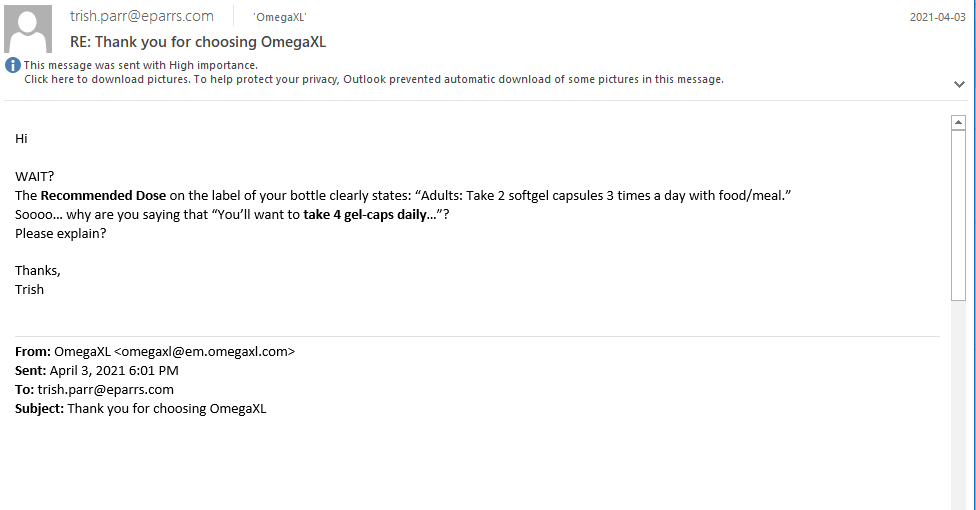 I never did hear back from them regarding this issue, so, I was left assuming every thing is on auto-pilot, and that they have no real personal customer service.
Having received no clarification on this issue, I decided to continue taking their supplement per their product's Recommended Dose for adults of "two softgel capsules 3 times a day with food/meal", as I felt that their bottles SHOULD contain the most up-to-date information.
Started taking OmegaXL at 6:00 PM on the 1st of April 2021, on the same day it was delivered to my home, And, I completed using up both bottles, taking the very last dose at 1:30 PM on the 21st of April.
Having completed using BOTH bottles of OmegaXL, I noted that their supplement has done NOTHING for me in the way of helping to relieve my joint and muscle pain.
I was so hoping their infomercials for the OmegaXL were not an exaggeration, and that they would start working like they promised. Yet, by lunch time daily, I was forced to use the Salonpas patches too, in order to get any semblance of pain relief.
Due to the level of pain that I was experiencing constantly increasing nearing the end of taking the OmegaXL, I sought the help of a doctor. So, now that I had completed taking OmegaXL, I have now been put on a hemp seed oil supplement to relieve my joint pain.
Thankfully, between the hemp seed oil and Salonpas patches, my comfort level most days has improved substantially.
As of the 23rd of April, I requested OmegaXL to STOP automatically issuing me anymore OmegaXL and when their system simply issued me an automated message labeling it request (210197), on 27 April, I submitted a refund request as per their promise of a 60-day money back guarantee.
Below is a screen print of what their request form stated.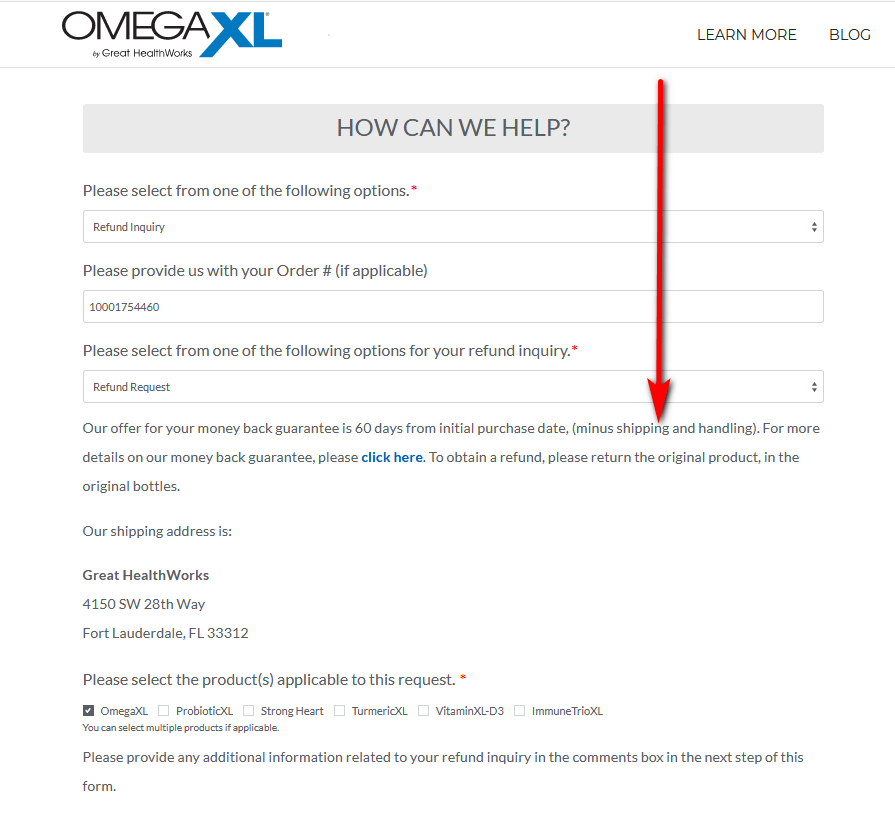 It will be interesting to learn how much money will be claimed as being used for their shipping and handling of their product, as that issue is NOT made clear at the time of purchasing.
On the 27th of March 2021, I paid $65.64 Canadian ($50.74 US) funds for the 2 bottles that arrived inside a large cardboard box, along with their 12 page (expensive paper) 9″ X 8.5″ coloured brochure.
Inside that brochure, a Sharon McQuillan, MD (is how she signed her name) states the she studied omega 3 acid metabolism for years and that she recommends OmegaXL to all of her patients to support their overall health and to help with their pain and discomfort. And, Dr. McQuillan is said to be the Medical Advisor to Great HealthWorks.
On page 3 of the brochure, they stated the following: "One study of 50 subjects showed an 89% decrease in pain symptoms and 91% of the study participants reported an improved quality of life."
That clearly conflicts with what is on their website.
So, which is it, 43 or 50 participants in that one study?
Four pages at the back of their expensive brochure is used for very tiny print, in which they state their Terms & Conditions.
OmegaXL failed to do anything for my pain. I did not experience any improvement on my level of joint and muscle pain at all from the start up until both bottles of 60 soft-gel capsules were finished being consumed per the instructions on their bottles.
In fact, my level of pain had only increased to the point of my seeking the help of my doctor.
I do hope you have found my review on OmegaXL helpful in your determining whether to sign up for their supplement or not.
Should you have any question regarding my experience with OmegaXL, please do leave them in a comment below, and I will respond in a timely manner.
On 28th of April, I received an email from the OmegaXL support staff regarding my request for a refund, of which I have provided you with a screen print below of their response.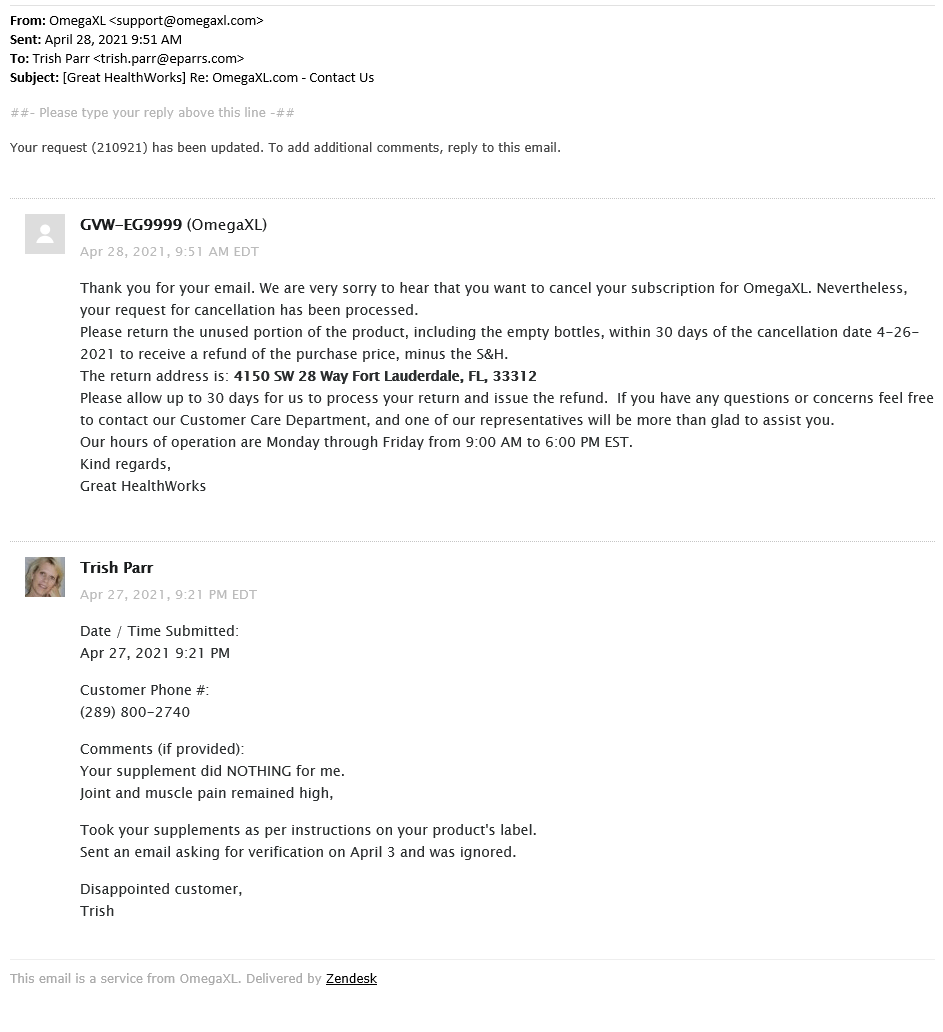 And I responded with, as seen in the following screen print.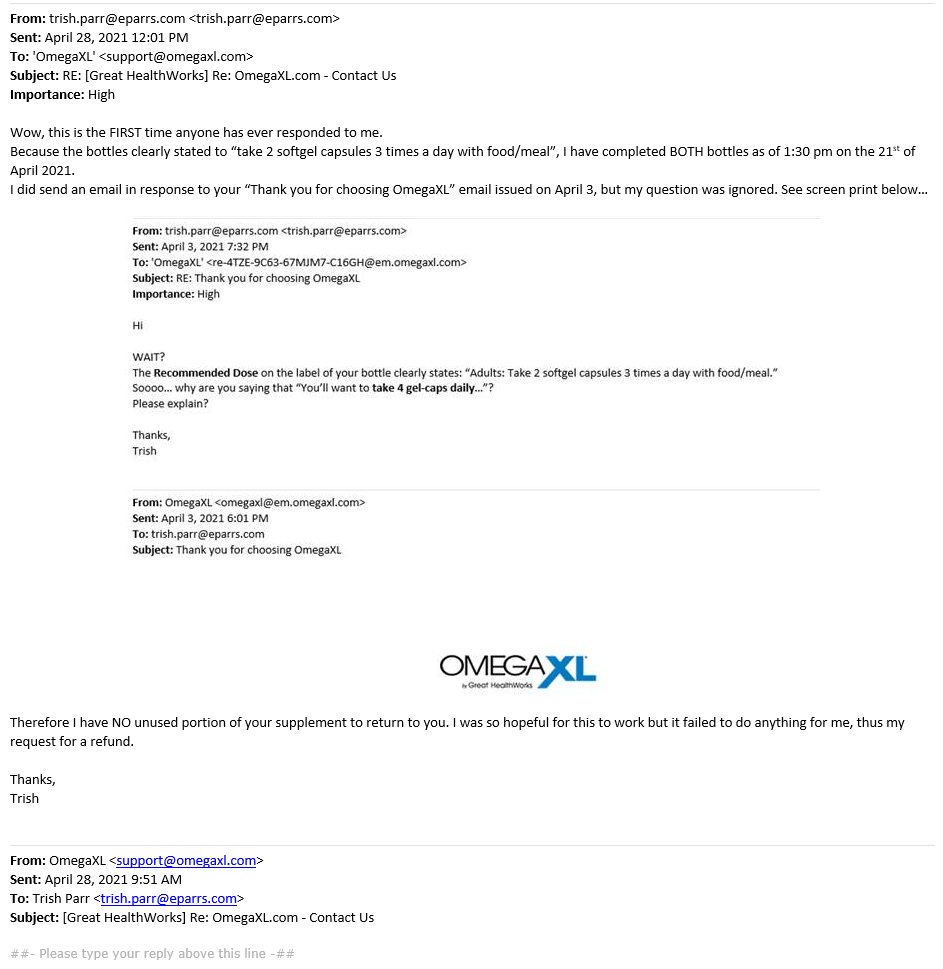 If I am forced to return the two empty bottles and their expensive, coloured brochure, I will opt from doing so.
Please understand that it cost me $15.88 Canadian funds to return the unused portion of BeFlexible so that their support staff wouldn't charge me the $114.18 they threatened me with if they did not receive the package by the 14th of April 2021.
Once the BeFlexible management staff FINALLY got involved and were made aware of the horror story I was put through with their staff, one of their managers did refund me most of the original cost of BeFlexible which was $12.86 of my original payment of $12.97 Canadian funds.
However, if I were to have to pay at least $15 (or more!) Canadian funds to mail the two empty bottles of OmegaXL along with their brochure back to the support staff, they could easily claim that $50 is their cost for shipping their OmegaXL. Which would make a fool out of my request for a full refund.
In that case, returning 2 empty bottles would NOT make economic sense. Wouldn't you agree?
As of 02 May 2021, I have NOT heard back from the support person who insisted that I return all unused portion of OmegaXL, so can only assume they have chosen to ignore my request for a full refund.

My Rating for OmegaXL: [yasr_overall_rating]
Credit for Header: Thumbs down image by VistaICO.com, CC BY 3.0 <https://creativecommons.org/licenses/by/3.0>, via Wikimedia Commons