Going up into my attic for the first time in nearly 12 months since my roof was reshingled, I discovered three very badly damaged boards. One of the holes is bigger than that which a large dinner plate could not hope to cover.
When facing east in my attic, this is what I saw (click on the image below for a real close-up view):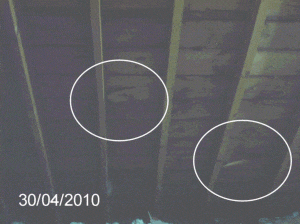 Then, of course, I started looking around… and in the east-south corner, here is a picture of the hole in another board… the one I described as being bigger than a dinner plate could cover (click on the image below for a real close-up view):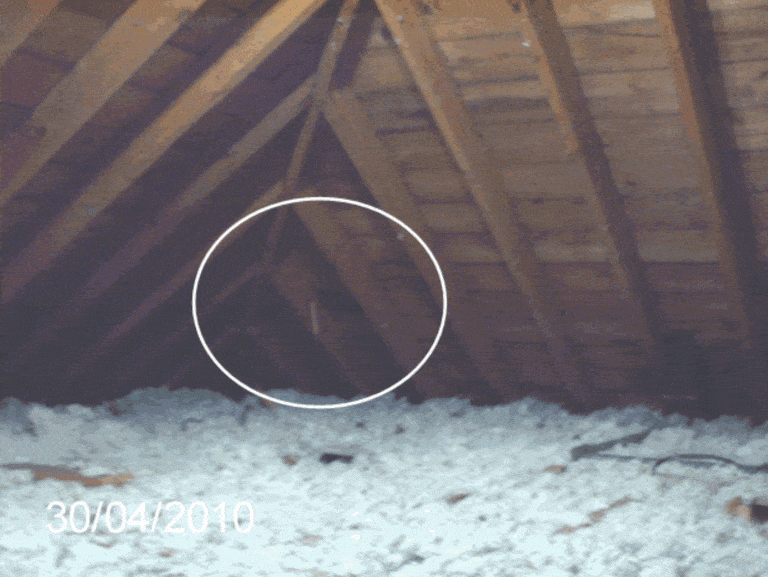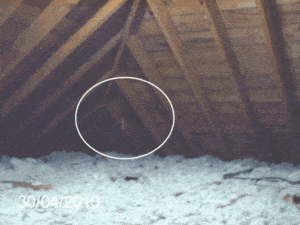 Needless to say, I telephoned the contractor whose men did the work for me… almost 12 months ago. I was sure the business owner would not have been told about this damage done, as there was never any note of damages made on my invoice.
After a long, fret-filled weekend worrying… and several new attempts to contact the contractor by telephone… and, he finally came to my home to view the damages.
At first look, I was told the holes weren't big enough to ever worry about. Sorry, but I argued that one. He's right, I am no roofer… but then I am not stupid enough to think that a few feet of snow in this area on the roof wouldn't crack and break through what looked to be a layer of shingles, either.
Upon a close-up inspection, the contractor himself realized that this hole had been patched over with a sheet metal by his men, before they tacked on the new shingles last year.
Once he told me this, I suggested that from now on the contractor's men should make note of damages like this that were done and how they were repaired so not to cause a homeowner panic, like this incident did for me.
All weekend I kept thinking… what if we had of had a REAL winter with our usual quantity of snow last year… or…. what if someone were to have walked on my roof (your know, to install an antenna or clean the eaves out last fall)… or worse… what if I had HAD to put my home up for sale and had to of had it inspected? Wouldn't a home inspector have made note this damage and… Heaven forbid… notified my mortgage holder? Wouldn't that have been a fine mess to explain my way out of?
The roofing contractor told me I should trust him… but you know what? What IF any of the above had of happened?
Moral of this posting: No matter WHO you hire to reshingle your roof, make sure you go up in your attic and inspect for ANY damages BEFORE you pay for your next roofing job. I know I will!
And, don't forget to ALWAYS check with homestars.com first, for a quality contractor to help you with your next renovation!
UPDATE 21 February 2017: As of the summer of 2016, it was discovered that my roof has been leaking into my kitchen, damaging even more of the drywall under the bulkhead. It wasn't until I spotted water appearing on my kitchen counter that I realized what was going on. Upon my NEW roofing company (Berkhof's Roofing, they're the BEST!) inspecting the roof, it was noted the flashing around the chimney was never installed properly. Wow! What a price I paid, trusting a business man to hire the right people to do the job properly.
NOTE: It truly pays to check out your local contractors by visiting homestars.com and reading through the many comments, of that I am certain. (That's how I found Berkhof's!)
[yasr_overall_rating]