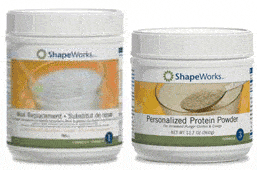 August 2009, I signed up for a Herbalife distributorship, and started receiving products the same month. It was suggest by my upline, that I should start taking Personalized Protein Powder and ShapeWorks Meal Replacement in a shake in order to maintain good health. In fact, I was originally told to use soy milk in place of regular milk to prevent additional calorie intake… which sounded reasonable to me.
Here's the recipe I was asked to jot down during a telephone conversation with my upline:
1 ½ cups of either unsweetened juice or soy milk or almond milk (I was told soy milk was best)
2 scoops of ShapeWorks Meal Replacement
1 scoop of Personalized Protein Powder
½ cup frozen fruit (fresh fruit COULD be used but frozen was best)
¼ tsp cocoa powder
During my Chiropractor visit in September, I explained to my doctor that I had signed up for a Herbalife distributorship and I how I was taking this new protein shake. My doctor then cautioned me on the use of soy and suggested that I use regular milk, if any milk. She went on to say that many people are developing allergic reactions to soy.
Using regular milk was an easy request to fulfill… in fact, I never did use the ¼ tsp of cocoa powder, and so exchanging regular milk was simple to do. I drank one shake every day, faithfully…
By the first week in October, I noticed a small lump forming on the top left side of my middle finger's middle knuckle. The lump was small, and it wasn't painful… though it grew steadily throughout October.
By November the lump became so obviously swollen, and the knuckle joint itself appeared to be badly inflamed, so I telephoned for an appointment to see my General Practitioner (GP). The joint was x-rayed… and my doctor informed me that what I have looks to be osteoporosis. Results of my x-rays are pending, thus the diagnosis is yet medically inconclusive at the time of writing this. Though, do read on… and YOU decide!
If I were in my 70's I MIGHT accept the diagnosis easier… you know, without protest… but to be prematurely deformed by this horrible disease, I feel is totally unacceptable.
The day after my appointment with my GP, I had forgotten to have my daily protein shake… and, the very next day, my knuckle was noticeably lacking in redness… to the point that "the little light bulb over my head" came on. I started to wonder if these protein shakes have anything to do with my knuckle problem, so I started to search the internet for information.
Here is ONE of the many credible articles I discovered: Protein / Soy Consumption & Osteoporosis. And, please do NOT take my word (or the word of just this ONE article) for the fact that soy consumption may cause osteoporosis… research the topic yourself and then decide.
Since my GP appointment in November, I have stopped taking the Personalized Protein Powder and ShapeWorks Meal Replacement. The inflammation in my knuckle has cleared up completely… though the lump is STILL visible. I will be letting my GP know of my findings.
The day I place making money ahead of the importance of a person's quality of life will be the day I plan to stop breathing. Needless to say, my Herbalife distributorship WILL be cancelled… so… to those of you whom I have contacted regarding either product purchases or starting a Herbalife distributorship of your own, let me apologize to you now… and, reassure you, you won't be hearing from my back office within Online Business Systems any time soon. I quit!
Please let this posting serve as a warning to all women… of all ages!
Would you rather be prematurely deformed by osteoporosis… or learn to lose weight in a healthy, safer way?
[yasr_overall_rating]
Further reading on Soy
https://www.ncbi.nlm.nih.gov/pmc/articles/PMC3383497/
https://www.ncbi.nlm.nih.gov/pmc/articles/PMC4717511/
https://www.ncbi.nlm.nih.gov/pubmed/10757817
https://www.ncbi.nlm.nih.gov/pmc/articles/PMC3249910/