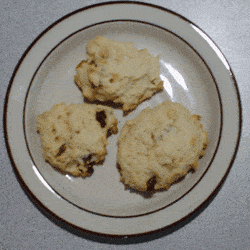 Ingredients
¼ cup shortening
1 cup sugar
2 eggs
2 cup all purpose flour
2 ¾ tsp baking powder
½ tsp salt
1 cup mashed banana
½ cup chopped walnuts (optional)
¼ cup raisins
1 ½ tsp vanilla extract
Method
1 Preheat the oven to 350°F. Cream the shortening and sugar together until light and fluffy.
2 Add the egg and continue to beat until the mixture is light and fluffy.
3 Add the mashed banana mixture and vanilla extract into the shortening mixture.
4 Sift together the flour, salt, and baking powder while adding into the shortening and banana mixture… and mix.
5 Fold into the batter the walnuts and/or raisins.
6 Drop in about tablespoon-sized dollops onto a non-stick baking sheet.
7 Bake for 15-20 minutes or until nicely golden brown.
Makes about 30-35 cookies.