For several summers now, my Nugget … and now my Chloe have walked through the park across the road from my home. Sometimes we would meet up with a neighbour Wayne and his little dog Dusty.
Wayne is a good example of a great neighbour (and a first-rate human being!); one EVERYONE would want in THEIR neighbourhood … and one I try to emulate now whenever possible.
You see, whenever Nugget and I walked with Wayne and Dusty, and Wayne spotted some dog's poo while we walked through the park, he would immediately stop, reach inside his pocket, pull out a doggy-poo bag, and automatically bend down to pick up the poo, though it were his responsibility.
First time I saw Wayne do this, I asked him why he would pick up someone else's dog's poo, and he said that it was his way of contributing to the upkeep of the park; that he is very thankful for such a nice park to walk his dog in. (Heck, the city even provides a garbage container to put our used doggy-poo bags in so we don't have to carry them home to dispose of.)
Now, when walking (formerly Nugget) with my Chloe, and I come upon a little dog's poo that their irresponsible owner has left behind, I pick it up.
Once, when I picked up a BIG dog's poo it nearly made me sick to my stomach. It felt like I was picking up a human's feces. So now, I have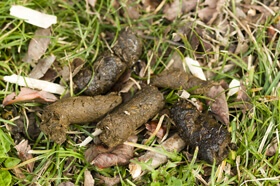 resigned to leave the big dog's poo to whomever, to pickup, or (sorry!) step in.
About a week ago now, a "for sale" sign appeared on the home that Wayne and his parents live in. It only took a few days and "SOLD" appeared on that sign. Living not far from Costco, seems now EVERYONE wants to live in this neighbourhood.
Sadly, Wayne and his parents will be leaving our neighbourhood near the end of January 2016. So, this is my tribute to you Wayne, a great neighbour and a super, responsible dog owner.
Next summer, I dread the idea of walking through the park across the road. The number of irresponsible dog owners has escalated immensely given the recent addition of homes in this area.
Many a morning, I've been SHOCKED to witness just how many dog owners not only knowingly LEAVE their dog's poo on the ground for others to walk in … or, pick up for them, but far too many allow their dogs to roam the park OFF LEASH; from little, tiny Yorkies, to bouncing, uncontrollable Boxers.
To top this, some of those owners are quick to use the "F" word if/when anyone says anything to them about this park being a leash park. It's not like there is no off-leash park available in Oshawa, because there is one, and it's called Harmony Valley Dog Park.
Wayne, Chloe and I will truly miss you and Dusty, as much I'm sure, as Dusty has been missing his buddy Nugget. Come next summer, if dog poo is on the increase as I suspect it might be, in the park across the road, well, Chloe and I will need to find another place in which to take our afternoon walks.
Maybe the city of Oshawa should hire you Wayne, so you and Dusty could walk the park next year, and pay you for the service you have been doing for years now, for so many dog owners, though most are totally unaware.
Wayne … you will be missed!
NOTE: At about 8:15am (it was sunny!),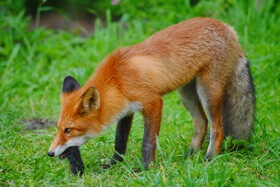 on Saturday, 05 December, while standing looking out of my kitchen window that faces south, movement outside of my west facing window caught my peripheral vision, and I turned to look; while focusing, I literally exclaimed "What the? ".
On the west side of the road, about six feet in from the sidewalk, in between two small trees, in the park across the road, something orange was moving and it caught my attention. Upon a closer look I realized it to be a fox and it was eating what used to be a big, black squirrel.
The fox didn't leave my sight for over 30 minutes while it munched on its "breakfast". This fox is become so desensitized living so close to humans now that it is becoming more and more daring every day. Can you image how quickly this fox might capture a little, off-leash dog?

[yasr_overall_rating]