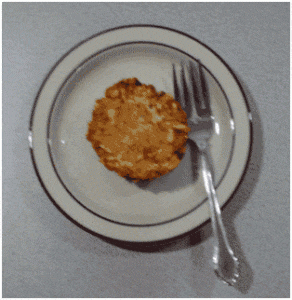 INGREDIENTS
1 large can salmon, drained and flaked
1 ½ cup crushed saltine crackers
¼ cup milk
1 egg, beaten
salt and pepper to taste
2 tablespoons butter
½ teaspoon Worcestershire sauce
¼ teaspoon dried mustard
3-6 dashes tobacco sauce
½ – 1 cup finely chopped onion
¼ cup of diced green bell pepper (optional)
1 tablespoon chopped fresh dill (when in season)
DIRECTIONS
Preheat oven to 350 degrees F (175 degrees C).
In a mixing bowl, combine the salmon, cracker crumbs, milk, egg, salt, pepper, and melted butter. Mix thoroughly.
Press the salmon mixture into a lightly greased muffin tins.
Bake in a preheated oven until the top is golden brown and a toothpick inserted comes out clean, about 45 minutes.
TIP: Fill unused muffin openings in your muffin tin with water to prevent damage to the muffin tin.
[yasr_overall_rating]