Ingredients

2 tbsp. of butter, melted
1 cup of packed brown sugar
1 – 28oz. can of sliced peaches (drained, keeping the juice)
1 small jar of maraschino cherries
1 box of yellow cake mix
1 – 4 serving box of instant vanilla pudding
3 eggs
coconut oil
milk
Instructions
1.) Preheat the oven to 350°F
2.) Prepare your stick-free Bundt cake pan with non-stick spray.
3.) Melt the butter and poor evenly into the bottom of the Bundt pan and then sprinkle with the brown sugar.
4.) Take the peach slices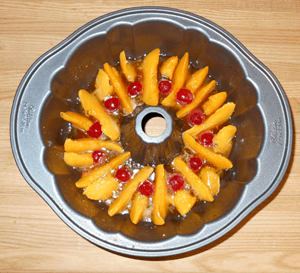 and alternate them with the maraschino cherries around the Bundt pan as shown in the picture, then cut peach slices in half and place these above the maraschino cherries, and then set the Bundt pan aside.
5.) Mix the cake mix in a LARGE bowl along with the pudding mix.
6.) Pour the peach juice into a measuring cup to about ¾ cup and add enough milk to make 1 cup of liquid, then add this along with the eggs and the amount of coconut oil as the yellow cake mix box requires of oil.
7.) After mixing ingredients completely, carefully pour the batter over the peaches, cherries and brown sugar.
8.) Place in the oven and bake for 40 to 50 minutes or until the top is golden brown. Test with a tooth pick to see if it comes out clean. If it does, then your cake is cooked.
9.) Remove from the oven and set aside to cool for 15-20 minutes.
10.) Once the 15-20 minutes are up, carefully slide a knife around the edges, including the inner ring.
11.) Invert the cake onto a serving plate.
12.) Serve warm or cold, being sure to slice between the peaches.
This is my favourite upside-down cake! Hope you like it too and that you'll share this recipe with all of your friends.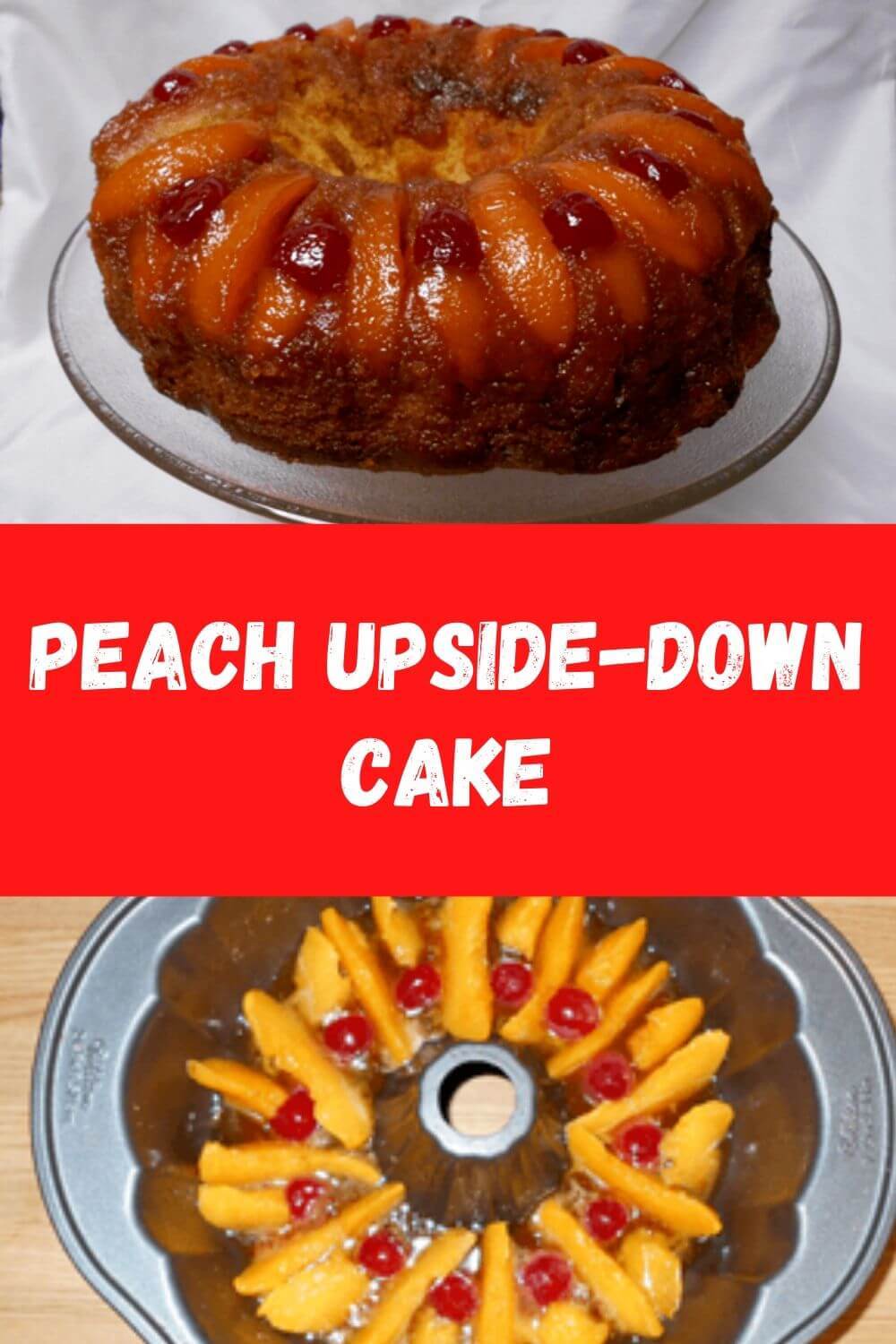 [yasr_overall_rating]