Ingredients
salt
1- 250g. pkg. fettuccine noodles
1 pork tenderloins (about 2 pounds), trimmed of connective tissue and silver skin
2 tablespoons Extra Virgin Olive Oil
1/2 cup plus 2 tablespoons flour, as needed for coating
ground black pepper
4 tablespoons butter
1 sliced pound button mushrooms
1/2 cup Marsala wine (do NOT substitute)
1-10 oz can of chicken stock
ground black pepper
3 tablespoons of heavy cream
1/4 cup flat-leaf parsley, chopped
Yields: 4 servings
Preparation
Slice tenderloin into four pieces. Working with 1 piece at a time, use a mallet and hammer each piece out to about an eighth of an inch thin.
---
When all of the meat has been pounded out, place a large skillet over medium-high heat, using about 2 tablespoons of Extra Virgin Olive Oil.
Place about 1/2 cup of flour into a large casserole dish or pie plate, and season each piece of pork with salt and pepper, then lightly coat each piece of pork with flour.
---
Cooking in batches, sear the pork until golden brown and
cooked through, approximately 3-4 minutes per side.
As the pork finishes cooking, reserve them on a plate covered with foil to keep them warm.
---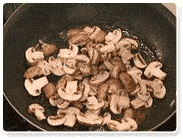 When the pork is finished cooking, add the butter to the skillet. After it melts, add the mushrooms to the skillet and cook them until golden brown, approximately 5-6 minutes.
---
Sprinkle the mushrooms with about 2 tablespoons of flour and
cook for about a minute.
Add the Marsala wine to the pan and cook until reduced by about half.
Add the chicken stock to the pan and bring the sauce up to a bubble.
Season with salt and pepper and simmer until thickened, approximately 2-3 minutes. Stir the cream and parsley into the finished sauce and simmer on low while you are boiling the noodles.
---
Place a large pot of water of high heat to boil. When the water is boiling, add some salt and cook the pasta (egg noodles are BEST) according to package directions.
When the pasta is cooked, drain it.
To serve, dip the pork cutlets into the sauce to coat and arrange on a platter. Toss the cooked pasta with the remaining sauce and serve.
Through a dear friend, I learned of Rachael Ray's recipe, and I have altered it considerably, to add more sauce and less meat.
Let me know if you like this recipe, won't you?
[yasr_overall_rating]