Wow… if it isn't one thing with Outlook, it's another! Don't you just hate that when you've done NOTHING to cause the software to do ANYTHING …and then it simply decides to crash.
While reading an emailed message in the Reading Pane of my Outlook 2007 this morning, I received a prompt telling me that Outlook crashed and did I want the error message sent to Microsoft.
Uh, I'm sitting here reading my email and Outlook is just fine, so I clicked on the Cancel button.
Well, don't cha' know, Outlook crashes.
Then, when I re-opened Outlook the Reading Pane was gone… vanished.
Now what?
After several failed attempts to Google for help… I came across one site with a different twist. One I remembered helped me with this the last time. So… here I am, entering this info right here on my personal blog so it'll be available to me too… next time I need it.
There are TWO things you need to check out as BOTH options are NOT linked to each other and if ONE is missing, you won't see the Outlook Reading Pane. Here goes…
Step One: Make sure to check and see if the Reading Pane is turned on by selecting Reading Pane from the View menu in Outlook. See the screen print below: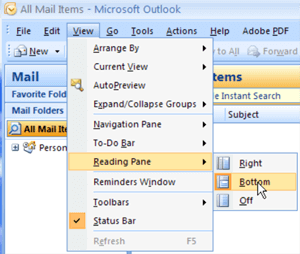 This one alone may resolve your issue. If not… read on… and follow the next few steps.
Step Two: From the View menu select Current View then Customize Current View… as shown in the screen print below: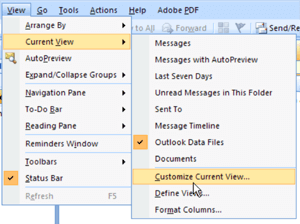 Step Three: Then select Other Settings… from the Outlook Data Files window…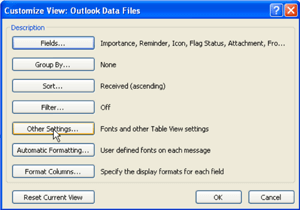 Step Four: Then looking nearer the bottom of the Other Settings window, make sure one of the two radio buttons under Reading Pane is selected… else it may be shown as being off here.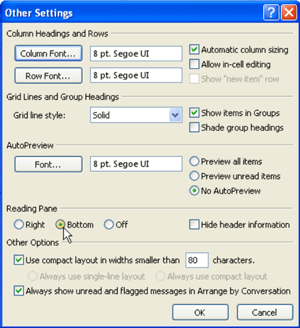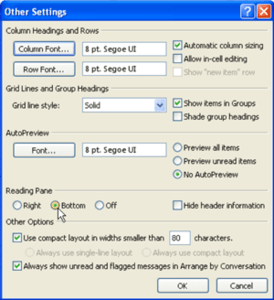 These "hiccups" are frustrating, to say the least.
My main grumble with Outlook is with duplicated emails in only a FEW folders.Microsoft wants money to resolve this issue… grrrrrrr…not nice!
Sure hope this helps you out… but I have to be honest. I've posted it here for the next time it happens to me. Googling this resolve was far too challenging to get an answer this time. This is only the second time that the Reading Pane in Outlook 2007 disappeared after the software crashed.
I pray it'll be the last… time will tell.
Should you only want to backup your files manually, here is a great tutorial to help you with that option: Back up and Restore emails using Outlook 2007
[yasr_visitor_votes size="medium"]