Coolsculpting professes to be a safe procedure that "delivers precisely controlled cooling to gently and effectively target the fat cells under the skin".
Those treated stubborn fat cells are said to be crystallized or frozen making them die. Then, over time the human body's natural process simply removes the dead fat cells and you're said to be sculpted.
Being a person who would sooner pay out-of-pocket for any non-intrusive medical procedure over
being cut for any reason, I saw coolsculpting as an opportunity to get rid of 2 very annoying fatty deposits or lumps known as lipoma (like that in the image on the right) … essentially just fat, the same type of fat found elsewhere on the human body.
Over the telephone, I was told that it would cost me about $350 per lump, and that I would need to come in for a consultation to be certain.
Back on March 25, 2015, I was talked into paying $813.60 for this procedure to be done on both lumps. The procedure I am referring to was called a Venus Legacy (coolsculpting), and in the end could apparently only be done on one of the lumps … the one that was between my shoulder blade and my right underarm.
This procedure was done by a person claiming to be registered nurse at Pickering Physio, in Pickering, Ontario. This nurse claimed she didn't have a proper apparatus to be able to freeze the smaller lump that was on my right shoulder.
After the procedure for the one lump was completed I asked about a refund and was later denied.
The first lump that formed on me was harder (turned out it was thicker) and, by this time was about the size of a large hard boiled egg cut lengthwise. And as I said, it was located between my shoulder blade and my underarm. It started growing sometime back in the 90s and didn't seem to be affecting me so I ignored it.
The smaller fatty lump that appeared on my shoulder, by 2015, I could clearly see that it had veins that appeared to be feeding it. It was a spongy-like, fatty deposit about the size of half a golf ball … and, it first appeared back in 2010.
When the second lump started to form, it was after five long hours of housework; I suffered for three very painful days, having to strap my right arm to my body. Then finally a small lump about the size of half a walnut appeared on top of my shoulder. At first it was thought to be bursitis due mainly because of the strain of five hours of housework (which didn't make sense to me as I ALWAYS did my housework like this … but I was told I'm getting older), but obviously, was later proven to be another fatty lump.
After the coolsculpting procedure at the clinic in Pickering (I have forgotten how many days afterwards now) the lady who claimed to be a nurse … the one who did the procedure, telephoned me and asked if I could tell if there was any difference with the lump she treated. I told her, besides aching, I could tell no difference at all. The nurse then claimed that I might need a second session to encourage the fatty deposit to be dissolved after freezing it again.
As soon as I mentioned that I was charged for 2 lumps to be removed and had not received a refund, she told me that wasn't up to her to refund me, and that I would be expected to pay for any further sessions on the one lump that she could treat.
When I returned to the clinic for a follow-up appointment that had been prearranged at the first appointment, I discovered that the lady who claimed to be a nurse and the person who sold me the treatment no longer worked there. The one lady working at the clinic behind the counter just inside their door, claimed that this coolscupting business simply paid them to work out of their clinic.
Really?
That's odd; my payment was paid directly to this clinic.
So you can well imagine my shock when I learned that this coolsculpting business appeared to be a fly-by night operation.
Boy, did I get suckered or what!
WARNING: If You Should Decide to Try Coolsculpting
If you do decide to go ahead with coolsculpting, there should be an appointment for a consultation ONLY scheduled for you. During that consultation, a potential patient should be informed by a fully licensed medical professional as to what the worst that can happen, what YOU can expect from YOUR treatment, and you should know EXACTLY what your full cost will be BEFORE you are asked to setup an appointment for the procedure.
You should be given time to decide and NOT be pressured into setting up an appointment for your first treatment … ESPECIALLY not five minutes after a 15 minute consultation with a non-medical professional.
If you ARE pressured in any way … RUN!
That clinic is not concerned about you and your issues. They are only interested in your money.
Plastic Surgery Was My Only Option
Moving forward in time, the lump on my shoulder ached off-and-on constantly while the other one kept cutting off my circulation at times (though, both my GP and the plastic surgeon told me that was not the cause) when lying on my back with my arm outstretched. So, I asked my GP to please send me to a top-notch doctor to deal with these lumps as I had had enough with the discomfort from them.
OHIP doesn't cover removal of what they call lipoma (fatty deposits under the skin), so I was looking at yet another out-of-pocket expense. However, this time it would be to deal with these lumps once and for all.
Back on July I, 2017, I paid $618 to have the two lumps removed. Thankfully, THIS procedure is tax deductible!
On October 2, 2017, I arrived at the hospital in Oshawa at 7:30 AM, and by 9:30 AM I was home and lying down to rest. Thankfully the freezing was still in the area where the cuts to remove the 2 fatty lumps were and now where the stitches were made, so that I could rest on my back.
Removal of a Lipoma
I awoke a few hours later only to realize that my right arm did NOT "go to sleep" for the first time in a long time. However, the freezing was starting to come out and the stitches were starting to ache a bit with the slightest movement of my right arm.
In case you didn't know or had forgotten, I have admitted being a 'wuss' before when it comes to pain, needles and stitches.
Anyway, I learned that BOTH fatty deposits were sent to the lab to be analyzed, and that a follow-up appointment was scheduled for the 16th.
Wow!
Look at the money I could have saved myself if I'd have gone this 'route' back in 2015 instead of paying for a procedure that I now doubt even works at all.
To me, fat is fat … be it on the stomach, love handles, legs … or simply fatty tumors (yup, that's what they are really nicknamed). If coolscupting really does freeze fat to reduce it, then why didn't it do something … anything to the one lipoma that was treated?
And, even MORE importantly, why was the cost of coolsculpting so much higher than that of the procedure done by a 5 star plastic surgeon?
Now I see there is a mini portable fat freezing machine being made available for sale so you can use it at home and you can do the coolsculpting procedure yourself.
Ha! Yeah right.
Personally, I would recommend that you save yourself a LOT of wasted money, grief and time. If you truly need to lose the fat around your stomach and/or love handles there are easier, less costly and healthier methods to do that then coolsculpting can offer you.
Please, do your own researching into this procedure before paying the ridiculous prices being asked by the salons/clinics out there offering this procedure.
Other supplements and procedures that I have reviewed here are as follows:
If you found this post to be helpful, I do hope you share it with your friends. Feel free to leave a comment.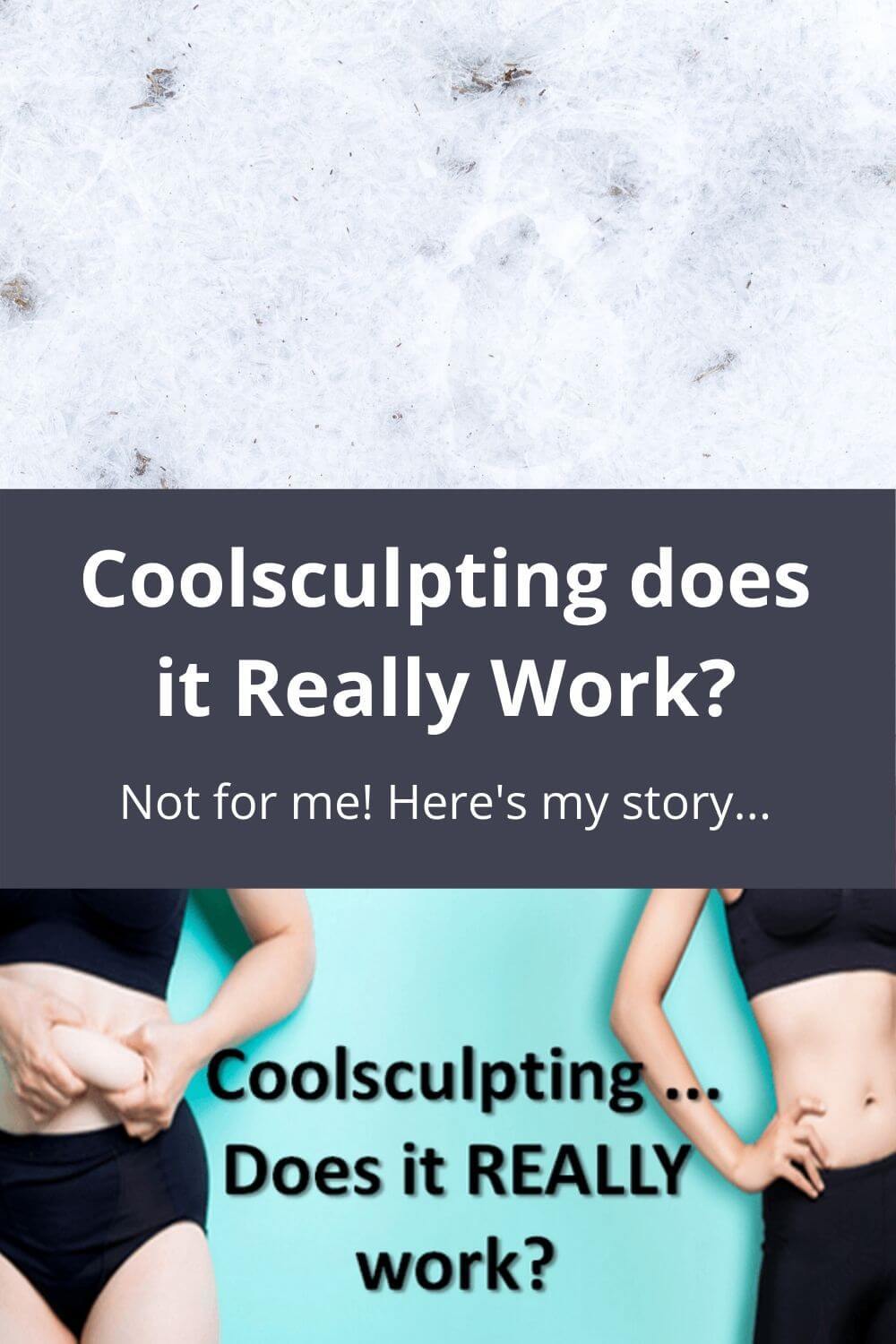 [yasr_overall_rating]