Is ID theft insurance in Canada really safe or even worth the cost?
Am hoping that you can help me shed light on this question once you have read what all I discovered in my recent need for researching this topic.
My Story…
Earlier in May, only ONE financial institute that I deal with had the courtesy to step forward and actually inform their list of clients of a data breach that happened over 3 months previous. I received a copy of their letter on 4th of May, 2023.
Naturally I panicked.
Their notice stated the following:
…we have been notified by one of our third-party vendors, InvestorCOM Inc. (InvestorCOM), that they were compromised due to a cybersecurity incident related to a technology supplier to investorCOM, GoAnywhere.

Like other companies in the financial services industry Mackenzie uses InvestorCOM for print and delivery services of client material. InvestorCOM uses GoAnywhere's service for secure data transfer. Go Anywhere's cybersecurity incident occurred on January 30, 2023 and has impacted many organizations around the world.

We were informed of the incident on March 28, 2023 by InvestorCOM and took immediate steps to mitigate the issue and begin a full cyber forensics investigation.

Through our investigation, we recently discovered that the following personal information of yours was part of this data breach:

Mackenzie Account Number
Name
Address
Social Insurance Number

For clarity, financial information, such as client holdings and account balances, was not exposed in this incident. It is also important to note that investors holdings in Mackenzie funds were not impacted and our systems have not been compromised.

While we have no evidence at this time of any misuse of your data, we are providing you with this notification given the nature of the personal information that was part of this breach.

Further, we are also offering you comprehensive credit monitoring at no cost for a period of two years that includes credit monitoring alerts, identity theft protection services fraud victim assistance and up to $1,000,000 in identity theft insurance.
Down the letter a bit more, is the following:
We encourage you to take advantage of this service as soon as possible to help protect your identity. To activate your service, please visit: https://www.mytrueidentity.ca.
And they also provided me with an activation code to use, along with a warning that this must be done before August 31, 2023.
Naturally, I went to the website their letter stated, added my activation code immediately, then completed their very complicated form. At the end of the form, I was asked to provide my Social Insurance Number, but that it was not vital to do so.
Having learned how EASY it is for hackers to gain what users are typing into online forms, I choose to NOT type in mine, for SECURITY reasons.
TransUnion also asked for a credit card, which I did NOT provide, especially given that my activation code should have told their system who was paying for this insurance.
BUT WAIT!
After clicking on the final button to activate my insurance, I received the following prompt.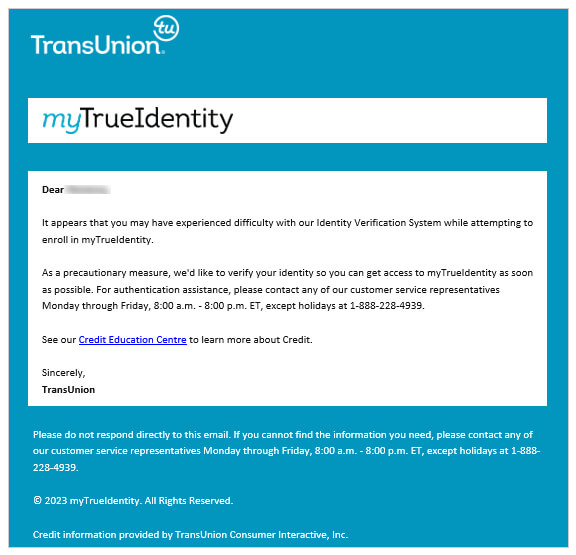 This happened on the 4th of May 2023.
And, I also discovered that the TransUnion system sent me an email informing me that I needed to complete my form, in order to activate the insurance.
Telephoning the number, I received a recording that I have to expect a long wait, perhaps as long as one full hour.
I choose to wait by keeping my line open, listening to their recording while on hold. This went on for over an hour and then hung up.
After thinking on this for a bit, I decided it might be best to talk to someone at TransUnion, so I visited the https://www.transunion.ca/customer-support/contact-us page: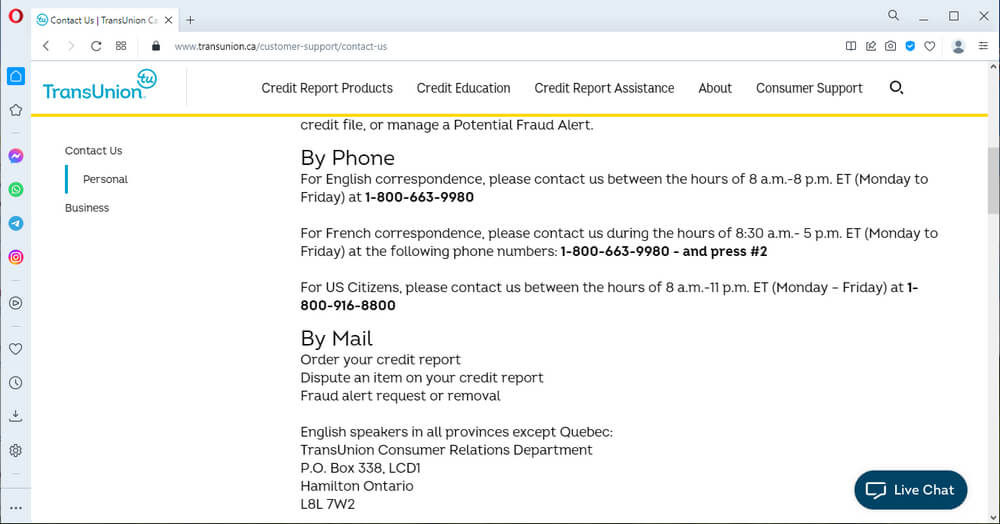 And, I dialed their 1-800 number, only to have a man with an accent answer my call.
When I informed him about the issue with their form that I encountered, mentioning the prompt that I received, he said that was fine and that he could help me with this.
I grew suspicious of his accent, and so I asked him, "Where are you located?"
At which he responded, "You are speaking to someone from outside of your country, yes mam."
Then I asked, "Are you located in India?"
And he responded with, "Yes, I am."
At which I responded with something like, "Sorry, but I have to speak with someone in a country that is well-known for hacking telephones? Eh, no way."
He apologized and that was the end of that conversation.
Are you kidding me?
So… Canada has Identity Theft Insurance plans that are tended to buy support stall located in INDIA?!
REALLY?!
After thinking things over again, I remembered a school teacher friend of mine who had their personal credit details data breached by their Union's database, last year, and now ALL teachers are now protected with identity theft, FOREVER!
So, I telephone that friend to discover WHICH insurance company is being used, and was told that it is Equifax.
Huh… really?!
Having been informed that ALL banks deal only with TransUnion… I got to wonder who my chosen banking institution, DUCA Financial, deals with, and THANKFULLY, discovered that the ONLY one they trust is Equifax.
Naturally, I went online to see what I could learn and decided to fill in the Equifax form. (Wonder what Credit Lock is?)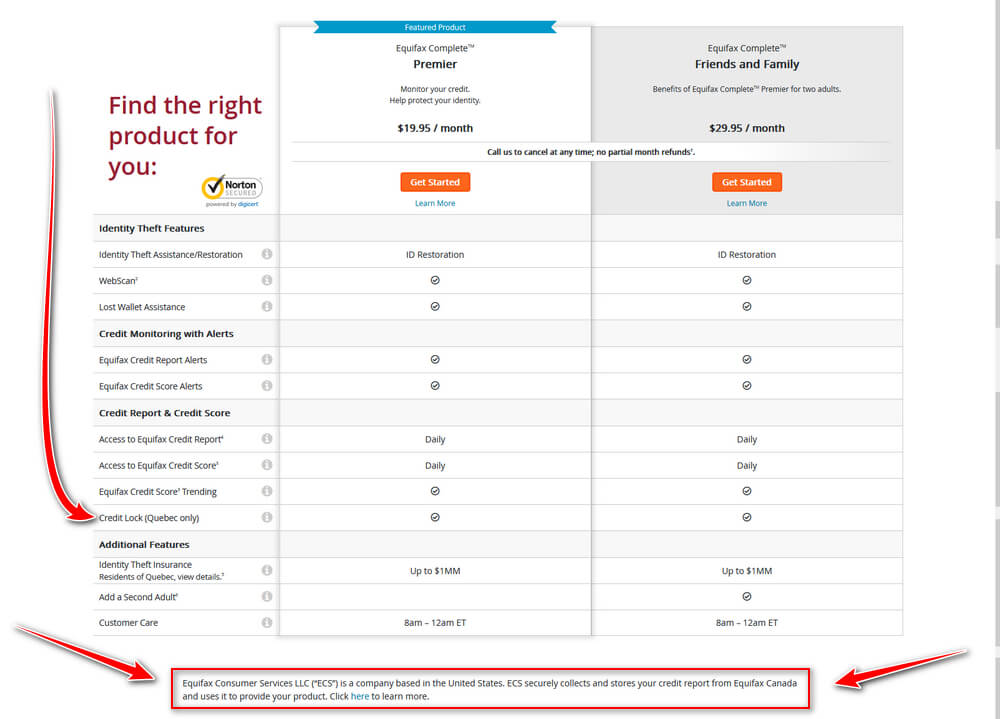 That "Click here" to learn more link (paragraph outline in red, in above screen print) will take your browser to the following: What is the difference between Equifax Consumer Services LLC ("ECS") and Equifax Canada Co. ("ECC")?
After researching, I decided to fill in the Equifax form, and their form also asked me for my Social Insurance Number, though also clearly stated that it was not a requirement.
Yet, once I clicked the final button, I received the following prompt.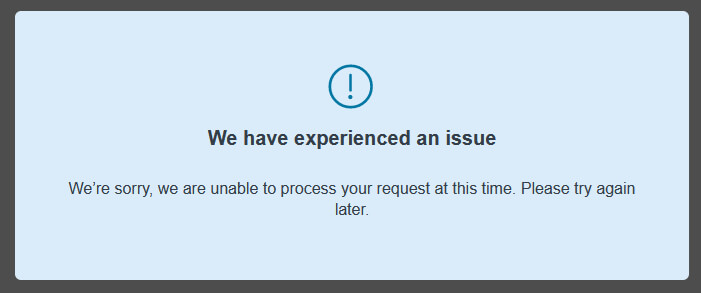 Equifax did NOT ask me for a credit card, so I was a bit confused, but decided to reach out to their support staff by telephone.
This time a female answered my call, and she did NOT play coy with me when I asked her where she is located. Instead, she simply responded straight away that her location is the Philippines.
I explained to her my frustration that my credit information is being tended to by ANYONE from outside of Canada, and she was very understanding of my insecure feelings.
Then she explained that their office in the Philippines, are held to the same standards as the Canadians.
Well, if there ever was a fraud committed by someone from their support staff, due to a customer cancelling their insurance, I doubt the Philippines would EVER extradite the guilty party for selling a former customer's credit info, including their social insurance number, on the dark web. Or even if you could prove they were the perpetrator.
Though, I kept that part to myself, for obvious reasons.
I am soooo frustrated with Canada's clumsy handling of the security for Canadian's credit details, and that banking institutions pretend like they actually protect us when using TransUnion.
HUH!
Like TransUnion actually protects your credit info!
Then I remembered another friend who claimed he has LifeLock insurance on his business.
And… talk about timing!
I decided to give researching a break and got myself a coffee.
Then, sat in front of my TV, trying to calm myself down from the frustrations, and a LifeLock commercial came on TV with a 1-800 number.
I remembered that the gentleman who started that company used to have his social security number (American!) on the side of a bus, proving to his potential customers just how safe his insurance is.
However, that gentleman since sold his company and now Norton (Antivirus) owns LifeLock.
Anyway, I telephoned the 1-800 number their commercial gave, and a staff member answered, stating he is located in the USA, when I asked him. Apparently, even their regular number for their customer support uses staff that are only located in the States.
The gentleman that I spoke with was rather shocked himself when I shared with him what I had learned about the only 2 identity theft companies that are available to Canadians.
You know, that the Canadian's options for ID theft use support staff in economically poorer and non-industrial countries (the new politically correct label that replaced "3rd world").
If you were me, would YOU feel confident after the two years insurance coverage offered by Mackenzie Investments that TransUnion's support staff (who are located in India), would never end up having one of their staff members sell my credit info, including my social insurance number, on the dark web?
You know, when Mackenzie Investments quits paying for this insurance for me.
I sure don't have that kind of faith.
You see, in order to qualify for this "free" insurance, I must provide TransUnion (who already HAVE my details!) with my social insurance number. This would then make ME libel for having provided THEM with my social insurance number.
In other words…
If I want to stay protected after those 2 years I will be forced to pay out extremely expensive yearly rates to protect my credit information.
Personally, I see this as legalized extortion.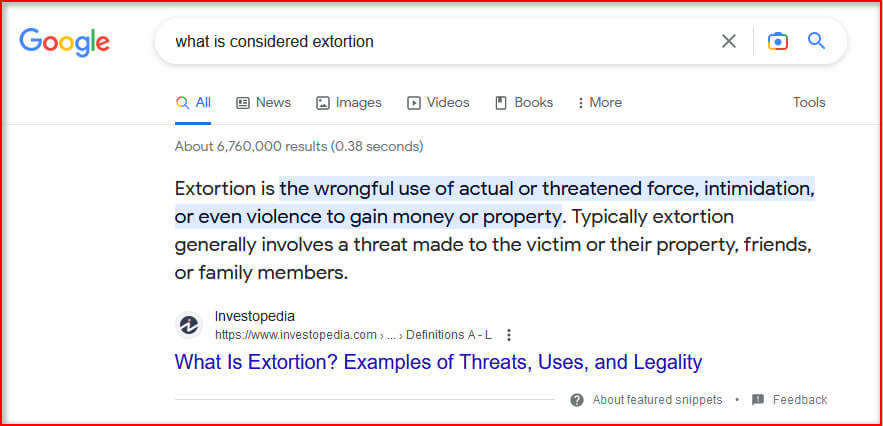 My Take on ID Theft Insurance in Canada
Why hasn't the responsibility been put on credit companies in Canada, to HAVE to reach out to the PERSON, in PERSON, who is "apparently" applying for credit of ANY sort, including a mortgage?
If I have to be "known", and I have to provide proper documentation to my local financial institute to get a mortgage, then that standard SHOULD be the same standard EVERY step of the WAY, EVERYWHERE.
Plus, credit card companies are making a fortune allowing fraudulent use of their cards, and recovering their lost moneys by charging higher interest rates.
They TOO need to be held more accountable for cards they hand out like they are lollypops.
In addition…
The Globe and Mail was the ONLY form or News Media that had the fortitude to notify THEIR readers of this massive breach of data: https://www.theglobeandmail.com/business/article-goanywhere-hack-data-breach-wealth-management/, in case you want to verify My Story here (please do!).
So, I ask you again…
Is ID theft insurance in Canada really safe?
Personally, I DO NOT believe this to be true.
Should you have ANY input to share on this topic of ID theft insurance, please leave a comment below, where we can discuss this further.
Credit for Header: Image by Michael Treu from Pixabay