Speaking with a friend who told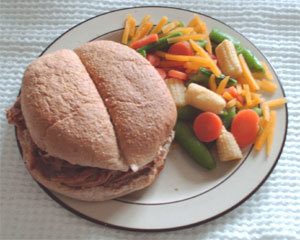 me about this recipe, I took her word for the fact that she said, "pulled pork tenderloin is to die for…" and decided to make this for a lunch when first impressions meant everything.
I purchased two pieces of frozen pork tenderloin that was on special at NoFrills for $2.99 a pound. Each piece was $1.99, so together they were just over a pound. I slightly defrosted both pieces in my microwave oven so that I could cut them in half, in order to fit them in my crock pot (slow cooker).
Here's my recipe: