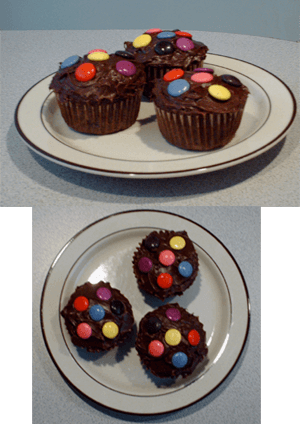 My girlfriend from grade school is on a diet and she's doing spectacularly well so I don't want to hinder her progress. But, it's her birthday and we like to celebrate our birthdays with chocolate cake.
When we were kids, my mother decorated one of my birthday cakes on a budget… she used Smarties. From that day on, when invited to my birthday parties, my friends would always ask anxiously if my mother was making chocolate cake with Smarties on it, again this year. Thus a tradition got started.
Getting back to my girlfriends birthday cake, I had a choice… to make Pamela a chocolate cake that would only add temptation to break her progress (not a choice!)… or make her cupcakes instead.
Cupcakes won out because they can be frozen for later use… thus my title "Decadent Diet Birthday Cake."