Not only is your thyroid responsible for giving you energy (among other things of course) but did you know that your body cannot convert the foods you eat into energy without active thyroid hormones?
So, if you're low on energy and suffering from insomnia leaving you in a bad mood, you may need to boost your thyroid naturally.
Turn your sad thyroid into a happy thyroid; try boosting your thyroid for a full month simply by incorporating foods that boost thyroid function. Those foods need to be high in the nutrients your thyroid needs.
You could look at it this way: The thyroid hormone is built from a nutrient called tyrosine (or L-Tyrosine). Without this nutrient, it would be like your trying to build a brick chimney without using bricks.
Maybe it's time to wake your thyroid up naturally with these amazing foods better known as thyroid natural remedies, and I'm about to share some of them with you here.
Tyrosine Rich Foods
Food
Amount of tyrosine per 200 calorie serving
Spirulina (seaweed) fresh or dried
2040 – 1700 mg*
Watercress raw
1145 mg*
Beans raw or cooked
990 – 1000 mg*
Spinach raw or frozen then cooked
939 – 1280 mg*
Soy foods (though do beware of issue with soy)
1999 mg*
Eggs (along with other dairy products like milk)
1900 mg (250 mg per egg)*
Cheese
swiss, mozzarella, parmesan, gruyere and cottage cheese
1840 mg*
Wild fish
1700 mg*
Poultry (turkey and chicken)
1600 mg*
Pork
1600 mg*
Grains (wild rice, brown rice, millet and oats)
1580 mg*
*measurements are approximate
In case you're wondering what a 200-calorie serving might look like, check this article out: https://www.boredpanda.com/what-200-calories-look-like/ and see for yourself. You will be pleasantly shocked, I'm sure.
Not having the measure of tyrosine available for a 200-calorie portion of seeds and nuts, I did not include these in the list above. However, per ounce of seeds and/or nuts you will get about 306 mg of tyrosine, making these a "must have" on any list of foods rich in tyrosine.
For a more complete list of foods high in tyrosine, please visit: Weight Chart. They offer you a means of checking each food category, so do take note of their drop down list of categories and see for yourself ALL of the foods that are highest in this nutrient.
Wake Your Thyroid Up
Berry Smoothie


Ingredients
¼ cup of raw pistachios (can also be your favourite nut or seed)
2 cups of raw leafy greens (example: arugula and kale)
¼ cup of your favourite berries (strawberries, blueberries, raspberries, blackberries, etc.)
Directions
Blend until smooth and serve for breakfast as a boost to your thyroid.
The pistachios offer you the tyrosine, and the berries top this off with an antioxidant. What a great way to start your day.
For your mid-morning snack or when you're craving for something sweet, you could try the following healthy snack recipe.
Brazil Nut Protein Truffles
Ingredients
1 cup of Brazil nuts
3 tbsp unsweetened cocoa powder
¼ cup butter
¼ tsp sea salt
2 tbsp maple syrup
Flaked coconut (set aside until last)
Directions
1.) Add Brazil nuts to the blender first and blend until fine texture.
2.) Add all other ingredients minus the flaked coconut, and blend pulsing until smooth.
3.) Scoop out the dough and roll into balls.
4.) Roll balls into flaked coconut and serve.
TIP: you could add dates to make these truffles taste even more delectable.
For lunch, you could serve one chicken breast (30 grams of protein) on top of one serving of zucchini noodles. Chicken is listed among the thyroid natural remedies, and below is a recipe for zucchini noodles that you can make in 20 minutes.
20 Minute Zucchini Noodle Pasta
If this recipe does not suit you, there are now well over 20 different zucchini noodle recipes available online.
The ultimate thyroid boosting snack food that is backed by science … is Brazil nuts. It is advisable to stick with only 2 Brazil nuts daily due to the fact that they are also very high in selenium.
Brazil nuts are considered to be heart boosters because they also contain potassium and magnesium. They're considered mood boosters because they contain selenium, nicknamed the feel good hormone. And they are also considered as good for boosting our antioxidant levels.
You could even seriously consider using Brazil nut milk in your morning coffee!
How to Make Brazil Nut Milk
In Addition
Be sure to use a salt that has iodine added to it as it is very important for your thyroid's regeneration so that it can produce more hormones. Our bodies do not make iodine, so it is essential that we include this element in our daily diets.
Apparently, before the 1920s, iodine deficiency was all too common in most of Canada, and now other parts of the world do not consume enough iodine, making iodine deficiency a global health problem. Iodine deficiency can cause enlarged thyroid in adults, as well as mental retardation in babies and young children whose mothers were deficient in iodine during their pregnancy.
Always make sure that you have power on your plate.
After your month of focusing on the foods that are high in tyrosine, be sure to include foods daily that boost thyroid function. In this way, you can help lessen your suffering from low energy.
A simple rule to remember is this: Make sure when you are enjoying food that it is something that is actually going to take care of you, that it is going to feed you, and that it is going to nurture you.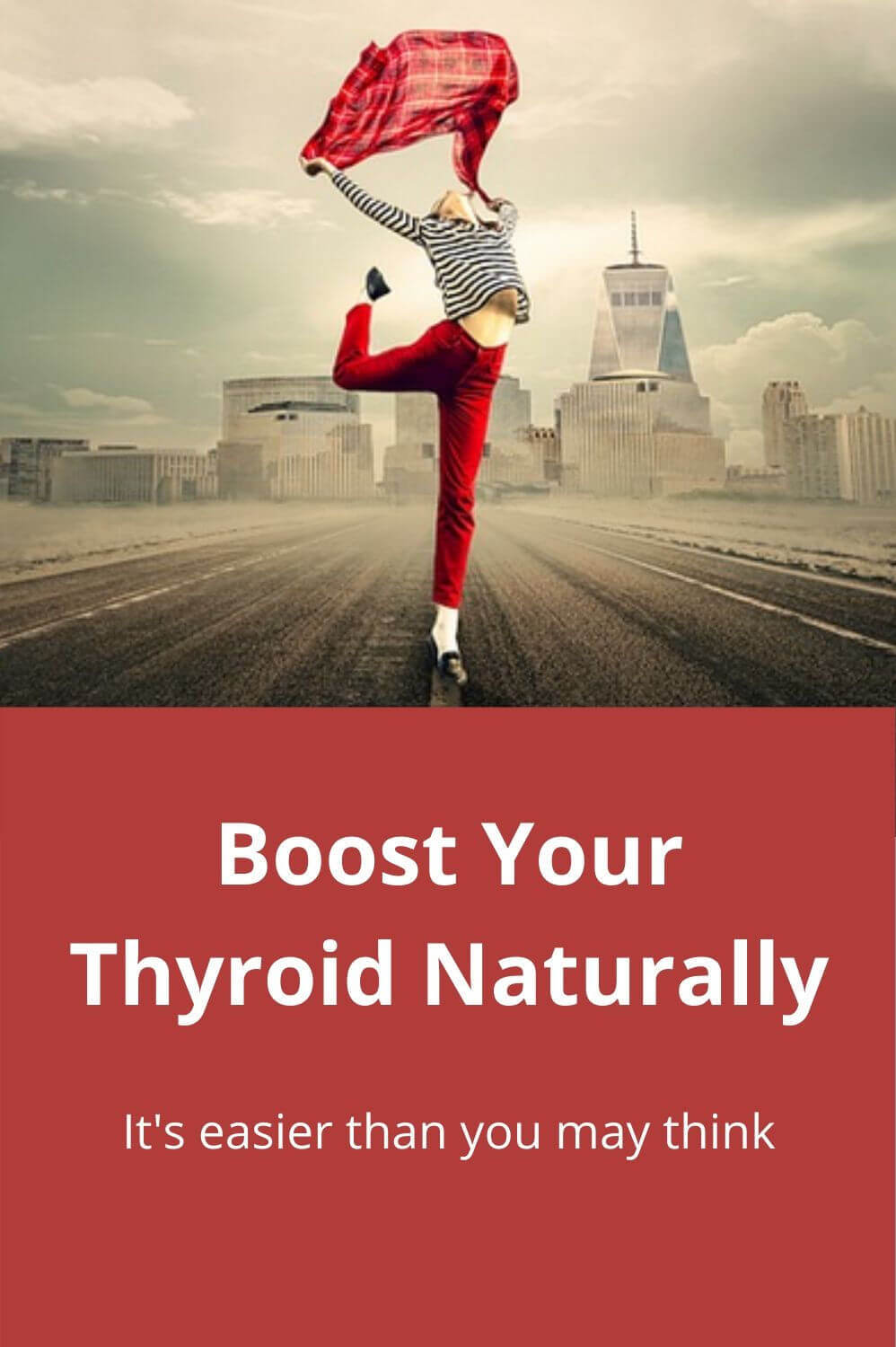 Credit for Header: image by Myriams-Fotos girl-woman-joy-of-life-jump-free-2940655