PayPal no longer readily supports buyers (their customers) who use them as a means of protection…
On the 1st of April 2019, I purchased a product from a WarriorsPlus vendor for $29.06 US funds. That vendor's customer help desk ignored the ticket I issued to them on the same day, requesting help as the instructions no longer apply, and I was stuck at the setting up stage in order to use this vendor's plugin.
Then on 2 April 2019, when the vendor emailed me using a different email address regarding yet another product he wanted me to check out, and because my ticket was still unanswered, I issued him a compliant to that email address regarding the lack of support that I have received on his plugin… and THAT email was ignored.
On 3 April 2019, I signed into WarriorsPlus platform and retrieved the support email address provided for this vendor, for this product, which was different than the one I had used on the 2 of April, so I wrote complaining to this email address.
On 4 April 2019, I received an email from that email address suggesting that I contact the customer help desk, even though I provided my ticket number from having issued my ticket for help to that desk. So, I responded to that effect and that email too was ignored.
So, on 9 April 2019, I signed into my PayPal account and found what I deemed to be a threat to his buyers posted by the vendor. See screen print below.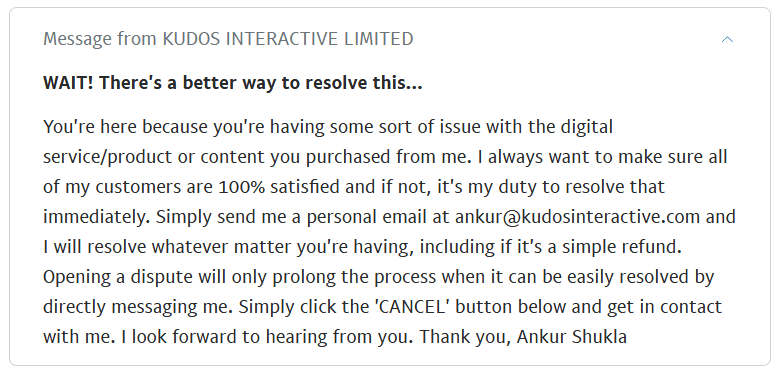 Silly me for thinking this threat might actually be for real… and so, I sent yet ANOTHER email, this time explaining all of the trouble I've been through trying to get support and asked for a FULL refund… and THAT was ignored.
Today… 10 April 2019, after receiving NO word at all from this email address either, I signed back into PayPal to find their resolution center and was faced with options that kept me clicking in circles, trying to log into their resolution center in order to log my complaint.
After Google searching to find PayPal's REAL help, I telephoned the number PayPal provided, and got a computer that gave me options to select from that truly did not apply to this issue. So I had to select the closest reason for wanting a full refund in order to get my ticket issued with PayPal.
So… why have I reduced my review for PayPal since posting my LOVE for PayPal back in 2015?
Simply because I feel that PayPal no longer cares about you and me… those of us purchasing anything through their platform. They are strictly a means of protecting your credit card number and NO LONGER supportive of their customers who get "taken the the cleaners" from vendors like this one.
So, yeah… I'm no longer impressed!
UPDATE: On the 4th of April, after FINALLY being able to reach a real human being at PayPal and explaining what happened, PayPal put the funds back into my account. Though the vendor continues to get away with not refunding me… at least I am not out the cost of this useless product.
Why I Used to LOVE PayPal
During the summer of 2015, I shared some information with a friend regarding supplements that I have been taking and explaining the success I am having using them. This friend asked me to send an email with information on this supplement, so, I sat down and did some research on the internet in order to bring fresh, up-to-date information to my friend.
That's when I came upon what I deemed to be a legitimate supplement sales page. The company is American based, and so I pretended to place an order to see if there were any hidden fees. However, right up until I was asked to supply my credit card information OR my PayPal login, I could see NO further charges.
Doing my due diligence, I called the company using the telephone number displayed on their website and spoke with a support person. After informing this lady that I tried pretending to place an order, I explained that I wanted to be able to fully disclose to a friend as to whether there are ANY hidden charges to purchase through their website like taxes and/or duty that would need to be paid. The lady assured me that duty and taxes were in fact included in Canadian orders.
At that time, when comparing the price of this supplement with the best price offered elsewhere, there would have been a savings of $74, so, when it came time for me to purchase more supplements for myself, naturally, I went back to this website to order mine.
I selected to pay for my order using PayPal as I prefer to make ALL online purchase through PayPal whenever this option is presented (especially when dealing with an unknown vendor!).
Once I clicked to authorize PayPal to pay this vendor over $300 for my order, I got the SHOCK of my life!
In big BOLD text, it was then stated DUTY AND TAXES WILL BE CHARGED AT THE DOOR UPON DELIVERY.
WHAT?
I immediately went to the website's only means of contacting them (they were closed so I could NOT call them) in writing, which was to put in a Ticket. So, I put in a ticket to Billing because, my order would have to go through billing… right?
Here's what I wrote:

The next day, I received the following email in response to my instructions regarding cancellation of my order:

To which I responded with:

Then I noticed another email from their "order support" saying they had shipped the order, to which I responded with the following:

Right after sending this reply, I tried to telephone them in hope of straightening this issue out, but got left on hold EVERY time I selected a different option of the 3 offered.
In a panic, I telephoned my credit card company and discussed what happened with them. Once a very helpful support staff member talked me into a calmer state of mind ( I LOVE MBNA!), and it was determined that I should contact PayPal directly to see what they could do as I had used their services to place this order (to prevent my credit card information possibly being abused).
Immediately upon contacting PayPal they were able to determine that this vendor had in fact NOT been issued their payment … and they would most likely NOT have truly shipped the product before receiving their money.
PayPal cancelled the transaction!
Moments later, I received the following email from the vendor:

Am guessing this vendor was very desperate to make a sale. Had I not called PayPal when I did, this vendor could have cost me a LOT of lost money.
Here's why
Had I waited delivery and refused the order at the door, the vendor could claim they never received the order returned.
Had I paid the duty and taxes at the door and then, following the vendor's instructions for returns, THESE funds would have been lost, because the vendor would NOT be refunding me any duty and taxes paid at the door.
The following day
Early afternoon the next day, this vendor issued me another email, a copy of which follows:

To which I responded with:

After this issue was settled, I emailed EVERYONE (there were 3) that I told about this website, and authorized them to forward my warning to ANYONE that THEY either forwarded my original email to, or had told about this website after my raving about them.
There are far too many unscrupulous vendors on the internet to even begin to trust. Their being allowed to receive funds in payment for their products, PayPal is like a seal of approval.
PayPal is THE BEST in assisting buyers with the necessary protection NEEDED on the internet, in today's day in age.
[yasr_overall_rating]

Header Image: smilie by Christian Dorn from Pixabay