Thank YOU Doggies.com! Back in October 2009, my local Showcase (aka: As Seen On TV) store advertised the Potty Patch for sale for only $39.99 and $89.99, so I decided to "Google" the Potty Patch and see what I could learn BEFORE purchasing the product. Am I ever glad I took the necessary time to research the product!
Having found the doggies.com blog, and reading through all the comments (and there are several, so don't go skipping any!) I decided to save my money AND frustrations, and NOT purchase the Potty Patch… and it looks so wonderful too :-(.
The Tinkle Tray was mentioned in one of the comments, so… off to my search engine I went, and found Marj Kruger's website straight away. Having read through her entire web page, I became sooooo impressed that Marj's product is being made in America that I emailed her asking if she could export her product to Canada. Disappointingly, I never did heard back from Marj… so, off to my local Lowe's store in Whitby, Ontario I went, equipped with a printed picture of Marj Kruger's Tinkle Tray and measurements of 21" x 27" written on it… along with my dog's present potty tray measurements, 20" x 34".
Andrew (in the windows and doors department) at Lowe's is in his last year of studying to become a structural engineer, so I KNEW I could depend on his ingenuity, along with his knowledge of parts that might be available within the store that would allow me to create my own version of a Tinkle Tray for my dog. I was right!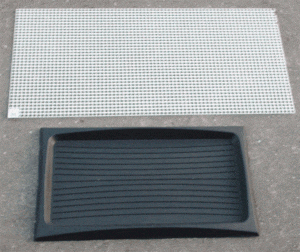 18429 2×4 white egg crate styre(ne) $10.98 (used for ceiling light louvers) PLUS, 293486 22×34 modular utility tra(y) $9.98 (better known as a boot tray)… all for $20.96 (CDN) plus $2.73 taxes for a grand total of $23.69. I even pressed on the white egg crate styrene with my hand to make certain it would not hurt my dog's paws… and it is fine.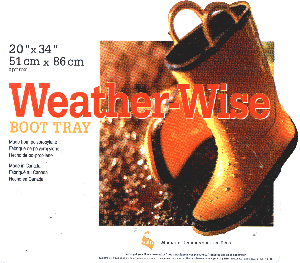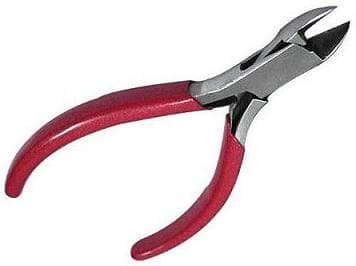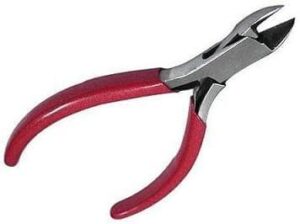 All I needed in the way of tools to create my own Potty Pan was a pair of side-cutters and a marker pencil!
Carefully marking EXACTLY the squares to cut with a marker pencil, I the cut the "egg crate styrene" to fit the utility tray. Then I lined the tray with newspaper and placed the trimmed piece of "egg crate styrene" on top… and voila! My dog now has his very own Potty Pan.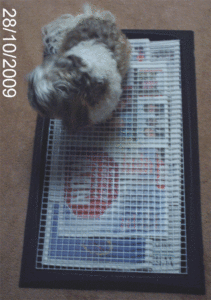 This new Potty Pan now sits where a previous metal pan sat, in my laundry room… and it looks soooo much neater, considering I no longer need a towel just under the edge of the tray for my male dog to "wipe" his paws on.
If not for the post published at doggies.com, I too would have been an unhappy camper within weeks of purchasing the Potty Patch, considering the stench many pet owners complained of regarding the artificial grass top!
Here is yet another great idea for a potty pan for dogs, depending on the size of your dog, of course.
Indoor potties with artificial grass, I would NEVER recommend. But for those of you who do NOT have the time to make your own doggy potty, I fully understand and offer you THIS suggestion along with a comparison:
WizDog
My homemade version
Features
– Plastic tray and grate
– All liquid is absorbed by newspaper under grate on Plastic tray
– Newspaper stays under grate and cannot be shredded
– All liquid waste is channeled through the grate to the bottom of the tray and absorbed by newspaper (optional), preventing paws from coming in contact with the urine
– Keeps your dog's paws clean and dry
PRICES NO LONGER UP TO DATE
Price
$30.00 USD
$20.96 CND
PRICES NO LONGER UP TO DATE
Tray size
Exterior measurement – 28″ L x 21″ W
Inside measurement – 23.5″ x 15.5″
Exterior measurement – 33″ L x 19 ½" W
Inside measurement – 29 ¼" x 15 ¼"
Pros
– Free dog training ebook with purchase (a $30 USD value)
– 100% satisfied for any reason whatsoever within 30 days of receiving my product
– No shipping & handling
– No waiting for delivery
Cons
– Shipping & handling extra
– Canadian purchasers pay $ conversion
– Canadian purchasers need pay duty fees
– Must have tools
– No guarantee
For those of you who prefer to simply purchase the WizDog, please do come back and let me know what YOU think of the WizDog, once your puppy has had the chance to use it.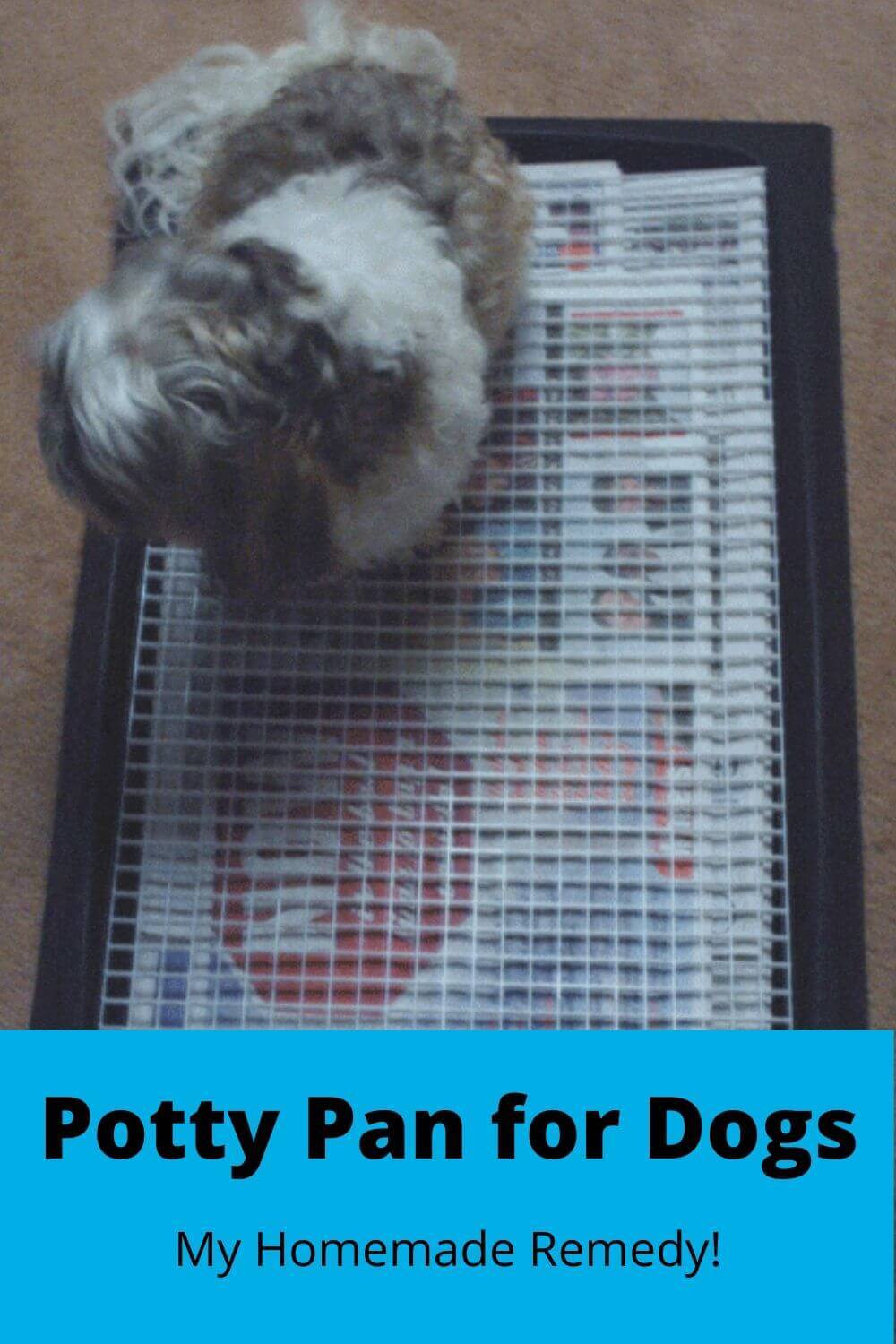 [yasr_overall_rating]